links - trevor and me , our wedding , pix of me , our appartment , the cats , my body art , gothic culture , my religion-wicca/witchcraft , scorpio-my sun sign , online quizzes , my hot topic wish list , love/hate , big cat conservation , earth links
[godsmack goddess]
i am the artist, web designer, and webmaster for this site. i do it all myself. movie/music pix etc are owned by their respective copyright owners.
[STATS]
[name] lynn
[nix] black cat, black rose, catwoman, tyler, godsmack goddess, smackerchickxxx, bitch, dork, rice ball
[age] 25
[location] connecticut, usa
[occupation] artist
[status] happily married to *my dream guy* and soulmate. my husband's name is trevor, age 25, 6ft tall, muscular build, blond spikey hair, blue eyes, tattoo'ed, gemini, artist. hes a computer programmer. hes the sweetest, most amazing guy in the world. we got married halloween 2004. it was a gothic/wiccan/midevil theme. and wiccan handfasting ceremony. got matching runic tattoo wedding bands and silver celtic eternity knot wedding bands. bands
[background] irish, scottish, french, italian, native american, french canadian
[eyes] green
[hair] short, dyed BLACK, naturally ash blond
[piercings] right now: 14, lip, tongue, and 6 in each ear. 4 of which i did myself.
[tattoos] (so far) 9, the godsmack tribal sun on my left arm, a black celtic pentacle on my right arm, my tattoo wedding band , the triple goddess symbol in purple with a black outline on my lower back, and a black rose in black and green on my lower right arm. and a celtic tree of life in the top middle of my back in green and black. a black cat trevor drew on my left lower arm, my rune kenaz in black on my left wrist. and the scorpio symbol on the back of my neck. view my profile on tattooz.net, nic=godsmackgoddess
[future tattoos/piercings] click for my designs
[style] black band shirts or tanks, tripp pants/shorts (guys ones), tripp hoodies, tripp wrist bands or armwarmers, tripp collar, celtic/wiccan jewelry, hot topic leather studded belts, black coverse all stars, black eyeliner, black mascara, sometimes black lip stick. i carry tripp nyc bags. sometimes wear bandanas.
[zodiac sign] scorpio
[religion] an eclectic tradition of wicca/witchcraft
[siblings] one brother
[pets] 6 cats: batman- our female black cat with green eyes, and silver moon- our other female silver calico, with amber eyes. we also have 3 kittens born friday the 13th. bastet- a calico female with green eyes, isis- a black calico with green eyes, and ckaldean ra - an orange male with blue eyes. and our newest cat, our white and gray boy, osiris. they were all strays or needed homes.
[best friend] my husband
[unique things about me] i am constantly doing art and creating things. i am a very creative person. art is my life. in all forms. i am a very spiritual person and practice a solitary ecletic wicca, though i have studied various religions and philosphies. i have some buddhist beliefs as well. i love darkness and gothic art and culture. i love black roses. i'm a very liberal person politically, very- i like the green party. i am non-conformist and non-traditional in nearly all areas of my life. i am very open minded. i design my own tattoos and sometimes draw them too. i am completely honest with people 99% of the time and hate to lie. i love cats, so much in fact that they are like my children. i am a very happy person and always have been despite any bad things going on in my life. i like lots of old music- my all time fav band being the beatles. i also love john lennon, the doors, and johnny cash. i love horror movies. alittle too much lol. and sometimes i give myself nightmares. i also love japanese horror movies- both american made and japanese originals. i have special ablilties- i dream the future. and my past relatives sometimes contact me in my dreams, or in other ways, as spiritual presences.
[oddest facts about me] i wear only black because i am physically uncomfortable in colors. i need to have my nails painted black or i am also uncomfortable lol. i usually wear guys clothes cause i like baggy cargos and big tees- i dont like tight fitting girls stuff. febreeze makes me thirsty. as does the movie the ring hahah. i love the way my cats smell. lol i cry at the strangest movies, including pet sematary 2, the blair witch project, signs, and more lol.
[obsessions] my man trevor, godsmack, fight club, tattoos, the color black, hot topic, tripp nyc, witchcraft, celtic and egyptian mythology, black cats, vampire bats, gothic culture, vampirefreaks.com, horror movies, japanese horror movies, death note, goth hello kitty, south park goth kids, hot topic, dunkin donuts, black roses
[collect] i collect a lot of stuff because i'm passionate about the things i love. really its all about art. i collect tattoos and piercings, hair dye, godsmack stuff, fight club stuff, wicca books, cat books, black cat stuff, halloween stuff, tripp stuff, hot topic stuff, morbid/hot topic brand make up, herbal essences stuff, tattoo goo stuff, horror dvds, umds, brad pitt dvds, japanese horror dvds, horror anime/manga, death note stuff, punk/goth hello kitty, badtz maru and chococat stuff, catwoman stuff, black roses, celtic jewelry and art, scorpio/astrology stuff, pentacles, sun, moon, star design stuff, yankee candles, stones and crystals, dunkin donuts stuff, SoBe stuff, WoW stuff, silent hill games, sim games, etc

[FAVORITES]

[fav color] black, green, orange

[fav band] godsmack (all time fav = the beatles)

[fav songs] "whatever", "voodoo", and "keep away" by godsmack

[other fav bands] rob zombie, NIN, metallica, korn, static x, fear factory

[fav movies] fight club, american psycho , the departed, se7en, mr and mr smith, the punisher, donnie darko, batman begins, batman, batman returns, the grudge movies (both versions), the ring movies (both versions), silent hill

[fav stores] hot topic, godsmack.com store, blue moon, borders, fuckthemainstream.com, ebay, windspritesrealm.com,

[fav brands] tripp nyc, hot topic, morbid, converse

[fav products] morbid/hot topic brand make up, tattoo goo, hot topic body sprays & perfumes - esp black heart and siren, herbal essences black hair dye, herbal essences "color me happy" shampoo & conditioner and "breaks'over" leave in cream, herbal essences 'set me up' etc, suave naturals body washes- ocean breeze and cucumber melon, body fantasies body sprays- esp pear, apple, and cucumber melon, calgon sprays- esp ahh spa ocean oasis, ah spa asia, hawaiian ginger and strawberry green apple, dove body washess/soaps - esp cool moisture collection, secret dedorants- esp arctic apple, asian pear and ocean breeze

[fav flower] black rose

[fav animal] cats, bats, penguins and lizards

[fav pieces of jewelry] my wedding band, my engagement ring, my tripp wrist bands, my tripp lock chocker, my godsmack sun necklace, godsmack pentacle necklace, my godsmack ring, kenaz necklace, scorpio necklace, chain pentacle, my bat pentacle necklace, my morrigan necklace, my amethyst pentacle and ring, and my dark enchantment bracelet and goddess bast bracelet, goddess bast bracelet, death notes jewelry

[fav piece of clothing] my godsmack tank, my godsmack shirts, godsmack hoodie, godsmack windbreaker, hot topic shirts, my hot topic 3 row studded belt, studded wrist bands, my tripp pants, tripp shorts, tripp hoodies, tripp armwarmers, my tripp wristbands, and fishnet shirts, fight club shirts, WoW shirts, death note shirts, and my vampirefreaks.com shirts/hoodies, death note shirts

[fav perfumes] black heart and siren (both from hot topic)

[fav comic book character] batman and catwoman

[fav cartoon characters] goth/punk hello kitty and bad batz maru , and chococat!!

[fav directors] david fincher and tim burton

[fav actors] brad pitt, johnny depp, jack nicholson, christian bale, anthony hopkins,

[fav actresses] angelina jolie, sherri moon zombie, kate beckinsale, Michelle Pfeiffer, jennifer tilly

[fav tv shows] animal planet big cat specials, ninja warrior, iron chef japan, law and order svu (and all of them), the x-files

[fav cartoon] futurama, south park, the simpsons, king of the hill
[fav animes] death note, ayakashi samurai horrro tales, naruto, bleach, hell girl, hellsing, trigun, ceres, black cat, etc
[fav tv stations] animal planet, showtime beyond, g4, cartoon network/adult swim, comedy central

[fav radio station] The Rock 106.9 WCCC

[fav artist] john lennon and jessica galbreth

[fav pieces of art] anything by lennon, and jessica galbreth's night magick collection

[fav books] anything about wicca, witchcraft, cats, magick, celtic mythology magick culture, anything about egyptian mythology and magick

[fav video games] world of warcraft, the sims2 , silent hill games, resident evil games

[fav animes] death note, ayakashi: samurai horror tales, trigun, hellsing, fruits basket, ceres, black cat, ghost in the shell, witchblade, witchhunter robin, inuyasha, naruto, shin chan

[fav time of day] night

[fav foods] seafood! clams, lobster, shrimp, crab, etc. w/chinese and japanese food, fruits- kiwis and green apples, oriental flavor ramen, etc

[fav restaurants] fugi, sakura japan, china delight, super chinese buffet
[fast food] subway, taco bell, wendy's

[fav drinks] dunkin donuts lattes & cappuccinos, sobe esp sobe life water and sobe essential energy
[fav candy] ice breakers sours, sour patch kids, sour skittles, reeces peanut butter cups, hershey's special dark chocolate, and japanese candies especially kasugai kiwi gummies and strawberry pocky!!


[fav quotes]


"art is life"
"I dont need your shit today, you're pathetic in your own way." - GODSMACK XXX
"You are not your job. You are not how much you have in the bank. You are not the contents of your wallet. You are not your fucking Khakis." - Tyler Durden, Fight Club
"Sticking feathers up your butt does not make you a chicken." - Tyler Durden, Fight Club
"The things you own end up owning you." - Tyler Durden, Fight Club
"We are defined by the choices we make." - Tyler Durden, Fight Club.
"This conversation is over." - - Tyler Durden, Fight Club.
"There are no more barriers to cross. All I have in common with the uncontrollable and the insane, the vicious and the evil, all the mayhem I have caused and my utter indifference toward it I have now surpassed. My pain is constant and sharp and I do not hope for a better world for anyone, in fact I want my pain to be inflicted on others. I want no one to escape, but even after admitting this there is no catharsis, my punishment continues to elude me and I gain no deeper knowledge of myself; no new knowledge can be extracted from my telling. This confession has meant nothing." - Patrick Bateman, American Psycho
"I need to engage in homicidal behaviour on a massive scale. It can not be corrected but I have no other way to fulfill my needs." - Patrick Bateman, American Psycho
"Does it come in black?" - Batman, Batman Begins
"I believe whatever doesn't kill you simply makes you stranger." - The Joker, The Dark Knight
"Why so serious?" - The Joker, The Dark Knight
"There's a hole in the world like a great black pit, and it's filled with people who are filled of shit, and the vermin of the world inhabit it, and it goes by the name of 'London.' " - Sweeny Todd
"They all deserve to die/Tell you why, Mrs. Lovett, tell you why/Because in all of the whole human race Mrs. Lovett there are two kinds of men and only two/There's the one staying put in his proper place and one with his foot in the other one's face/Look at me, Mrs Lovett! Look at you!/ No, we all deserve to die/ Even you, Mrs Lovett, even I! " - Sweeney Todd
my store-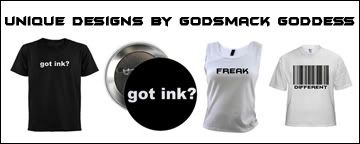 my professional web page-

my other weblinks -
my "vampire freaks" page - i hang here most of the time. its my fav place on the web. its better than my space, the people are freakier and its just all around better here. i put a lot of time into the design and made a lot of stuff for it including the cursor.
my main journal - on vampirefreaks.com , made the cursor/design
my "myspace" page - all my design, and the cursor too
i'm on face book, if you know me, look me up there.
my tattooz.net profile - you have to have one yourself to view others, my nic is godsmackgoddess
stuff i have but dont update -
my dead journal - friends only, made design for also, including cursor.
my live journal - friends only, made the design for it and the cursor.
contact me - the webmaster:
aim: xgodsmackgoddess