CASTLE - (From Elven Matson's line)

Who did Minnie E. (Castle) Matson remarry after her divorce in 1912 and where and when did she die? We are also looking for the death date of Bertha Matson and we want to find the connection between John Masters Castle and the immigrant ancestor (possibly his grandfather or great grandfather), Henry Castle in Connecticut. Henry has been well researched and many descendant lines traced, except ours. I have found most Castle families in the United States come through Connecticut and probably Henry Castle.

***********************

LEWIS - (From Elven Matson's line)

Amanda Lewis and her parents. We'd like to know about this line. According to census records, Amanda's father, William Lewis, was born in Kentucky, about 1794 and was married to Anna.

***********************

GRIFFITH - (From both Elven Matson's and Denise Yancey's lines)

The big question here regards Owen Griffith who was married to his first cousin, Martha Griffith. (Yes, that is her maiden name, too.) Apparently, they were married in Wales and then later came to America, but we have not traced the line further back. When were they married? Where? Who were their parents?

***********************

OVIATT - (From Elven Matson's line)

I have heard that there are several holes and discrepancies here. Our Oviatt families were members of the group that founded Hartford, Connecticut. The name was pronouned "Ovitt" and may have changed spellings. Can anyone document and correct this line?

***********************

Do you see any problems that need solving or more projects crying out for attention? Let us know! E-Mail: Terry@Matson.info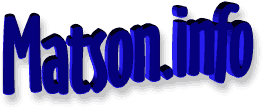 Transcription Help
There are several PDF files on this site which are mostly copies of text someone else hand-wrote or typed. It would be great if someone could take a PDF and type it up in text and e-mail it to me so that we can replace the slow-loading and hard to read PDF files with quick, easy-to-read text pages.
YOAKUM - (From Richard Morgan's line)
Of all the lines in the family tree, this is the shortest and could use some good basic researching to push it further back. We have heard that this surname has the most spelling variations of any name in the United States, so it would be an interesting challenge.
***********************
LYONS - (From Denise Yancey's line)
Actually, Elven Matson has indirect ties into the Lyons Family through another marriage of his grandmother, but we won't go into that. The big question among Lyons researchers is regarding Andrew Lyons, born about 1730. What country did he come from (possibly Ireland or Scotland)? His son was John Lyons who married Susannah Holtzclaw in Virginia.
***********************
BOOKS OR PICTURES WANTED
Several books have been written about our ancestors, some we have heard of but do not yet have. There are likely more ancestor books and pictures out there than we know about. Maybe you are the one who could dig up a copy of a book, a story or a picture that we'd all be glad to pay for. Below is a list of books I know about and would like a copy of.
1. Lullela Sonora Rigg, Author, "Nicholas Money Tunnel, His Life His Family His Times & His Generations", (Darnelle Kay Stierwalt, Typist and Editor, Jan 1999), [We descend through his brother on Denise Yancey's line and we would like a copy of this book.]
2. James Pennock, "Brothers in Arms" by Lee Pennock Huntington, Published by The Countryman Press, Taftsville, Vermont, 1976. This is copyrighted so we are looking for the chance to purchase copies. [This is our Revolutionary War ancestor through Denise Yancey's line.]
3. One relative writes, "Have you seen the Dodson Book before? There are beaucoup Dodsons in it! It is a colorful accounting from church minutes of Enoch's life as a member of his church and the membership of his son, William. A number of Holtzclaws are recorded, too, and many other surnames. To buy a set, contact the publisher: Southern Historical Press, Inc., P.O. Box 738, Easley, SC, 29641-0738. I think they run about $75 for the two volumes. The Full Title: The Dodson (Dotson) Family of North Farnham Parish, Richmond County, Virginia: A History and Genealogy of Their Descendants." [Denise Yancey's line.]