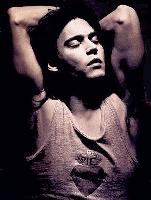 JOHNNY DEPP
CURRENT INFORMATION - 2001

UPDATED September 2001

Johnny, Willem Dafoe and Eva Mendes round out the cast of Robert Rodriguez's Columbia Pictures/Dimension Films feature Once Upon a Time in Mexico. The project began shooting in Mexico in June. Mexico, starring Antonio Banderas, is the long-anticipated third installment in Rodriguez's trilogy that began with 1992's El Mariachi and continued with 1995's Desperado, the latter of which also starred Banderas. Quentin Tarantino and Salma Hayek, both of whom star in Desperado, are back to star, with Mickey Rourke also on board. Mexico is loosely based on Sergio Leone's classic spaghetti western The Good, the Bad and the Ugly. Mariachi and Desperado are homages to Leone's A Fistful of Dollars and For a Few Dollars More, respectively. Columbia, which owns the rights to the first two movies in the series, will take domestic rights to Mexico. The Dimension label, which has three pictures remaining in an overall deal with Rodriguez, will take international rights. By shooting on a tight schedule and using digital camera equipment, Rodriguez is expected to keep the budget at less than $30 million. Johnny will be playing a corrupt FBI agent who hires Banderas to prevent a plot to kill the President of Mexico.
Johnny Depp has finished filming the movie From Hell, a Jack the Ripper tale that Albert and Allen Hughes ("Dead Presidents") are directing at 20th Century Fox. The picture is based on the graphic novel by Allen Moore and Eddie Campbell. Depp and the Hughes brothers have been on each others' dance cards before. They previously planned to make a Howard Hughes biopic together. Johnny would play an investigator attempting to discover Jack the Ripper. Heather Graham is set to star as an Irish prostitute being stalked by Jack the Ripper. The film was filmed in Prague. The film may be released in the U.S. on October 19.
Johnny was interested to play in the 22 million film, Marlowe, that is being made with German backing by Natural Nylon, the production company formed by Jude Law (who will play Shakespeare), his off-screen wife Sadie Frost, Jonny Lee Miller and Sean Pertwee. According to the Hollywood Reporter, all are likely to participate in the story about the man who may have collaborated with Shakespeare on many of his works. The film is directed by John Maybury. Marlowe will focus on his relationship with Shakespeare. A source said: "The tone of the film is about Shakespeare's relationship with Marlowe and the suggestion that the latter actually wrote several of his plays. The filming was to begin in March on location in England and Italy. But production difficulties have prevented the start.
Johnny made People Magazine's 50 Most Beautiful People Issue for 2001. Johnny was featured 7th in the magazine with a three page spread.

Johnny is romantically involved with French Singer/Actress Vanessa Paradis. The couple became parents of a baby girl on 5/27/99. Lily-Rose Melody Depp was born at 8:25 p.m. in a hospital outside of Paris with Johnny by Vanessa's side. You can find photos of Johnny and Vanessa at vj.htm. Johnny played guitar on Vanessa's CD "Bliss" and directed her music video for the single, "Pourtant".
The photos and animations at this site were created by me or donated. Please ask permission before using any of these items on your web site. Thanks
Description Background Current Info Interviews
PHOTOS - Portraits Candids Stills Covers Mix
Credits Trivia Links Toons Books


Return to Depp home page