JOHNNY DEPP
BACKGROUND

Johnny's life began in Owensboro, Kentucky on June 9, 1963. His parents moved the family to Miramar, Florida when he was very young. When he was twelve, his mother bought him a guitar which became his obsession. Johnny decided to drop out of school at age 16 to concentrate on his music career. He played guitar for a group called The Kids who opened for several prominent acts including Iggy Pop. He and his band moved to Los Angeles with high hopes of making it big. He was married at age 20 to makeup artist, Lori Allison. His career as a musician failed to skyrocket and he resorted to selling pens over the phone to make ends meet. A divorce soon followed. But during those years Johnny got a lucky break, Lori had introduced him to actor Nicolas Cage. Although at first they did not like each other, they became good friends. Nicolas convinced him to try acting and he signed on with Cage's agent. His first audition was for a part in Wes Craven's "A Nightmare on Elm Street". Mr. Craven asked his daughter who she thought should get the part of Glen and she picked Johnny. Although not an illustrious beginning (being eaten by a bed in the movie), Johnny's movie career was launched.
After a couple of other movies and no more offers, Johnny was convinced by his agent to take a role on the TV show "21 Jump Street". Since money and offers weren't rolling in, and he felt the show would last only a short time, he accepted. The show became popular with teens and the Fox TV executives began to push Johnny as a teen idol. Much to his chagrin, he became the premiere male teen idol, the ultimate symbol of cool, and the TV show dragged on for four years. He spoofed his teen idol role in his next movie, called "Cry Baby", and started to change his cutesy image for one of a serious actor. With a series of roles as odd characters, Johnny gained respect from Hollywood types and critics alike as an exceptional actor. In 1991, Johnny was awarded the Star of Tomorrow Award at the SHOWEST convention in Las Vegas. He has been nominated for three Gloden Globe Awards for his work in "Edward Scissorhands", "Benny and Joon" and "Ed Wood".
Johnny became a tabloid darling early in his career probably because of his off screen lifestyle. He developed a bad boy image conceived by the press after being involved in altercations and displaying an attitude which was conceived as devil-may-care. The tabloids became obsessed with his love life as he became involved with a number of female celebrities. The most high profile of which was his engagement to actress Winona Ryder and their on and off relationship which spanned four years amid much tabloid speculation. A year after their final break up, he met Kate Moss at the Cafe Tabac in New York City in 1994. Kate and Johnny had an on/off relationship until sometime in 1998 when Johnny began to date Vanessa Paradis.
He has also had several brushes with the law including the infamous trashing of a room at the Hotel Mark in New York City. Amazingly, the press went into a frenzy over such an insignificant occurrence again demonstrating their fascination with him. The New York Post even put Johnny on their cover the next day instead of a photo from the invasion of Grenada. This episode, however, seems to have had no adverse effect on his career or his relationship with Ms. Moss who was present during this unfortunate episode.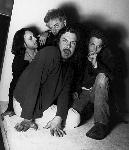 Johnny has remained very interested in music and purchased a club, The Viper Room, in Los Angeles as a haven for playing his music. He has numerous friends in the music business and has a band called "P" which occasionally plays at the Viper Room. "P" released their first album in November, 1995.

In November of 1996, Johnny reach another milestone in his career. He finished filming his directorial debut, "The Brave". The movie is about a man who sells himself for a snuff film in order to earn money for his destitute family. Johnny's friend, Marlon Brando, agreed to do a small part for the film. The film was selected for competition at the 1997 Cannes Film Festival.
Johnny became the co-owner in January 1999, with Mick Hucknall and Sean Penn, of a French restaurant/bar called the Man Ray which is a roomy, double-decker bar and restaurant on the Rue Marbeuf, halfway down the Champs Elysées. At the This is London web site, Johnny was quoted as saying this about his newest venture, "This is the first time I've seen it decorated, it looks excellent," mumbles a scruffy Depp. "I last came down when it was just a shell before they started work. It's gonna be great, and I love Paris." Visit the following URL for a description of the new establishment - http://www.thisislondon.co.uk/dynamic/results.html?in_text=man+ray&in_button=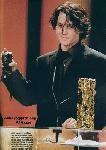 Johnny was given high praise by the French film industry when presented with an Honorary Cesar Award (French equivalent of an Oscar) at the ceremony in France on March 6, 1999. He was presented with the award by Roman Polanski after a review of his films and a speech by his friend, Pascal Gregory. See newsletter #30 for a transcript of Johnny's acceptance speech.
On May 27, 1999 at 8:25 pm, Johnny became a father for the first time. Vanessa Paradis gave birth to their daughter, Lily-Rose Melody Depp, in a hospital near Paris with Johnny by her side.
The photos at this site were scanned by me or donated. Please ask permission before using any of these photos on your web site. Thanks
Description Background Current Info Interviews
PHOTOS - Portraits Candids Stills Covers Mix
Credits Trivia Links Toons Books


Return to Depp home page