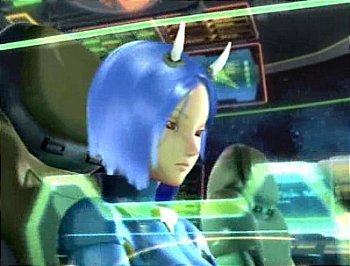 Universe
PC BlueBurst
GC Ep3 CardRev
XBOX Ep1&2
GC Ep1&2
DC Ver2
DC Ver1
QUESTS
GALLERY
SNAPSHOTS
COVERS
MAGAZINE
MUSIC
MOVIES
STORY
FAQ
MAGS
WEPS
ATTRIBUTES
ARMOR
SHIELDS
LOBBY MOVES

PHANTASY STAR UNIVERSE

Japanese Release Date - November 2005
USA and Europe Release Date - November 2006
Format - XBox360, PC and PS2
Genre - online & offline RPG

Characters
Ethan Weaver 17yearold HUman Brown Hair - Main Story Character. Guardians Trainee.
Lumia Weaver HUman - Ethans younger Sister.
Karen Ella (Ethans Instructor) NUman Purple Hair Guardians 3 years experience

Story
The Grail Star System is made up of 3 planets. The three planets were originally at war until they found peace and created a Commonwealth. The Airshow at the start is commemorating the 100th Anniversary. The Guardians are the Planetary Security Organization. Ethan is viewing the celebrations at the Guardians Colony when an alien race called the 'SEED' attack and Lumia becomes lost. So Ethan begins a quest to find his Sister.

Online details
There is a lot more customization with your character than there was in PSO. Also the number of players in game has been increased from 4 to 6. Sources :- various including IGN, Games Are Fun, PSO-World
Here is a Japanese Ad for PSU...


LINKS
Sign Guestbook
View Guestbook





This website © 2003 to 2008 webmaster of PSOCITY.2YA.COM. This website is an unofficial non-profit making videogames fansite. This website is not endorsed by or connected in any way with SEGA or any other companies mentioned.
All Rights Reserved.