---
---
2000
OCTOBER
The ESID That Started It All (8 panel)
Luther moves in. Fiona reveals the "easiest money in Japan."
NOVEMBER
DECEMBER
Slim and Luther go to visit the supposed grave of Christ in Shingo-mura. Much more touching than "A Charlie Brown Christmas".
2001
FEBRUARY
ALTs, As Seen Through the Eyes of Those Less Fortunate
Otis makes a robot that only says "No" to do his job for him at work. No one notices the difference.
MARCH
Luther goes to teach at a far-off mountain school, only to find that his students are preserved vestiges of Japan's ancient Jomon culture.
Part 1
Fun With Neuroanatomy and Anthropomorphization! (8 panel)
APRIL
Return of Fiona. The fate of her "easy money."
MAY
Kobe Renewer's Conference, or 'Everybody Gets Laid'
Ratio of JET Alumni Reporting "Much Lower" Post-JET Salaries to Those Reporting "Much Higher" Ones -- 2.7:1
What's So Interesting About Aomori? (12 panel)
JUNE
The eagerly-anticipated showdown between Luther and Dilbert.
Part 1
JULY
Apologies to Lovecraft
Part 1
Todd's Tips on Spending Others' Money
ESID First Season Finale (One BIG friggin' panel)
Season Two
SEPTEMBER
Real Science Facts (That I Made Up)
Is This True For YOUR Prefecture, Too?
Meet the Peeples -- Special Aomori Edition (A REALLY BIG panel)
OCTOBER
And You Think Japanese is Vague
NOVEMBER
Young Men
Those Wacky Neurons are at it Again!
Dance! Dance for Your Masters! (8 panel)
DECEMBER
ESID is Never Based on Actual Experiences. Ever.
ESID is Never Based on Actual Encounters. Ever. (8 panel)
2002

Laugh Now, But You'll Be Doing It, Too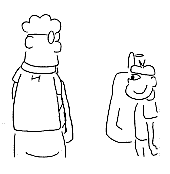 If It Sounds Too Good To Be True...
A Classic Tale of Morals and Work Ethic, JET Style
Being Japanese Means Never Having to Grow Up!
The Importance of Being Luther
Fiona aces her audition to become a Japanese TV star.

The Secret to Saving on Shipping Costs
"But They All Look the Same to Me!"
Wish I Was Still on the 'Highway to Hell'
2003
JANUARY
New Year Strip (The Whimsical One)
New Year Strip (The Unwhimsical One)
sayonara, japan and E.S.I.D!
FOR NOW