Stump Removal
Shrub Removal
Rocks removed


Phil's Excavating - Your excavating partner
Straight talk - Conscientious workmanship - Customer satisfaction
Do you have extra large stumps or many stumps in your yard? Rocks throughout your yard? Phil's Excavating will remove the stumps along with the roots, and regrade and seed your yard. We are a stump removal company that specializes in providing you a level, clean property . Shrub removal, brush removal and rock removal are also handled with care -- everything we do is done safely.
Contact Phil's Excavating for a free review and estimate to eliminate stumps, rocks or shrubs. We won't make a sales pitch. We'll simply explain what needs to be done. We'll give you a fair, competitive price. We don't over promise, we deliver.
We can remove stumps within 10 miles of Bellingham MA.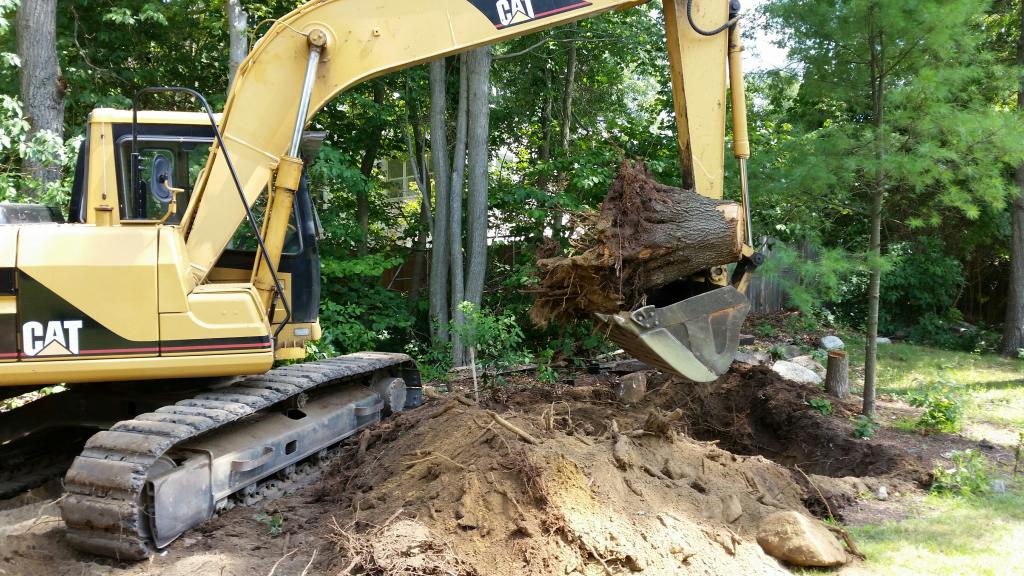 Why stump removing is preferable to stump grinding
Stump grinding leaves the roots in the ground and they'll eventually rot, causing sinkholes. While rotting, the stumps become a feast for bugs including termites.
Most roots have pushed the soil up, resulting in a bumpy uneven yard. Stump grinding is especially unsuitable when a patio, driveway or walk is going to built where the stumps were, certainly not the best method for a nice level yard for games, sports or simply good looks.
Our stump elimination method, removing the roots with the stump, will give you a quality yard that doesn't deteriorate. Your complete satisfaction is our goal.
Contact Phil's Excavating now to get an evaluation of your yard and an explanation of what is needed to get rid of all your stumps, shrubs or rocks and make your property more attractive and usable. We are a stump remover that is licensed (MA Home Improvement Contractor #146190), bonded and has workers' compensation and liability insurance.
The top picture on the left shows Phil's Excavating removing a very big stump. The second photo is the removed stump. Imagine what a massive job it would be to grind the stump down or to remove it with chemicals or an ax. The fourth photo shows the yard perfectly graded after all the stumps have been removed. Phil's Excavating cares for you and your property. Our goal is the same as yours - a fine yard.
___________________________________________________________________________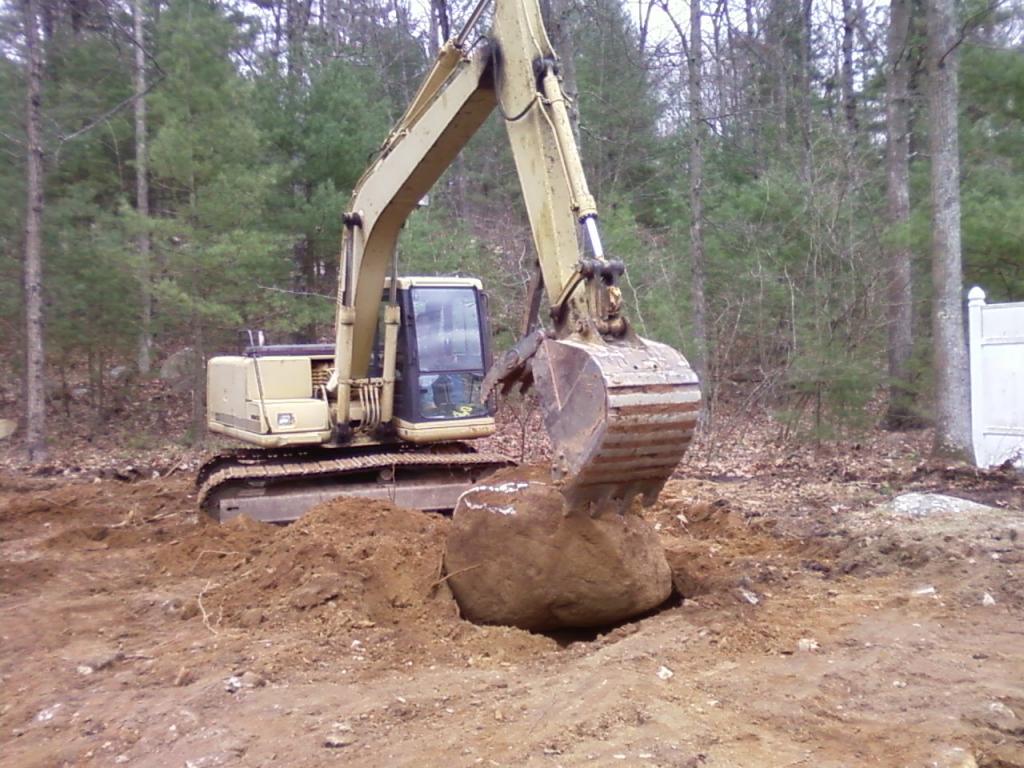 "Our backyard had a large unsightly mess of brush, old tree stumps, piles of dirt and debris, etc. that had bothered us for years. We engaged the services of Phil's Landscaping to cleanup this area and we could not have been happier with the work they did.
"They were extremely professional, showed up on time, were very reasonably priced, but most of all they did meticulous work that far exceeded our expectations. We love our new backyard and have recommended Phil's Excavating to our friends and neighbors."
Trevor & Dawn Calvey
Milford, MA
"Through my six plus years of experience working with John on a variety of excavation and landscape related projects at my home in Franklin, I have found John to be a very dependable, diligent and talented contractor. John has provided a wide range of services including driveway and parking area layout, grading and drainage work; tree and stump removal; rough and fine grading of turf, planting and landform areas; as well as procuring, transporting and setting numerous multi-ton pieces of ledge in naturalistic rock-outcrop settings. In addition, he recently carved out a 1/4 mile woodland walking trail with minimal disturbance and a small footprint using his mini-excavator, helping me to save trees and reduce my overall cost.
John has also worked as a sub-contractor for me on a recent landscape restoration project completed in Needham, MA. He is a creative problem-solver who understands design intent and provides valuable input and insight into the design-build process. John can work independently and just as easily act as an extension of the architect's or designer's hands, manipulating his machines with great skill and dexterity. The next project I have planned is a hillside water feature with a stream and pond and I know John is up to the task."
Personal Recommendation (verbatim) written by
John Hart,
Registered Landscape Architect, Franklin, MA
"As Chris (my husband) said, John was like a surgeon with that machinery! And he saved this silly little white pine that I just couldn't let go of and it was surrounded by stumps and rocks. He also gave great ideas for a pond. Thanks again - it was great working with you and you really made the yard look much better than we thought possible."
Lisa Leon
Milford, MA
__________________________________________________________________________
"When you have had a taste of excellence, you cannot go back to mediocrity."
Maximillian Degenerez