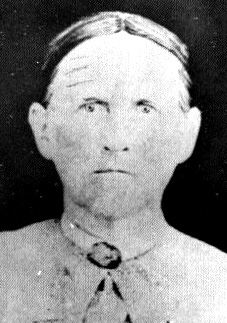 Pictured here:
William "Billy" and Martha Jane Huskey Ogle

















Our line of descent
Thomas Huskey
Gatlingburg Cemetery, formerly White Oak Flats
White Oak Flats Cemetery established 1830
Directions - In 600 block of downtown Gatlinburg, Sevier Co. , TN. Cemetery is on hillside behind a small shopping Mall called "The Village" The Village is on the left side of Southbound Tn. 441 which is the main street through Gatlinburg. Walk through the Village to the back right side, turn right just before reaching the public restrooms. Walk up the hillside on a steep one lane road. Martha Jane Husky Ogle is buried at a distinctive tombstone, which is made of fieldstones cemented together around a marble inset. This inset bears her name, birthdate and deathdate. This grave is located to left and in front section of cemetery. You can actually drive to the cemetery, however, it is best to walk. No other cemetery contains as many of Gatlinburg`s first settler`s.
Pictured below:
The home of William "Billy" and Martha Jane Huskey Ogle. The first settlers of White Oak Flats, in which is now Gatlinburg, Tn. The cabin can be seen today, and is in fine shape. It was erected ca. 1800, and is regarded as the first structure in Gatlinburg.
Clyde Huskeyís Family Bible
Uh I would like to say this first I just enjoy being invited up here by the man who is putting this on, which Mr. Duncan I think is doing a wonderful job. And uh about 4 weeks ago I became interested in some old papers and things that we have at the house. And this uh Bible was one of them I would like to mention that anyone would like to see it, anyone would like to see this could look at it. However, Iíd rather that they didnít be too rough on it cause it about uh a little older than I am, Iíd say about 150 years old. (Audience laughs) Uh hereís one thing about this uh it came from Washington sent here by John William Huskey by riverboat. And uh he was fighting at that time in service he was close to 30 years of age. I donít know just what because I can tell by his writing he was near 30 years of age and the British at this particular time, which the date is in here, Iíll have to put it on a paper, on some letters because they are very dilapidated. Uh he sent it in, it burned along I wasnít a historian I just know that, when I began to read this I called Knoxville to verify it at the Lawson McGhee Library and they said that was right. It was in 1814; this Bible was made in 1812. And it came to uh Steven Huskey which was the man that married Martha uh what is Whaley, Martha Whaley the first daughter of Middlen and Mrs. Whaley. And it has been handed down to me since. And I treasure it very high and uh anything and anyone would like to do Iím on the Knoxville phone, be glad to help anyone that I can. I do have census back on anyone; I couldnít do it right now, but anytime that Iíd be glad to help ya. I run a little hardware, and itís listed as "Save Hardware." if you will call me I meet home with ya and go over anything you would like to know back to 1810 in Sevier County. I do have those things available and I think uh anyone who would like to have them uh they just as welcome to them as they can be. Now I am sure am glad to be here and I wonít take any more of your time. Thank you (audience claps)
Below: direction to the Ogle cabin. Traffic light # 6 is Cherokee Orchard Rd.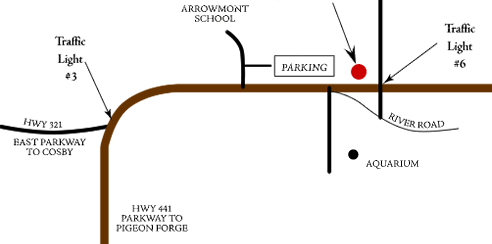 Source: 'Smoky Mountain Clans', Donald B. Reagan, 1978, p 138-139. 'Smoky Mountain Family Album,' Gladys Trentham Russell, 1984, p 6. 'Sevier County, Tennessee and Its Heritage', 1994, p 229. 'Mountain Ways', Gene Aiken, 1983, p 3., Smokykin.com