Ultimate Blog Party
Topic: Blogging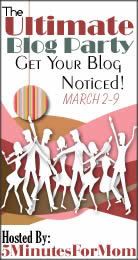 Click the button to go over to
5 Minutes from Mom
, where twin sisters, Susan and Janice, are hosting a week long party. The purpose of the 'party' is to build more of a community feeling among Christian bloggers. Playing along will get your blog more traffic, help you to get to know other bloggers and explore blogs that you may not have noticed before! I have been exploring already from the links on the party sight and will continue as I have time this week.
***Remember to leave comments on the blogs you visit to encourage the owner of the blog. Just say hello or write some comment about something on their blog.***
Mine is a 2 step comment process, so make sure you confirm your comment!
If you are new to the nest here, WELCOME! (and if you have been before welcome too of course!) I am a 40something pastor's wife, with 4 daughters, a wonderful husband and am learning to live in a big city again, after living in a small mountain town for 9 years. We moved to Phoenix, Arizona, my hometown, a year ago and we are all finding our niche' here in this huge desert city. Our church is in an urban area, filled with apartments, international immigrants and any segment of today's society that you could name....it's all in our church neighborhood. We have often described it as coming to a mission field. We have many opportunities to reach out to our community and become part of it, so pray for and with us that we will continue to follow God's leading in reaching out to the people here.
On the home front, we have one fourth grade home schooled daughter who is 9, 2 teens who are in public high school after years of homeschooled life, and our oldest is 19 and attends a state university in another city, 2 hours away. The past year has been a learning experience also for us in helping to care for my father, who had severe dementia and then passed away in August. Then with major surgery for me in October, it really looked like a stress filled year for us.
On a stress indicator test I took last Fall, my stress level
looked
to be very high and in fact, I should have been receiving mental health care by now. ;) But God has given us peace that is beyond comprehension every step of the way and we are doing very well, feeling at home here, loved, supported and needed.
I've been blogging now for a little over 2 years and enjoy practicing a
story-telling
type of writing. I love to tell stories of people and events that I experience or see experienced along the way. I see humor in everything and I also see
God's hand at work
, showing me His truths and teaching me a lot through mentally and tangibly processing what is going on in my life or in the world around me. Come to think of it, writing this blog is probably one of the tools God has given me to help me to deal with the stress of this past year. I usually quickly process things in a very simple way in my head, then move on. Writing helps me to look deeper and learn more from this journey I'm on. Kinda cool....
I also love
photography
,
humor
and
cooking
, so you will see a lot of those things here too. I hope you'll be back. =)
And now, let's jam, and turn our hearts toward the main thing: