We met at the Officers Club in Alameda, CA one Friday night. Carol worked at NAS Alameda as a Secretary and Garry was on the Enterprise as an Naval Weapons Officer attached to VA95.
USS Enterprise at Port in Pearl Harbor 1986
February of 1986 we stay at Bellows Air Force Base and attended a Change of Command at Pearl Harbor on the USS Enterprise.
November of 1990, we tried Pleasant Hawaiian Holdays Tour.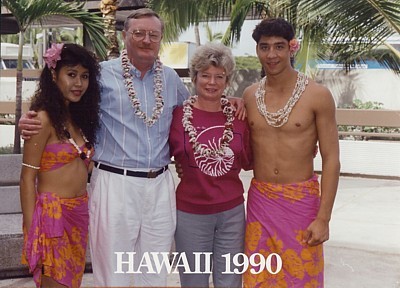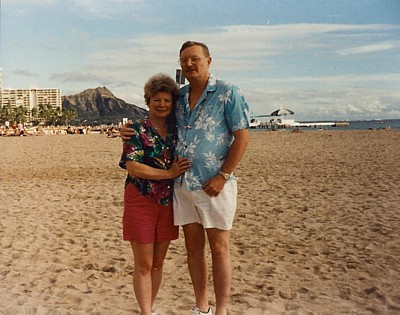 Went to the Don Ho Show and Don just kept kissing and kissing on Carol. Garry was a gentleman and didn't punch him out!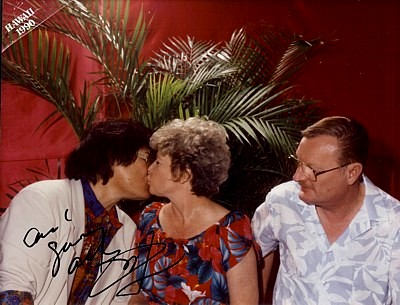 I think because he had his hands full at the time.
April of 1994 we took Ted with us to Hawaii.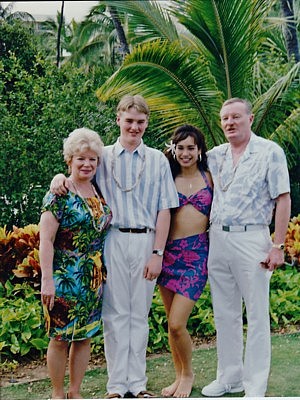 He had a great time sitting at the pool and the beach watching the Hawiian Girls all day. Photo taken before a Lauau at Hale Koa.
15 Years Later December 1999
Practicing for the New Year at the Barefoot Bar at the Hale Koa, WaikikiThe Mellinium Arrives!
Had a Wonderful Time on the Star of Honolulu Dinner Cruise for Carol's Birthday, December 24, 2002
WE WENT ON A "LOVE BOAT" CRUISE TO THE MEXICAN RIVIERA
APRIL 2003 FOR 7 DAYS!!
20 Year Anniversary in Maui December 2004 and haven't changed a bit!
We celebrated our 22nd Anniversary in Hawaii, staying at the Hale Koa. Carol got to sit on Santa's knee
Dining at "Dukes" Restaurant on Waikiki Beach
We went to Hawaii in September of 2007 so we could be home for Christmas with the Family. We did enjoy a wonderful lunch at the "Gordon Biersch Brewery" in the Aloha Tower.
During the last week in February 2008, we stayed at our new Condo in Kahana, Maui, Hawaii. Kahana Falls resort is a wonderful place to stay.
We found a great restaurant across the street from the condo and watched many sunsets while enjoying great food at the Kahana Sands Restaurant.
December 14, 2010, We made it!! Married for Twenty-five years. We celebrated, as always, on Oahu and they just happened to have a Luau the day of our Anniversary at the Hale Koa where we were staying.
We even flew to Kauai for a day trip. We happened upon the Waterfall they used for "Fantasy Island".
December 2012, Hale Koa here we come! We had our lunch one day at our hotel and I noticed a Christmas tree near the path to the Barefoot Bar and pool. Just had to get our photo there.
No matter how many times we have been here (lost count), we still have such a wonderful time.
Time is going by so quickly. Now our 29th Anniversary.
Our Wheels 2015 Jeep Cherokee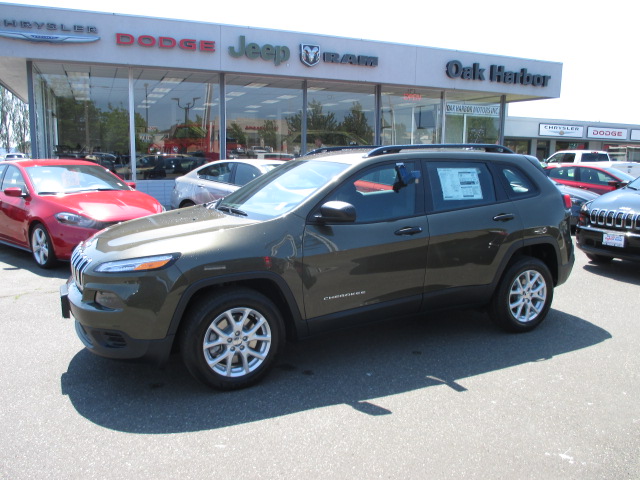 Garry's Toy 1984 GMC Sierra
Thank you for visiting our page.
Please come back and visit again.
Don't forget to sign our Guestbook!
View My Guestbook
Sign My Guestbook