Doll and Powers Genealogy
Laurentius and Maria Eva Doll
Laurentius Doll b. 2 Aug 1771 d. 25 Dec 1821 was Michael Franciscus' father. Born in Sasbackwalden, Germany and died in Waldulm, Ortenaukreis, Baden-Wuerttemberg, Germany. We visited St Albin Catholic Church Cemetery, Kapplerodeck, Waldulm, Germany where he is buried with his wife Maria Eva Pfeiffer b. 22 Dec 1778 d. 11 Nov 1851. Unfortunately we do not have photos of them, but did take photos of the Church and Cemetery where they lived and were buried.
Michael Franciscus Doll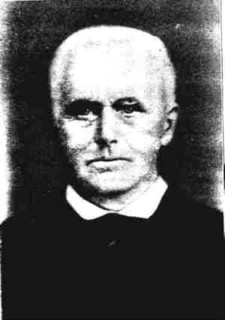 Garry's second Great Grandfather. Born in Sasbachwalden,Germany. These two photos were taken on the first morning of our visit. Family history states that he and his family were wine growers. This lovely little town looks very much like Disneyland.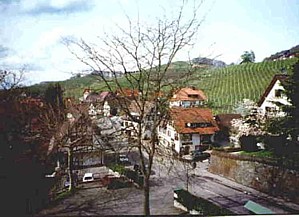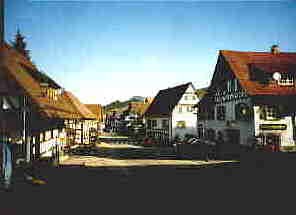 On 9 May 1840, Michael arrived in New Orleans, LA from Germany on the Ship Charles of Portsmith. Michael's first Marriage in Washington County, Iowa in 1842 was to Catherine Redbaugh, Garry's second Great Grandmother. Little is known about her or where she died. From this union two children were born: Michael Vincent and Sophia Doll. Rumor has it that she was not happy living in Iowa and ran away with a Wagon Train that came through the area.
Tune is "Eidelweiss"
ST. STANISLAUS CHURCH - HILLS, IOWA
Second Great Grandfather Michael F. Doll donated the land and helped build this church. Michael F. and his second wife Catherine Schnoebelen-Doll were married in 1848. They had twelve more children. Michael and Catherine are buried in the cemetery left of the Church.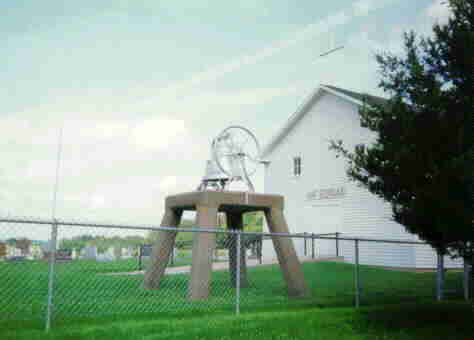 ORIGINAL BELL OF ST. STANISLAUS CHURCH
Family photo in Iowa of Michael's Children and Grandchildren
Garry's Grandmother Ella Christina Doll b. 1897 d. 1986. The photo was taken when she was 17 Years Old. In family photo above, second from the right. Grandaughter of Michael F. Doll and Catherine Redbaugh, Daughter of Michael V. Doll and Mary Elizabeth Schrader Doll.
10 Oct 1919 she married Wilber Powers b. 1882 d. 1956.
He worked for the Union Pacific Railroad as a switchman.