Pictures of My Malteses
Above you will see left to right: Freddie Boy of Peace Manor (Dad), Maggie Powder Puff (Mummie), smallest puppy (son) is one that was adopted and they named him Einstein, & Romeo Bien Aime (son). Their shorter names are Maggie, Fred, and Romeo. Romeo's long name means beloved champion in Italian and French combined. I love my Malteses dearly! They are all so sweet! Their nicknames are Maggie Muffins, Freddie Spaghetti (he loves Italian food), and Romey.
Freddie Boy, Maggie, Romeo & Puppy
Left to right - Fred (8 lbs.) with his eyes closed, Maggie in the back (6 lbs.), Einstein (3 months old) and Romeo (10 lbs). Malteses average weight is from 6-9 lbs. They are in the "toy" breed group.
Left to right - Fred licking his wife Maggie, Einstein, and Romeo.
Einstein only a few days old! He was born on August 17th 1995. Isn't he adorable! His eyes haven't even opened yet! He just ate, you can see by how fat his belly is! Malteses have small litters (average is 1-3 pups per litter). This litter only had one pup. So he got all the milk and has a full belly! Maggie had 2 pups in her first litter- Romeo (mine) and Pebbles (adopted) on September 23, 1994. In her 2nd litter she had two pups again - Lacey & Bogey on March 4th 1995, both were adopted. She's retired now having had a total of 3 litters - 5 pups. She does everything with her son Romeo! They sleep together, eat together, sit together, car rides, walks, etc.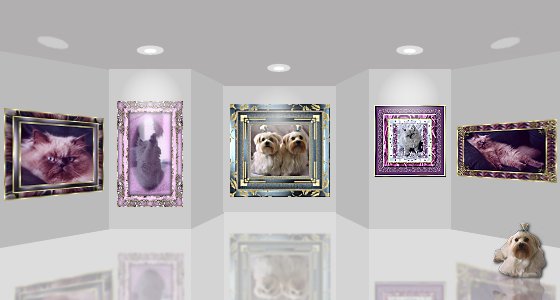 MANY MORE PHOTOS OF MY MALTESES!
Potty Training 101
To Breed or Not To?
Recommendations:
Food -
Wellness
Treats -
Mini Biscuits
By Mother Hubbard in bags at Petsmart.
Lead -
Resco Show Lead
(combination collar and lead-adjustable)
Kennel -
Petmate Kennel Cab
Intermediate Size for up to 25 lbs.
Bowls - Stainless Steel Double
Diner
1 pint size
Combs -
Dematting Comb
, Combs - one with fine & one with medium width between blades
Bands -
Rubber Bands
for Top Knot (type in search box "bands")
Bows -
Pretty Ribbons
for the Top Knot
Shampoo
- (smells like oatmeal cookies!), leave in conditioner, breath spray, odor neutralizer.
Toys - Tennis balls, squeak balls and plush toys, human baby toys (stuffed rattles).
Bed - Use bath towels or baby blankets which are easily removed from kennel for washing.
Rawhides -
Chew-eez
by Alpo in blue box at Walmart. Small rawhides (darker colored ones) in bone shape or stick shape at Target.
Baby
Gates
- 2 for the kitchen, potty training.
Bissell - Spot Lifter portable carpet cleaning
machine.
Webrings

Free counters provided by Andale.

© 1999-2003 Peace Manor