LDS Young Women
Hi! My name is Lissa Stinson. I'm a member of the Church of Jesus Christ of Latter-day Saints.
This page was made a few years back for my first Laurel Project in the Young Women's program.
Here you'll find ideas for activities, inspirational quotes and scriptures and lots more. If you have
any questions or comments, please feel free to sign my guest book below. I'd love to hear from you!

Salt Lake City won when we polled everyone's favorite Utah temple.
Individual Worth won when we polled everyone's favorite YW value.
The most popular of President Hinckley's 6 B's was Be Grateful.
The most popular book of scripture (by far) was the Book of Mormon.
Being with friends who share your values was voted the best part of YW camp.
President Hinckley's greatest legacy was voted as increasing the number of temples.

There's a new poll at the bottom of the page. Vote for your top spiritual goal for 2010!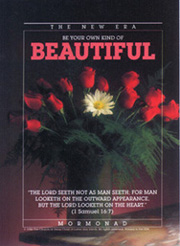 ---
Thought of the Month: Testimony

"The Lord has blessed you with a testimony of the truth. You have felt His influence and witnessed His power.
And if you continue to seek Him, He will continue to grant you sacred experiences."

--President Dieter F. Uchtdorf
January 2010 Ensign
---
Scripture of the Month: D&C 50:23-24

And that which doth not edify is not of God, and is darkness.

That which is of God is light; and he that receiveth light, and continueth in God,
receiveth more light; and that light groweth brighter and brighter until the perfect day.

---
The Young Women Theme
We are daughters of our Heavenly Father, who loves us,
and we love him. We will "stand as witnesses of God at all
times and in all things, and in all places..." as we strive
to live the Young Women Values, which are:
Faith
Divine Nature
Individual Worth
Knowledge
Choice and Accountability
Good Works
Integrity and
Virtue
We believe as we come to accept and act upon these values,
we will be prepared to strengthen home and family, make and keep
sacred covenants, receive ordinances of the temple, and
enjoy the blessings of exaltation.

(See Mosiah 18:9)
---
The Young Women Motto:
Stand for Truth and Righteousness
---
Activity Ideas by YW Value

Faith


Divine Nature


Individual Worth


Knowledge


Choice & Accountability


Good Works


Integrity

---
Especially for...
Beehives
Mia Maids
Laurels
---
Scriptures, Thoughts & Awesome Talks
Awesome Talks by General Authorities

---
Collection
The "P" Formula for Success
The Room

Managing Time and Staying Balanced

The Doctrine of Eternal Marriage
---
YW CAMP


Camp Skits, Songs and Activities
---
Links:

The Church of Jesus Christ of Latter-day Saints--This is the official web site for the Church.


Young Women--Official Church Young Women site (great resource for leaders and girls alike!)


Mormon Beliefs--Official Church site that answers basic questions about Mormonism


Joseph Smith--Offical Church web site about the prophet Joseph Smith


Screen It--Want to know if a movie is clean?


Becky's World of "Son" Shine--great for YW leaders, too!


JennySmith.net--LDS Young Women Lesson Helps, Clipart, Programs, and Activity Ideas


Families in Zion--Provides free FHE ideas, object lessons, stories and movie reviews for LDS families


Mormon Modesty


Young Women Connection


Helping YW Transition into Relief Society


Lorrie's LDS Young Women's Page


Especially For Youth (EFY) Home Page


Eternal Precepts & Women of Value


LDS Missionary Helper--this site is designed for missionaries but it has tons of great quotes and answers to those hard questions your friends ask!

---
---
<!start of zionsearch award code>




ZionSearch Award Winning Site


<!end of zionsearch award code>

You are the
person to visit this page since 29 December, 1998.
Last

January 13, 2010.

Please note that this is NOT an official website of the Church of Jesus Christ of Latter-day Saints,
although I am devoted to and have a testimony of the principles it teaches.

Counter courtesy of Net Digits
Free LDS Clipart provided courtesy of JennySmith.net and D.J.'s Best.