~~~~~~~~~~~~~~~~
Almost everyone has 2 feet
There are now over 300,000,000 ( THREE HUNDRED MILLION )
potential users in the U.S. alone
That's 600,000,000 feet !!!!!!!!!!!!!
~~~~~~~~

UNIVERSAL / Multi Purpose
Hands Free Personal Care health hygiene beauty
Reflexology Massagers & Foot Care Device
FREE for p&h Sample linked below
~~~~~~~~~~~~~
I challenge ANYONE to find a similar product pre dating this unique hands free foot care invention
--- ANYWHERE ---
It was unique and Not even Dr Scholl's nor any other foot care device manufacturer had anything similar
.

My health has deteriorated and I am unable to continue
I am selling the Manufacturing process
some of the manufacturing materials are also included
along with enough parts for approximately 200 additional units to be assembled or re-packaged
The parts includes the one place injection mold
for the base of the device
The mold has 5000 cycles run out of a possible 100,000
and
the die for cutting the abrasive pads,
approx. 200 suction cups
400 packaging bags
approx. 200 abrasive pads
~~~~~~~~~~~
Watch these 3 tv commercials, for my Foot Eze
Hands Free / No Bending Foot Care Device
I ran various editions for the Device during my test marketing
They have been edited for use online and You Tube

https://www.youtube.com/watch?v=oBnd7MEYWu4
Click ON EACH for the TV COMMERCIALS which I ran on cable systems throughout the U.S.
~~~~~~~~~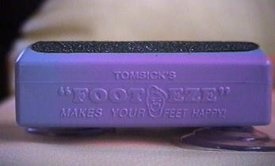 Visit This site HERE
for another example of my marketing approach
---
*
Next is my Ebay Site
Go Here to see my Ebay Auctions for the Foot - Eze
http://search.ebay.com/_W0QQsassZimjustme622
is the url link to my Ebay auctions which include my other inventions too
The Pontoon Boat Depth Finder Mounting and My Fold Up Train Layout Board
Are both my inventions too
AGAIN: The manufacturing process can be run from your home
over the phone
You will need to contract a plastics manufacturer to mold the bases
order the other various parts
( Suction cups and abrasive pads and product bags )
from subcontractors
have them delivered to the your packaging facility
You could even assemble the package yourself
or have family and friends help
and that IS it
Set up your order processing system / and oversee it
I used
ADULT HANDICAPPED WORKSHOPS
for packaging this innovation
Thereby providing jobs for them
You can run the WHOLE operation from a home by phone
~~~~~~~~~~~~~~~~
I will continue to promote the product on the Internet -- If you wish
I can maintain and host THE MANY webpages for the Product
for a period of time
~~~~~~~~~
I will help you as much as I can
~~~~~~~~~
Its potential is unlimited
See what General Norman Schwazkopf said about my product
HERE
Maybe you have the connections
to sell directly to the Militarys of the world
Think of the market for people who are looking to send gifts
to Our Troops to show Support
This is the answer to that problem as it affords the
average citizen an opportunity
to get and send something useful to our troops
without spending a lot of money
Search "Free Gifts for Any Soldiers"
~~~~~~~~~~~~~
Great as gifts for
Soldiers - Working Women - Moms to Be - Seniors
Handicapped & The Fit and abled =
Offer it as assisted living aids for those with limited mobility - Seniors - Disabled
- Back pain sufferers --Pregnant women
the Foot Eze exfoliates dry feet
Ever ask? How can I get rid of foot odor ? - this product addresses that problem too, use the Foot Eze
I need someone or a group to take over
You can be a town that needs money - a group / club of people - or individual who is enterprising and on the Ball
I am offering this opportunity to make a difference
~~~~~~~~~~~~~~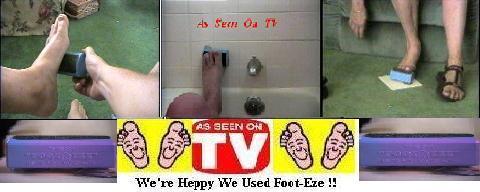 I am certain some one with the ability and where-with-all
to sort through the red tape of Government procurement
could sell these to ALL the Military's of the world and retail sales would boom from that exposure
Since all parts are bought pre-made
The operation can be run over the phone from a home
I have complied a list of marketing venues
Maybe a group or small town could take it over
The profit potential is enormous as you can see
Cost to produce is under $1.00 per unit
EVERYONE Can Use this
It is just a matter of getting into the right persons or groups control
I am JUST the inventor
I do not have the ability to market it on the scale which it deserves
or do it justice
This device is approved by a leading podiatrist
His testimonial is here
~~~~~~~~~~~~~~~
What the Hands free foot care product -
the Foot Eze does is: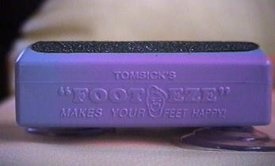 Saves the user Time and $ Money on expen$ive vi$it$ to the Doctor$ and Pedicure Salon
Eliminates the need for bending and stretching to:
Removes odor causing dead skin & unsightly painful callouses
Stimulate Feet and Legs
Rids your feet of dry scaly skin and exfoliates it
Relaxes the user
Leaves feet - fresh - attractive and tingling
It mounts with suction cups to any smooth clean surface -
Wall at foot of tub, floor of shower, tile on floor of office, rec room or barracks
Stick it to a loose tile and place it anywhere you want it
The abrasive pad is Silica Graphite
Incorporates the fundamentals of reflexology foot massage
The premise for Reflexology Foot Massage is:
IF YOUR FEET FEEL GOOD
YOU FEEL GOOD ALL OVER
~~~~~~~~~~~
Reflexology foot massage has been used almost since man first stood up and walked on two feet
I include a free Reflexology foot massage chart with each unit
Detailed MFG COSTS WILL BE SUPPLIED to Principals ONLY
****
See THIS link for one of my offer pages
~~~~~~~~~~~~~
Think about selling it to beauty / pedicure salons or materntiy stores
or cruise ships lines / hotels / motels
to be sold on an "If used" basis just like Honor Bar Items
OR
using the Foot Eze as a fund raising premium
at Benefit walks and runs,
carnivals, bazaars, raffles etc. to put the cause on
"Solid Footing" & The donator in "Good Standing"
an explanation of that approach will be passed on during the changeover process
~~~~~~~~~~~~


Make me an OFFER
E-mail me at this link HERE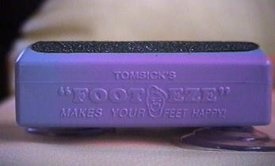 There is an upsell feature to the Foot-Eze-1
as the pumice like - silica graphite abrasive pads need to be replaced after about a year of use
I have also sold the abrasive pad ( The FootEze2 ) on its own
for up to $1.99 each


Inquire For more on the FootEze2 ( the up-sell - add-on abrasive pad )
.

Never hear anyone CRY "My feet are KILLING me" AGAIN !!!
It is perfect for Active people as well as those with limited mobility
Postal Workers and Soldiers
Mothers to Be or maternity shops can sell it as shower gifts for expecting mothers
Offer it to beauty salon owners to sell
or to use as a promotional customer appreciation gift
Let Handicapped Catalogs / General Merchandise catalogs / online catalogs offer it as an assistive living device to those who can't bend to reach their feet


~~~~~~~~~~~~~~~~~~~~~~~~~~
If your interested there
is page which tells ALL about the inventor and
the story of a Miracle on How the Foot-Eze-1 DEVICE came about
out of a paralyzing spinal cord injury
and why I can not continue with this effort
Mickey Mantle is involved

Mickey Mantle Me and My Brother
Cleveland Stadium May 7th 1957
~~~~~~~~~~~~~~~~~~
~~~~~~~~~~~~~~~~~
Anyone seeing this page can
Get up to 4 Free For shipping Samples
ClicK HERE for your
FREE
For Shipping SAMPLE


~~~~~~~
**~~~~~~~~~&&~~~~~~~~~**
email THE INVENTOR



HERE with any questions
+++++
NOW --- Here is another TV commercial I used for marketing












 End of Page
30

















































 End of Page
30















































































 End of Page
30





































































After watching events in Ferguson MO. and Baltimore MD. 
and










































http://soldiers22.angelfire.com/FREE499.html



















Bill Hurricane Charley - Hurricane Wilma - Katrina - Hurricane Rita -
Frances - Hurricanes Ivan Page
with pics and details about those storms and their aftermath

~~~~~~~~~~~~~~~~~~~~~~~~

********************

~~~~~~~~~~~~~~~~~~~~~~~~~~~~~~

colorado bill tomscki william

~~~~~~~~~~~~~~~~~~~~~~~~~

~~~~~~~~~~~~

Investment angels needed for this project

Patents for sale
Hands free foot care for soldiers waitresses any one who said Feet Are killing me
I never saw the announcements for the American Inventor TV show.

So I guess I will need to wait for the next years auditions / tryous for the American Inventors TV show

I will need your votes

I have an idea for a tv show

Pumice stones

Pedicure, manicure.

Great for beauty solons who give pedicures

I am looking for patents that are for sale to manufacturers. Innovations that are new ideas for beauty products, health and hygiene items, Foot Care Foot Problems callouses , calluses. pumice stones, reflexology foot massage. Reflexology Feet messagers are great items for soldiers waiteresses nurses policemen firemen postal workers any one who is on their feet a lot and has asaid My feet are killing me. Inventions for sale for personal care items for working women - nurses - waitresses - postal workers - policemen firemen soldiers. A great gift to send to a soldier in Iraq

Foot massagers are the rage

inventors digests inventions --- innovations gizmos and gadgets

Ideas inventions submissions --- send ideas to corporations - innovations.

FREE Sample of the Patent for sale foot care
item found HERE Multi Purpose Universal foot care personal care device products Patent
manufacturing process for sale hands free foot care pedicure callus remover calluses
callouses foot odor products health hygiene TV Show beauty salon personal care item foot
massagers foot messagers handiacpped American Inventor TV show assisted living devices
elderly exfoliators dry skin pumice stones seniors free gifts any soldiers deployed in Iraq
Handicapped pumice stones inventors digest military run own your own business invention submission Corporations

These new ideas patents for sale - inventors digests where can I find new ideas to sell - manufacture - produce market to be included in care packages as personal care iktems for any soldiers

Any soldiers free gifts for soldiers - personal care items to send to soldiers free FL.

Free shipping and handling free stuff for soldiers deployed in Iraq and Afganistan

I have foot messagers foot massagers reflexology foot massage foot message INNOVATIONS AND IDEAS FOR SALE

GIZMOS GADGETS 2006 THE BEST inventions of 2007- the best inventions of 2006 Newest and brightest innovations for the year


Bill

,

American Inventors TV SHOW

Pedicure supplies devices and items

Beauty salon maternity store

working women with sore tired achy feet

great free gift

Handicapped assisted living devices

Pictures mpgs gifs jpgs jpeg mpegs videos streaming
of events after Hurricane Katrina - Wilma Charly - Charlie Charley
paths of storms 2004 2005 2006

I missed any commercials announcing the American Inventor TV show

I guess I must now wait until next years audtitions

I offer a hands free foot care product that is unique and no one else offers it

Products handicapped assisted living devices

Senior care innovations to assist the elderly with personal grooming and personal care itmes

I now I will vote for the American Inventors TV show best ideas, innovations , gizmos, gadgets, gagets, inventions

Pumice stones, silica graphite is what the abrasiver pad is made of.

Acts just like a pumice stones
 inventor windshield wipers ford motor company stole his idea His idea sued ford motor won case sepnt over 20 million on layers 

More effective Ped then the egg

easier to use than the ped AS SEEN ON TV egg



  

Multi Purpose Universal foot care device 

Patent manufacturing process for sale hands free foot care pedicure callus remover calluses callouses

 Foot odor products health hygiene TV Show beauty salon personal care item foot massagers foot messagers

 Handiacpped American Inventor TV show assisted living devices elderly exfoliators dry skin

 Pumice stones seniors free gifts any soldiers pumice stones 

Pumiss defoliators, exfoiliator dry skin soles of feet hard skin

Get rid of foot odor 

dry cracked skin

Tired achy feet 

defoliators of skin on feet off feet

inventors digest military run own your own business Patents for sale, innovations, new ideas, for sale, manufacturers, gizmos gadgets, free foot care fl, l  ASS SEEN ON TV, AS SEEN ON TV .http://search.ebay.com/_W0QQsassZimjustme622
is a link to my Ebay auctions which include my inventions  

Great gifts for Any soldiers, personal care items to send to soldiers .

Some offers are Free for shipping and handling 

Hands FREE Foot Eze Foot Care innovation invention device

. https://www.angelfire.com/soldiers22/moms2be.html 
Here is a page where you can Donate to the any cause you designate and get A Foot-Eze as a nice gift 
100% of the items final value goes to the cause YOU DESIGNATE  ( D326,931 & D343,476 ) my home based businesses, run this from home

You can earn money from home workinh at home
Run this business from your home. Great home basedbusiness opprtunity - earn money from my home.

Dr School's Dr Johnson - starcrest of California.

The Inventor American 

for any soldiers deployed in Iraq, Afganistan, husbands in the armed forces, wives of soldiers, wife of a soldier, Military Support Forums ideal gift to exfoliate dry itchy scaily skin 

what can I send to a soldier in Iraq 

In the Armed Forces, Army, Navy, Marines, Air Force, 


Thats 6.5 BILLION 

. can i get rid of foot odor dry scaly skailely skin off my smelly stinky feet, calluses, callouses, my feet are killing me, reflexology foot massagers messagers 

Search Engine Optimization and SEO Tools


Its potential is unlimited 
See what General Norman Schwazkopf said about it 
https://www.angelfire.com/planet/book/jerkuk.html HERE

This device is approved by a leading podiatrist https://www.angelfire.com/un/mhfl/p/testim.JPG 
His testimonial  is here Manufacturing Process for sale foot care item found HERE FREE SAMPLES Multi Purpose Universal foot care personal 
care HANDS FREE device products manufacturing process for sale hands free Patent for sale free foot
 care pedicure callus remover calluses callouses foot odor products health hygiene TV Show beauty salon personal 
care item foot massagers foot messagers handiacpped American Inventor TV show assisted living devices elderly 
exfoliators dry skin pumice stones seniors free gifts any soldiers deployed in Iraq pumice stones inventors
 digest military run own your own ped business egg want to be my own boss your won boss

~~~~~~~~~~~~~~~