This is the unofficial home page of the Bellmead Police Department, a police department in a city of 9,214 people, consisting of 33 personnel. The city is a suburb of Waco, Texas, located on the IH35 corridor between Dallas and Austin, Texas.
About our Chief...
Chief Robert L. Harold was born September 5, 1942 in St. Louis MO, and grew up in St. Louis. Robert did not start his law enforcement career until after serving his country in the United States Army for twenty-six (26) years and retired as Sergeant Major. Robert started in Law Enforcement while still on active duty. While stationed at Ft. Hood in August 1982, he started his Law Enforcement career as a Reserve Police Officer with the City of Bellmead, Texas. Robert was the first African American to be hired as a Police Officer in the City of Bellmead. Robert retired in August 1985 and was hired as the City's first black full time officer. After three (3) years, Robert was hired by Baylor University, and again was the first African American to work for the Baylor Department of Public Safety and was promoted to the rank of Patrol Sergeant. In 1989 Robert went to work as a Drug Abuse Resistance Education Officer (DARE) for the McLennan County Sheriff's Department. In October 1990, Robert was selected to be the Chief of Police in the City of Bellmead, Texas.
Robert and his wife, Mary Ann have nine (9) children, thirty-nine (39) grandchildren, and twenty (20) great grandchildren. Robert and his wife are members of the Community Baptist Church where Robert serves on the Ushers Board. Robert is also Past President of the Bellmead Lions Club.
Robert is actively involved in the Texas Police Chiefs Association (TPCA), International Association of Chiefs of Police (IACP), International Police Association (IPA), a member in the National Organization of Black Law Enforcement Executives (NOBLE), National and Texas State DARE Association, and the Minority Peace Officers Alliance. Robert was the first African American to run for Sheriff in McLennan County, and even though he lost, he proved that an African American can run for county-wide office.
Robert has received numerous Civic Awards including: THE MAN OF THE YEAR from the Regular Fellows Social Club, OUTSTANDING LION OF THE YEAR AWARD, POLICE COMMENDATION, MERITORIOUS SERVICE AWARD, COMMUNITY SERVICE AWARD, AND GOOD CONDUCT AWARD.
Department Sections/Personnel
History of our Patch
Coming Soon
Officer and Support Personnel of the Month

Check out our listing and all the other great listings and features of Police Guide by clicking on the button above.
Chat with Police Officers from around the world.
Sign My Guestbook
View My Guestbook

This site is still under construction. Please visit again soon!
ThisAustralian Patch Collectors site is owned by Bellmead.
Want to join the The Australian Patch Collectors Web Ring?
[Skip Prev][Prev][][][Random][Next 5][List Sites]

Check out all the great listings in the Police Officer's Internet Directory by clicking on the button above.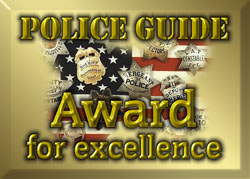 To see how you can nominate a page for the Super Cop Page Award
Click on our award above.
Coplink - The Ultimate Resource for Law Enforcement Professionals. Click above to check it out.
Check out these other great sites on the web
Angelfire - Easiest Free Home Pages
Are You Okay?
Stu Royle's Heliport
Nightwatch

Email: chiefbob@bellmead.com