Bill Hillman's
Volume 741
and
ERB C.H.A.S.E.R ENCYCLOPEDIA
ERB C.H.A.S.E.R.
A Collector's Hypertexted and Annotated Storehouse of Encyclopedic Resources
by an Exhausted Scholar
William G. Hillman
present

Edgar Rice Burroughs'
AT THE EARTH'S CORE
ERB commenced writing this first novel in the Pellucidar series in January 1913
WT=The Inner World -- MT=Lost Inside the Earth/At the Earth's Core

---
PULP
All-Story Weekly: 1914 April 4, 11, 18, 25
Modest Stein cover on first issue ~ headpieces in each installment by unknown artist
Modern Mechanics and Invention: "Lost Inside the Earth": 1929 February - April
Unknown artist: two red/white illustrations per issue ~ ERB photo in issue one
FIRST EDITION
A.C. McClurg: July 22, 1922 ~ 277 pages
J. Allen St. John: DJ and nine sepia plates
REPRINT EDITIONS
Grosset & Dunlap: 1923 and numerous other reprints ~ only eight interiors
Grosset & Dunlap: 1940 ~ no interiors ~ Sketch of ERB on DJ back
Ace paperback: September 1962 ~ with numerous reprintings ~ 142 pages
Roy G. Krenkel cover and title page
Canaveral Press: October 24, 1962 ~ 159 pages
Mahlon Blaine: DJ and seven b/w interiors
Dover: with Pellucidar and Tanar of Pellucidar as Three Science Fiction Novels by ERB: 1963 ~ 433 pages
J. Allen St. John cover art from Pellucidar and 12 b/w G&D interiors ~ Paul F. Berdanier one illustration
Peter Smith library hardcover version of the Dover edition ~ no DJ
Ace paperback ~ 159 pages
Frank Frazetta cover
Ace paperback movie tie-in: July 1976 ~ 210 pages
Film illustration on cover
Doubleday Science-Fiction Book Club movie tie-in: November 1976 ~ 152 pages
Film illustration DJ and eight b/w interior photos with stars: Doug McClure ~ Peter Cushing ~ Caroline Munro
Ballantine - Del Rey: May 1990 ~ 181 pages
David B. Mattingly cover
Easton Press leather-bound edition with A Princess of Mars: 1996 ~318 pages
Ron Miller interiors ~ L. Sprague de Camp introduction
Bison Press
St. John adapted cover
Dover Juvenile
For detailed information see: Robert Zeuschner's
ERB: The Exhaustive Scholarís and Collectorís Descriptive Bibliography
Dial 1-800-253-2187 to order a copy from McFarland for $46.50
---
---
J. ALLEN ST. JOHN ART GALLERY
---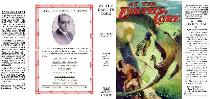 See
ERBzin-e 431: Pellucidar Gallery IV
15 Illustrations from At The Earth's Core
---
Double Day Film Edition Illustrations
---
---
LORD GREYSTOKE'S PAPERBACK GALLERY
---
WANTED
DOVER 3 SF NOVELS
CANAVERAL BLAINE 7 INTERIORS
EASTON PRESS
---
BACK TO ERB C.H.A.S.E.R. NAVIGATION CHART
. WEBJED: BILL HILLMAN .
Visit our thousands of other sites at:
BILL & SUE-ON HILLMAN ECLECTIC STUDIO
Some ERB Images and Tarzan© are Copyright ERB, Inc.- All Rights Reserved.
All Original Work ©1996-2003 by Bill Hillman and/or Contributing Authors/Owners
No part of this web site may be reproduced without permission from the respective owners.