Bill Hillman's
Volume 730
and
ERB C.H.A.S.E.R ENCYCLOPEDIA
present

Edgar Rice Burroughs'
TARZAN AND THE CASTAWAYS
Frank Frazetta Art ~ Covers ~ Publishing History
Summary ~ Cast ~ Chapter Titles ~ Lord Greystoke's Art Gallery


---
PUBLISHING HISTORY (USA)
Written in three installments::
Tarzan and the Champion (July 1939)
Murder in the Jungle (Tarzan and the Jungle Murders) (January 1939)
The Quest of Tarzan (begun in November 1940)
---
PULP
Blue Book Magazine: April 1940
Tarzan and the Champion
L. R. Gustavson: numerous tinted and b/w interiors
Thrilling Adventures: June 1940
Tarzan and the Jungle Murders
Rudolph Belarski: cover ~ C. A. Murphy: 12 b/w interiors
Argosy Weekly: 1941: August 23, 30; September 6
The Quest of Tarzan
Virgil Finlay: first installment cover and one interior per issue
FIRST EDITION
Canaveral Press: 1965 with bibliographic note by Richard Lupoff ~ 229 pages
Frank Frazetta: DJ and six interiors
REPRINT EDITIONS
Ballantine Books paperback: July 1965 ~ 191 pages
Robert Abbett cover
Ballantine Books paperback: March 1974
Robert Abbet: cropped version of his original cover
Canaveral Press: 1975
Ballantine Books paperback
Richard Powers cover
Ballantine Books paperback ~ September 1977
Boris Vallejo cover
ERB News Dateline fanzine #34: May 1989
The Quest of Tarzan reprint of the pulp version ~ editor Mike Conran analysis
Mike Cody: colour cover ~ Virgil Finlay: back cover: reproduction of orignal cover
For detailed information see:Robert Zeuschner's
ERB: The Exhaustive Scholar's and Collector's Descriptive Bibliography
Dial 1-800-253-2187 to order a copy from McFarland for $46.50
---

CAST (in order of appearance)

---
Part 1
Tarzan and the Castaways (1941)
Saigon — Fritz Krause ~ German "Bring 'em back alive" badguy
Abdullah Abu Nejm former ivory poacher, slave trader
Janette Laon ~ beautiful French companion of Krause
Wilhelm Schmidt ~ 2nd mate of the Saigon
Hans de Groote ~ young Dutch 1st mate of the Saigon
TARZAN of the Apes ~ John Clayton; Mayans' Che, Lord Forest
Chand, Jabu Singh, Chuldrup ~ Lascar sailors on the Saignon
Oubanovitch ~ Red Russian, engineer on the Saigon
Lum Kip ~ Chinese sailor on the Saigon
Larsen ~ Captain of the Saigon, ill (never appears)
Naiad — Algernon
Wright-Smith ~ fiance of Patricia Leigh-Burden
William Cecil Hugh Percival Leigh ~ Colonel, owner of the Naiad
Patricia Leigh-Burden ~ niece of Col. Leigh
Penelope Leigh ~ whining, snobby wife of Col. Leigh
Tibbett ~ 2nd mate on the Naiad
Dr. Crouch ~ passenger on the Naiad
Mayans — Thak Chan ~ Mayan hunter from Chichen Itza
Xatl Din ~ Mayan officer
Cit Coh Xiu ~ Mayan King of Uxmal Island
Chal Yip Xiu ~ Mayan High Priest
Itzl Cha ~ Mayan girl, victim-to-be


Part 2
Tarzan and the Champion (1940)
"One-Punch" Mullargan ~ Heavyweight Champion of the World
Joey Marks ~ Mullargan's manager
TARZAN of the Apes ~ John Clayton, Lord Greystoke
Nkima ~ little monkey, Tarzan's friend
Melton ~ truck driver, guide for Mullargan and Marks
Muviro ~ Chief of Tarzan's Waziri

Part 3
Tarzan and the Jungle Murders (1940)
TARZAN of the Apes ~ John Clayton, Lord Greystoke
RAF Lt. Cecil Giles-Burton ~ downed English pilot
Horace Brown ~ Chicago inventor of ignition disruptor device
Nikolai Zubanev ~ Russian exile in London
Joseph Campbell ~ aka "Joe the Pooch"
Mary Graham ~ Brown's blabby secretary
the Great Man ~ Benito Mussolini, Italian dictator
Lt. Torini ~ Campbell and Zubanev's pilot across Africa
Chemungo ~ son of Mpingu
Mpingu ~ Chief of the Buiroo cannibals
Lady Barbara Ramsgate ~ on hunting safari near Bangali
Lord John Ramsgate ~ her brother
Gerald Gault ~ Romanoff's English guide
Duncan Trent ~ on safari, in love with Lady Barbara
Mr. Romanoff ~ on photographic safari joined to Ramsgates'
Pierre Romanoff's valet, in love withViolet
Sergei Godensky ~ Romanoff's photographer, loves
Violet Tomlin ~ John Ramsgate's valet, in love with Violet
Violet Lady Barbara's maid
Smith & Peterson ~ derelicts with the Ramsgate safari
Col. Gerald Giles-Burton ~ Bangali Resident Commissioner, Cecil's father
Cast List Ref: Clark A. Brady's Burroughs Cyclopedia and Ed Stephan's Tarzan of the Internet
---
Book Blurb Summary
from Ballantine Books
---
Stranded on an uncharted Pacific island, Tarzan was forced to take command of an ill-sorted party—English aristocrats, a Dutch officer, a woman of doubtful reputation—to insure their safety from a band of mutineers led by a madman. A lost colony of Mayans, avid for potential victims for their barbarous human sacrifices, only added to the danger. But the Lord of the Jungle had unexpected allies...Cast away with his band was a shipment of African animals unknown to the island, striking terror in the hearts of Mayans and mutineers alike—but old friends and familiar antagonists to the man brought up among them...Tarzan of
the Apes.
---
CHAPTERS
---
Tarzan and The Castaways
24 untitled chapters

Tarzan and the Champion
No chapters

Tarzan and the Jungle Murders
I. The Hyena's Voice
II. The Thread of Fate
III. Broken Wings
IV. Jungle Call
V. The Safari
VI. The Coming of Tarzan
VII. Murder Will Out

---
LORD GREYSTOKE'S GALLERY
Frank Frazetta Gallery of Interior Art from Canaveral
6 of 6 interiors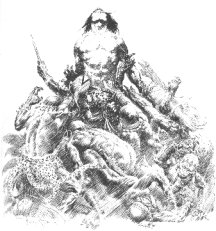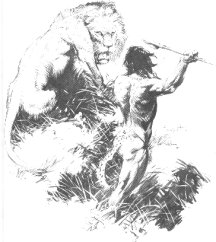 UK Paperback Covers

---
"Tarzan and the Champion"
Review contributed by Doc Hermes ERB Reviews
From April 1940, where it appeared in BLUE BOOK magazine, this is a minor story in the Tarzan saga. It has some good points, but it also misses some great possibilities.
What we`re dealing with here is an American heavyweight boxing champion who has taken it into his head to travel through Africa and shoot hundreds of wild animals for trophies. Not only does he come up against Tarzan, who takes a dim view of the whole proceedings, but there are also some particularly unpleasant cannibals in the area, so things don`t go well for the boxer and his manager.
Part of the problem with this story is that "One Punch" Mullargan is such a cardboard character, an incredibly ignorant brute who never really comes to life. His limited intelligence and careless habits with his fists are quickly tedious, and his stereotyped New York slang is supposed to be amusing but is only tiresome. Also, I know Tarzan is strong and quick bordering on the superhuman, but it might have been more interesting if Mullargan had put up a good fight in their inevitable duel. Warch old newreels of Joe Louis in action and you can see how someone like that could give even the Apeman a hard time.
Mullargan does show signs of being redeemable. After Tarzan chastises him for shooting dozens of zebra (with a machine gun, no less), the boxer struggles with the idea and eventually apologizes, saying that he never thought about animals having feelings. To his credit, Tarzan takes this belated apology into account. Also, when Mullargan`s manager is captured, the champ doesn`t escape but turns back in a hopeless attempt to rescue him. This impresses the Apeman. ("...self-sacrificing heroism is not a common characteristic of wild beasts. It belongs almost exclusively to man, marking the more courageous among them. It was an attribute that Tarzan could understand and admire.") This is one of the rare times when Burroughs has something nice to say about people, and it`s worth noting.
The best part of the story is actually the menace of the Babanos, a tribe of canibals who relish their diet. ("They eat human flesh because they like it, because they prefer it to any other food...they hunt man as other men hunt game animals, and they are hated and feared throughout the territory they raid.") The Babanos are genuinely scary, and they provide Tarzan with a worthwhile challenge that every hero needs to show his mettle. The Babango prepare their victims by first breaking the prisoners` arms and legs in several places and then letting them soak in the river for a few days to make them tender. (I`m pretty sure I saw Rachael Ray doing this on 30 MINUTE MEALS on the Food Channel, or maybe it was the Two Fat Ladies. Anyway...)
Contrasting with the Babangos are the Waziri, who are their usual stalwart, noble selves. The porters in the safari recognize the Waziri as great warriors, whom they do not have to fear. I always thought the Tarzan movies would have benefitted from having the impressive Muviro and his tribe in the action more. Finally, as brief as this story is, Tarzan manages to find an opportunity to drop down on a lion, then wrestle with it and stab it to death. Was there ANY Tarzan book where he didn`t kill at least one lion? (Even on Sumatra, in TARZAN AND "THE FOREIGN LEGION" he sent a tiger or two to their afterlife.)
---
Other Tarzan and the Castaways features in ERBzin-e
ERBzin-e 309: Nkima Chattering from the Shoulder #8
ERBzin-e 302: Nkima Chat #3: Tarzan and the Champion
ERBzin-e 306: Nkima Chat #6: Tarzan and the Jungle Murders
ERBzin-e 285: Tarzan: Jungle Detective
BACK TO ERB C.H.A.S.E.R. NAVIGATION CHART
. WEBJED: BILL HILLMAN .
Visit our thousands of other sites at:
BILL & SUE-ON HILLMAN ECLECTIC STUDIO
Some ERB Images and Tarzan© are Copyright ERB, Inc.- All Rights Reserved.
All Original Work ©1996-2003 by Bill Hillman and/or Contributing Authors/Owners
No part of this web site may be reproduced without permission from the respective owners.