Favorite Links
---
Please feel free to visit our message board. Just click below.
---
Awards that we have won.
May 2001
May 2001
---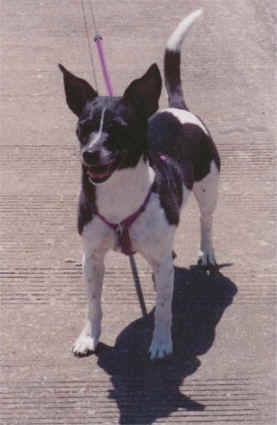 After spending the first three years of her life being beaten, it took her a while to learn to trust that we would feed her, not hit her and give her all the love she could handle. Cagney has been with us three years now, and she has has become one of the sweetest little dogs I have ever known. Initially, we would go to pet her and she would cower, afraid that she would be hit. Now, if in her mind, we are not paying her enough attention, she will jump up, nuzzle our hand, cuddle up next to us and demand that she gets the love and attention that she wants. She will now go up to strangers and want them to pet her, as opposed to hiding behind us and shaking. She enjoys people, enjoys playing and being loved. I have to admit, I was not sure that she would ever come around. I was afraid that after being mistreated so long, she would never really be able to trust people. I wanted to give her the best life I could and make sure that she was happy, but I honestly never figured that she would be the cuddle pup that she has turned in to. It is so rewarding to know that we were able to not only able to help rescue an animal from a horrible life, but to also show her that most people are good and that she deserves to have a safe warm home, with plenty of food and tons of love. If you are considering getting a rescue animal, it is so worth your while. It may take patience, but the rewards are definitely worth the effort.
Site designed by McClain Creative Design