50'S KIDS FAVORITE TV SHOWS

I grew up in Seattle in the 1950's, the child of a Canadian immigrant. My mother was born in Chatham, Ontario, and came to live in America in her 20's. Our family lived in Ballard,
in the Lock Vista Apts,across from the Government Locks. Before that, we lived in an apartment near Lake Union. Prior to that, Mom and Grandma rented a vintage Craftsman Bungalow home behind the Wallingford Police Precinct, where Grandma grew a small vegetable garden. Mom later rented an apartment on Warren Avenue on Queen Anne Hill.
Our Danish grandmother (Mom's mother) gave up her visa and moved down from the Toronto area to stay with us, when we lived on Queen Anne. She was born in the South Pacific at Taratahi, studied medicine in Utah at one point in her life, had been a teacher and minister's wife, was a registered nurse and an artist in oils, and a seamstress, who encouraged me in art, taught me to crochet and knit, and to make cinnamon rolls. She made oatmeal every morning for breakfast, and told us we should be thankful because there were children living on the other side of the world who would be happy to have a bowl of cereal like that! She helped raise her younger brothers and sisters after her mother died, and after her marriage raised four children of her own. So Grandma knew all about kids! She would tell us all about the family members she'd lived with in Canada, such as my Uncle Harold, who was an advertizing executive for Carling Brewery. Ontario was a long ways away, and I only recall going there once, and meeting my aunt, uncle and cousins. Grandma told us of the ancestors, such as her Scotch-Irish mother in law, Mariane Lane. She told us about the family tartans, and a little Scottish history.
My sister and I attended various Seattle public schools, such as Interlake Elementary, Jane Adams Elementary and Warren Avenue Grade School.
My growing up years in Ballard were marvellous, and I suppose Mom liked Ballard because of her Danish heritage. While attending Jane Adams School, I had a collection of dolls from various lands, which I took to "Show & Tell." The apartment was a huge complex with a grocery store and beauty salon in the building, and lots of kids to play with.
Mom took the bus into downtown Seattle to work, and our evenings were spent quietly after she got home. She hired a teenage baby sitter to watch us on Saturdays, and the baby sitter would bring her younger family members with her.
Our Mom couldn't cook many dishes. She knew how to make homemade soup, cube steak on toast, shish kabobs and chili. She made the soup in a pressure cooker which necessitated cleaning it off the ceiling when the cooker blew up.
When we lived in Ballard, my sister and I would roam around Golden Gardens Park.
One day my sister and I found a black Labrador Retriever, put a rope around his neck and decided he would be our new dog. The plan was that we'd better not try to take him home, because Mom would never understand. When Mom got off work, she came looking for us, found us with the new pet and made us return him to where we'd found him. She was a cat lover, and we always had a cat or three while I was growing up.
Sometimes after school, we'd wander down to the marina where Ray's Boat was located. At times our mother worked as on Saturdays. If she made extra money from working over-time, maybe we went next door to the
Totem House Fish & Chips restaurant, and to get something to eat. There was a giant King Crab on the wall.
WARREN AVENUE GRADESCHOOL
My teachers in 4th, 5th and 6th grades at Warren Avenue Grade School were Mrs. Joyner, who taught us to make banana milkshakes and aprons for our mothers for Mother's Day; Mrs. Silva, who'd been a missionary to China; and Mr. Wesley Ruff, who encouraged me to love to read. The school had a special educational program and when I got my assignments done, my teachers let me help the deaf and blind kids teachers. After school we watched baseball games, helped the teacher after school, talked on the phone, I mowed the lawn of an elderly Norwegian lady who lived in a small house on the street below our apartment building, or I worked as a mother's helper for mom's on the hill, helping polish the silver, read to the kids, etc. Or my sister and I would walk over to the National Guard where there was a statue of the American Doughboy, that we climbed around on. Our school went on some great field trips to the Mission Macaroni Company, and Best Pies, where we returned like homing pigeons to beg pies from one of the bakers at the back door. The old Warren Avenue School was torn down when they built the buildings for the Seattle Center.
Mom worked as a legal secretary for a Seattle law firm: Allen DiGarmo & Leedy. She was George Leedy's secretary. One of her friends was Gil Riddian, who she said introduced Frango Mints to Frederick & Nelsons. I think she said she did the legal paper work for this. Mom also worked for the firm of a Mr. Christopherson. He and his wife flew to Hawaii each year in February, and they'd give Mom flowers necklaces for me. The tv became our baby sitter, and we watched a lot of Zorro and Foremost Movie's. I collected stamps from various countries and had an album full. When the circus came to town, one of the performers kids was placed in our class for a brief time. It was thrilling to see the costumes and animals, and I wished I my family had a more exciting job like that. Mom also loved to take us to the Aqua-Follies, the Bolshoi Ballet or to dinner at the Olympic Hotel.
THE WARRENCLIFF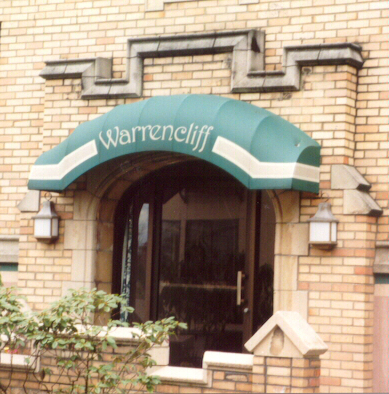 We lived on Queen Anne Hill in a brownstone building called the Warren Cliff Apts, and our family, consisted of my sister, Mom and I. Upstairs there was a young couple with a baby with a vintage car. The woman was an artist, and she hand painted a birthday card for me. The husband was in the Coast Guard. An older couple named "the Meyers," lived in our building in an apartment facing entry to the street. The husband was quiet and Mrs Meyers, who was more sociable and always interested in what was going on, would look from behind her lace curtain as we came up the sidewalk, or lean out the window on a nice day to say hello. We'd walk down the hill to Queen Anne Avenue with Mom and have a coke or Green River at the Bartell Drugs soda fountain, while she had coffee. Or we'd stop in at the Mecca (Mecc) Cafe, or dinner at Ozzie's Steakhouse.
We lived on the first floor in a two bedroom apartment. My grandmother made the barkcloth drapes with an exotic floral design. Our apartment building had this great Italian landlord and wife, named Mr. and Mrs. Joe Peranzi, who had a teenage son named John, who attended O'Day. Mr Peranzi paid me $2.00 to paint all of the apt. garages. When Mom worked Saturday, she'd give us a quarter for the matinee at the Uptown Theatre, and money for a little candy or pop-corn. The neighbors who lived directly across the street from our apartment in a white house were named "The Carters," and they were from somewhere in the south. They had a pomeranian. Their daughter and her family also lived in the neighborhood. It was fun hanging out at their house listening to the adults talk. I loved hiking up the hill, looking at the marvellous Victorian mansions, such as the Kinnear House, which were still in existence at that time.
My sister and I liked playing dress up in Mom's clothes and jewelry, when she was gone. Mom had a side job working for an import shop called M.L. Stewart, which sold Polynesian imports, such as jewelry made of colored sea shells, and I loved putting chop-sticks inlaid with bits of mother of pearl in my hair, which I never could make look like the photos on the bobby pin package, no matter how hard I tried. We shopped for hair products at Bartell Drugs on Mercer, or the drug and gift store on Queen Anne Avenue, where I'd read comic books. Classic Comics were my favorites. Mom would take us with her on the bus, when she went downtown to have her hair done in Seattle at Walker's-Charanelle Beauty Salon. I liked this large shop below street level, where my mother's red-haired girlfriend Connie worked as a beautician. A woman named Priscilla Porcello would bring in sandwiches to sell to women under the dryer. (When I became an adult I attended Renon's Beauty school, graduating in 1983.)
While she was at work, Mom would let us order groceries from the grocer and have them delivered. She didn't have a car, and sometimes she was just too tired to carry the sacks home. She bought us clothes at a children's shop on Mercer called Pride and Joy. And our dentist office was located in the Mar-Queen Building. Mom or Grandma would send us down to the Sunbeam Bakery for day old bread or to the local deli on Queen Anne Avenue, for meatloaf for sandwiches. Or we'd meet Mom when she got off the bus, shop at Sinnets Market on Queen Anne Avenue, and help her carry home the groceries.
THE IMPACT OF THE CHURCH ON THE CORNER
As kids, my sister and I were invited to attend Sunday school at the Evangelical United Brethren.The church which was located on the corner near our house, filled a vital need in my life, not only for religious faith, but spiritual fellowship. My mother was pretty isolated from most of her family, who lived in Utah and Canada. She did not attend the neighborhood church with us. My Uncle Van was a physician in Iowa. Dad was a corporate attorney living and working out of state, so I'd write to him about the church with the red velvet curtain, and stained glass window with a picture of the shepherd with His little lamb. At a youth meeting at church camp held at Fort Casey, on Whidby Island, I repented of my sins and received Jesus Christ as my Saviour, testifying on front of the other kids that evening around a bonfire on the beach. I threw my stick into the fire, and watched it burn to ashes. That's what it means to be a Christian. The old life is over and gone, and we are totally consummed with Christ. The experience in this church had an significant impact on my life. As I continued to study God's word, I learned that water baptism should be administered in Jesus name. This was how the apostles did it. So I was rebaptized in the precious name of Jesus. (Acts 2:38, Acts 8:16, Acts 10:46-48, Acts 19:5) At this time, I also received the experience of the apostles on the Day of Pentecost, called the baptism in the Holy Spirit, with the evidence of speaking in other tongues. (Acts 2, Acts 10:46-48)
Dad saved my letters in a file and when he died, I inherited them.
After church on Sundays, my sister and I went and "hung out together at "Lillian's," a middle aged lady with a dog named "Penny." She bought treats for us like graham crackers, and grapes, and we laid on our stomach's reading the Sunday funny papers, and munching graham crackers.
Sometimes after school, we ran around Olympic Park, went to the Queen Anne Public Library, visited Anton De Ritter, the jeweler in his shop looking at his newest jewelry, because he was a family friend. Then it was on down to Elliot Avenue, where there was an animal shelter where we visited the feline and canine inmates. We especially loved to visit the KOMO television studio, and watch them filming segments of the "Capt. Puget Show."
BABY BOOMER FAMILIES
We baby boomers who swore we'd never be like our mothers -- Or our fathers when we married and had kids, purchase Craftsman Bungalow homes and restore them, furnishing them with 50's style chrome dining sets. We give our kids Davy Crocket hats, Radio Flyers, sleds, and the bike we wish we had as a kid. We marvel that the plastic Captain Midnight cup we purchased with ovaltine caps, is now worth $100. The kids respond to our marvellously wise advise, with "Oh Mother," or Oh Dad!" It's so perplexing that they treat us like we lived in the eons before time...Back in "those days" -- Commonly called "the dark ages." But now and then we drive over to the old neighborhood--especially when it's Hanukkah, and we stop in at Tree of Life, and when we leave, enjoy the holiday lights, buy a latte, and drive by the places where we or our old friends used to live, wondering where the old gang is now, and what they're doing. My childhood friends are probably grandparents now, or close to it. Rhea Reighton, Louise Day who rumor says moved to Australia, Freda Johnny, the Dutch twins: Ruth and Francis Lewis, Jerry Carr, Ronnie and Kathy Rudd, Ray Williams, Trudy Meyers, Bruce Bougie, the class banker, Doug, Alco, Clark, Sonja Utley...
At our baby boomer ages, we have older kids now in their 30's, and a 17 year old daughter and an adopted a 5 year old whom we adopted from Romania as an infant still at home. I'm a stay at home Mom, that homeschools because we feel a child's growing up years are important, and I want to be there as much as I can. I don't mop floors in my high heels like Beaver Cleaver's mom, and my husband wears Australian Blundstone boots called "Blunnies," instead of Ward Cleaver's wing tips. But I've learned from the people God placed in my life to help me when I was growing up. Although Mom's relatives lived out of state, we always had a "family" consisting of the people in our neighborhood. It's great when people who have no children, choose to spend a portion of their lives as mentors to someone else's kids. It makes all the difference in the life of a child.
50'S TELEVISION SHOWS
We bought our first tv when we lived at the Lock Vista Apts. in Ballard. My favorite tv shows as a kid were the following:
From the stirring tales of the James Fenimore Cooper classic came the ever exciting action-packed adventure series, called "HAWKEYE and THE LAST OF THE MOHICANS", starring John Hart as the heroic pioneer scout.
Stan Boreson's King's Clubhouse,

With his featured basset hound named Tallulah and No-Mo (No-Motion) who liked to wear hats ..." Station: KING-TV Years on air: 1954-1967
The Captain Puget Show

Aired from 1957 to 1966, winning the national Sylvania Award in 1958 for the "Best Locally Produced Children's Show in the Nation." Aboard the ship WINDWARD 4, Captain Puget sailed the northwest airwaves, singing songs of the Pacific Northwest and taking his viewers on filmed adventures around Puget Sound. Hopalong Cassidy: Who could forget William Boyd as Hoppy? Seattle toddlers and older kids grew up listening to the story-telling
Wunda Wunda, singing along with Sheriff Tex,Zorro, Leave It To Beaver, and Seattle kids were also J.P. Patches pals, watching the twice each weekday and once on Saturday.
Skylark's Simchas
Skylark's Snohomish River Studio
Main
Back
Page 8