Bridgestone 350 GTR

A typical magazine advertisement for the Bridgestone 350 GTR.

This photo of a Bridgestone 350 GTR was taken in the States long before it ended up in the U.K. and I bought it, mad or what?


But I bought it after DK's had washed it down somewhat and it looks better, but it was still a non runner, the wiring was all messed up, side engine covers were broken and botched,seat beyond repair and the list goes on but the engine was free to turn over so that was good, so I thought.

With the cylinder heads and engine side covers removed the extent of this restoration is revealed.
With the engine out and the barrels removed I was surprised to find this small pebble lodged between the piston and the chrome plated cylinder wall, fortunately the piston took the brunt of the damage.

The gearbox cleaned, checked and back together with any seals or 'O' rings replaced and that includes the important labyrinth 'O' ring on the crank. All new gaskets, oil seals, pistons and rings used during assembly, no corners cut.

The engine back in the newly powder coated frame, NOS electrical items have been added including a home made wiring loom copied from the fried original.

I cleaned up all these aluminium items by hand and then finished off using a bench mounted polishing buffer.

Many of the NOS items bought from RC in the States and used in this restoration, cost? Don't ask.

All the parts I sent away for re chroming were returned and have been fitted to the bike, the wheels were fully rebuilt and have Avon tyres, pity Bridgestone don't make a classic tyre of this size.

Fully re chromed petrol tank ready for painting with the side covers, Willis are you up for it?

Another fantastic paint job from the master.

Well I think that's it, finished, completed, end of another rare classic Japanese motorcycle restoration.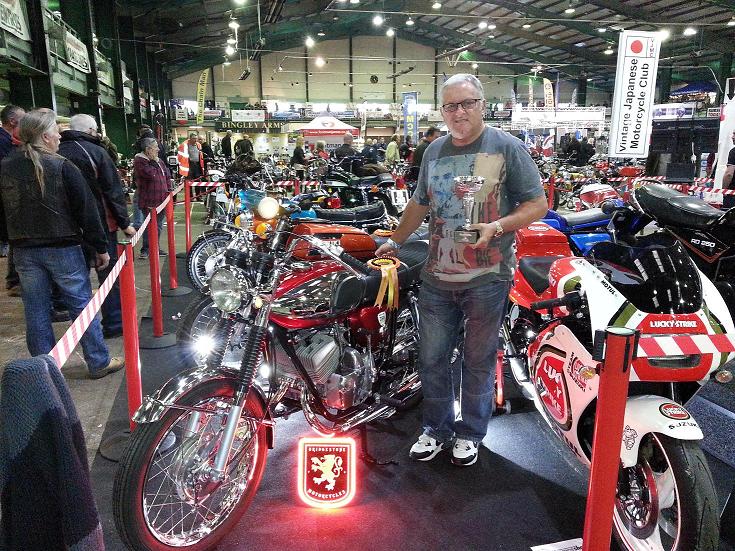 The first showing of the Bridgestone 350 GTR was at Stafford in Oct 2015, this legend of a classic bike show is the biggest in Europe and sets the standard for all other classic bike shows.
I won the 'Best Japanese' trophy for my efforts, to say I was over the moon was an understatement.
---
Sold summer of 2017.

HOME. Click the 'back button' or the advertisement below.
Email: lee.doxey@ntlworld.com