Home
Meet the Artists
More Experts
Case Submissions
The Administrators
Updates
Links

Case Submissions
The Administrators
About Us
FAQ

Lost & Found
The Doe Network
Outpost For Hope
NY Missing Persons
Missing Pieces

Please contact us for further details.

Email:
ProjectEdan@gmail.com

Phone:
1-931-397-3893

Todd Matthews(Director)

Kimberly Bruklis
(Webmaster)

International Association for Identification (IAI)

-Since April 2005-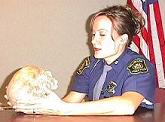 Sarah Krebs is a forensic artist for the Michigan State Police. She obtained her artistic talents from her father, Detective Sergeant Mark Krebs who is also a forensic artist in the State Police.
Sarah began her career as a forensic artist when she was working as a road trooper and was requested to submitt sample artwork to the Forensic Art Unit. She was accepted and immediately was thrown into a fast paced career and is now one of the busiest forensic artists in the state.
She has had training under Betty Pat. Gatilff and Karen T. Taylor at the Scottsdale Artists School and has completed the FBI Forensic Facial Imaging course. Sarah has had many "hits" on her composite drawings as well as a recent identification of a 3-D skull reconstruction that solved a 21 year old mystery. She attributes her success to her background in forenisc anthropology, stating that "You have to know what's under the skin to give your work some character and life".
She can be reached at:
E-Mail:
krebss@michigan.gov




Examples of her work can be seen at Doe Network



Gayle Marks
Missing Since 10/18/88

Unidentified Female found on 7/14/03

Be part of a great discussion group!

ColdCases group will be 8 years old this year.

Over 2,200 members that have shared over 43,000 messages.




Join Cold Cases