Smiley Face Beer Cap Fridgie to Crochet!



You will need:

Beer Caps (beer flavour doesn't really matter, lol)
Small amount of Yellow and Black Worsted Weight Yarn
G crochet hook
Large needle for weaving ends in.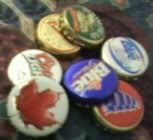 Instructions:

Note: Work in rounds, do not join, mark first stitch in each row with a stitch marker, safety pin or wrong colour yarn.

Row 1. Starting in the front of the piece, ch 2, 5 sc in second ch from hook. (5)

Row 2. 2 sc in each stitch. (10)

Row 3. 2 sc in first stitch, sc in next stitch, continue around. (15)

Row 4. 2 sc in first stitch, sc in next 2 stitches, continue around. (20)

Row 5. Sc in each stitch around. (20)

Row 6. Sc dec over the next 2 stitches, 10 times. (10) NOTE: A little more than halfway thru this row, place bottle cap into piece, with the flat side facing the front, and continue working with it in place.

Row 7. Sc decrease over next 2 stitches around, 3 more times, slip stitch to next stitch, pull yarn thru to finish off, sew to close and secure and weave in end.





Using very small amount of black yarn and yarn needle, make French Knots for eyes, and backstitch a smile on the front. Glue a strong magnet on the back. Be creative: make happy, sad, surprised faces and you can even add hair if you want! You can glue on google eyes, buttons or other embellishments for facial features if you prefer.


have a great day!! hugss to alll!



~ MORE Beer Cap Patterns! ~
Other FREE Crochet Patterns!
FREE Plastic Canvas Patterns!
My HomePage

Email: prpl_smok@yahoo.com