Internal Mug Warmer



You will need:

Variegated Worsted Weight Cotton Yarn (I used Bernat Cotton)
H Crochet Hook
Needle for weaving ends in
1 clear plastic craft mug with removable insert




MAIN PIECE:

Row 1. Chain 15. sc in the second chain from hook. sc across rest of row.

Row 2. Ch 3, skip next sc, hdc in next sc, * ch 1, skip next hdc, hdc in next sc. Repeat from * across. turn.

Row 3. Ch 3, * skip next hdc, hdc in next hdc, ch 1, repeat from * across, last hdc will be in the second chain of the beginning chain, turn.

Rows 4 - 28. Repeat row 3.

Row 29. Chain 1, sc in same stitch, sc across row, sc in the end chain and in the second chain. Finish off, weave in ends.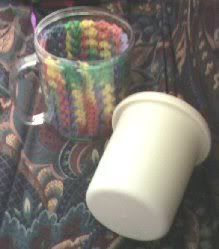 ASSEMBLY:

Remove white insert of mug, arrange insert inside in the clear outside part of the mug, being sure to put the first and last rows where the handle of the mug is. Put the white insert inside the mug, being sure the crocheted piece doesnt move, push it in securely so that the finished item is watertight and dishwasher safe.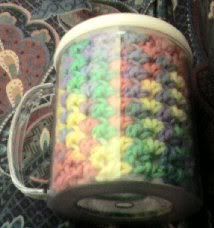 **Check out my matching pattern for the external mug warmer at the link below!!**

hugss to all!

** Matching External Mug Warmer **
More FREE Crochet Patterns!
FREE Plastic Canvas Patterns!

Email: prpl_smok@yahoo.com