Beer Bottle Cap Smiley Face Hotpad to Crochet!
INSERT FINISHED PIC HERE


You will need:

Beer Caps (beer flavour doesn't really matter, lol)
Black and Yellow Worsted Weight Yarn
G crochet hook
Large needle for weaving ends in.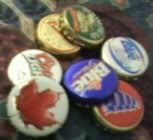 Instructions: Make – Yellow and – Black:

Note: Work in rounds, do not join, mark first stitch in each row with a stitch marker, safety pin or wrong colour yarn.

Row 1. Starting in the front of the piece, ch 2, 5 sc in second ch from hook. (5)

Row 2. 2 sc in each stitch. (10)

Row 3. 2 sc in first stitch, sc in next stitch, continue around. (15)

Row 4. 2 sc in first stitch, sc in next 2 stitches, continue around. (20)

Row 5. Sc in each stitch around. (20)

Row 6. Working in the back loop only, sc dec over the next 2 stitches, 10 times. (10) NOTE: About halfway thru this row, place bottle cap into piece, with the flat side facing the front, and continue working with it in place.

Row 7. Sc decrease over next 2 stitches around, 3 more times. Pull yarn thru to finish off, sew to close and secure and weave in end.





Assemble by sewing together according to the following diagram:

INSERT DIAGRAM HERE


have a great day! hugss to all!



~ MORE Beer Cap Patterns! ~
Other FREE Crochet Patterns!
FREE Plastic Canvas Patterns!
My HomePage

Email: prpl_smok@yahoo.com