Retro Style Beer Bottle Cap Belt to Crochet!
INSERT FINISHED PIC HERE


You will need:

Beer Caps (beer flavour doesn't really matter, lol)
Small amount of Your Favourite Colour Worsted Weight Yarn
G crochet hook
Large needle for weaving ends in.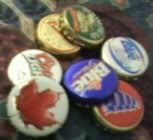 Instructions:

Note: Work in rounds, do not join, mark first stitch in each row with a stitch marker, safety pin or wrong colour yarn.

Row 1. Starting in the front of the piece, ch 2, 5 sc in second ch from hook. (5)

Row 2. 2 sc in each stitch. (10)

Row 3. 2 sc in first stitch, sc in next stitch, continue around. (15)

Row 4. 2 sc in first stitch, sc in next 2 stitches, continue around. (20)

Row 5. Sc in each stitch around. (20)

Row 6. Working in the back loops only, sc dec over the next 2 stitches, 10 times. (10) NOTE: About halfway thru this row, place bottle cap into piece, with the flat side facing the front, and continue working with it in place.

Row 7. Sc decrease over next 2 stitches around, 3 more times. Pull yarn thru to finish off, sew to close and secure and weave in end.

Make as many as you need to go around your waist. Keep in mind that each bottle cap, when covered will be about an inch and a half.





Assembly:

Chain 40, attach with sc to first bottle cap, with the front facing you, in the front loops of row 5, and continuing to work in these same loops, sc in next 4 stitches, chain 6, attach next bottle cap in the same way, sc in next 5 stitches, chain 6, continue adding bottle caps to desired length. When you have enough bottle caps and you are happy with the length, chain 40, pull thru, weave in end.

Repeat this on the bottom side of the bottle caps, again with the front sides facing you, making sure to skip 5 stitches on the sides of each bottle cap piece.


have a great day! hugss to all

PEACE, MAN



~ MORE Awesome Beer Cap Patterns! ~
Other FREE Crochet Patterns!
FREE Plastic Canvas Patterns!
My HomePage

Email: prpl_smok@yahoo.com