Oklahoma Chapter Of The Korean War Veterans Assoc.
ARE YOU A KOREAN WAR VETERAN?
Join Us In Remembering America's "Forgotten War" And All Who Served In It
Many Korean War veterans feel that their efforts in defense of liberty and democracy have nearly been forgotten in the four decades. Because a peace treaty has never been signed, the war continues to this day, the longest war in America's history.

If you served in Korea from 1945 to the present, or anywhere during the Korean War era (June 1950-January 1955), you should join the Korean War Veterans Assoc.

The KWVA was formed in 1985. At the present time, there are over 11,000 members across the nation. With active chapters in every state and 21 other nations.


KWVA National Home Page




OKLAHOMA CHAPTER #89 MEETINGS:
Our local KWVA chapter meetings give you a chance to meet with former comrades, to renew memories.
The Oklahoma Chapter #89 meets monthly at the 45th Infantry Division Museum, 2145 NE 36th, Oklahoma City.

Meeting Schedule
Membership Info
Membership Form
Current Officers:
Harold Mulhausen, President: 405-632-7351
James T. Jones, Vice PResident 405-721-3725
Joe A. Pizzini, Treasurer 405-631-2183
Betty J. Mulhausen, Secretary
Henry Arnett, Chaplain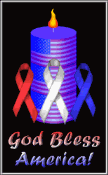 KWVets Chat!
Come and chat with other Korean War Veterans. The KWVets Chat Room is open 24 hrs a day, 7 days a week for your convenience. We have scheduled chats on Monday, Thursday and Saturday Nights at 9PM EST. You can also access the chat room via Mirc, Pirch, MSChat, etc. at backpack.webmaster.com port 6667 #KWVets. If you have WebTV you can go here for instructions. Come and join your buddies in chat!(Family & Friends are also Welcome)



KWVets Email List
KWVets has an email list you can subscribe to. For more information on the list go to KWVets List FAQ.







Korean War Related Books


Are you interested in books about the Korean War? Then go to our Korean War Books Page. And if you have written a book and would like to have a link to it here please let me know.



The State of Oklahoma in conjunction with our national government is planning commemorative activities to honor all veterans of the Korean War. Families of deceased veterans, families with veterans stil listed as MIA, and the burial sites of all of our deceased veterans buried in Oklahoma. The commemorative activities will take place between June 2000 and July 2003. In order to honor our veterans and their families, we must know where they live or where the veteran is buried. Please fill out the Enrollment Form and forward it to the address listed.
Korean War 50th Anniversary HomePage
Rose of Sharon Resolution of The Finger Lakes, NY, KWVA Chapter

KOREAN WAR POETRY

Frank Gross' Korean War Poetry Web Site

Jules Patriotic Poetry

Ballads of the Chosin Reservoir



A FEW FACTS ABOUT "THE FORGOTTEN WAR"

54,246 US Dead


33,651 Killed In Action


103,000 US Wounded


8,179 US Missing In Action


7,000 Prisoners Of War: Only 3,450 returned; 51% Died In Prison Camps


389 POWs Unaccounted For


22 Different Nations United Into One Powerful Army to Halt Communist Aggression


The First UN Army Ever Fielded


This Bloody War Began June 25, 1950, And Ended In An Armistice July 27, 1953. Technically, The Korean War Still Continues, As No Peace Agreement Has Ever Been Signed. Every Year, Young Men Still Die In Skirmishes Along The Korean War Demilitarized Zone.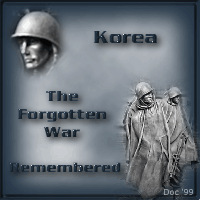 KWVA CHAPTERS by State
---
MORE KOREAN WAR RELATED LINKS
Korean War Project
Korean War Veterans National Museum & Library, Tuscola, IL
Korean War Veterans Memorial
The Chosin Few
The Forgotten War - Korea
The Korean War
Paratrooper of the 50's Malone's Page
187th ARCT Combat Jump In Korea
126th Signal Service Company - Korea 1951
6147 TACTICAL CONTROL GROUP (THE MOSQUITOS)
James Hofsiss' Korean War Page
The 2nd Infantry Div. Korean War Veteran's Alliance, Inc
G COMPANY 8TH CAV REGT (INF)
13th Bomb Squadron Association (Korea)
Connolly Connection
A Ship's History During WWII and the Korean War! USS Zellars
Korea Seabee Album
SgtMaj Jim Skinner's CP
Graphics by Doc


Tiger Survivors
Korean War Casualties - Alabama
The Veterans Alliance Service Center
VetWives (Veterans Family) Homepage & Chat Room
Point Man Ministries


Please accept our family Award for your dedication and hard work supporting our Veterans and MIA's. Your Web site makes a difference Thank you!
Ruby Alexandra Beloz


STAY WARM!
---
---

Email The Webmaster: shirljowatkins@sbcglobal.net
Page updated 3/26/09