~Jason Matthew~
~God's Gift; The Healer~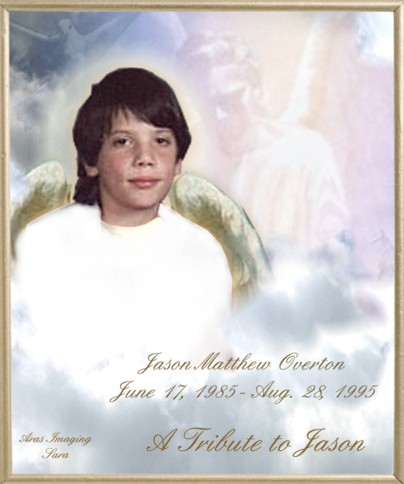 This site is in loving memory of my son.
It is about the lives he touched
and the lessons he taught.
In the book of names, Jason Matthew,
means God's Gift; the Healer.
My Story, explains why he was given this name,
how I believe with all my heart,
he was a precious gift from God,
sent here to heal.
His work began before birth,
healing his mother, so he could be born.
Jason's Story tells of his earthly existence.
His life as a severe asthmatic,
who had the courage and determination
to live each day to its fullest.
He rode his bike uphill, and flew like the wind,
master of the skateboard, pausing only briefly
for another puff from his inhaler.
On days when even his determination
was not enough, he sat quietly,
used his nebulizer, and concentrated
on becoming the world's best Nintendo player.
Jason's eyes reflected a knowledge
and wisdom beyond his years,
everything he did was like he knew
there was no tomorrow for him.
When the time came for him to go,
Jason became an organ donor.
~ Jason Matthew ~
~ God's Gift;the Healer ~
his memory lives on,
in the Gift of Life he gave to others.



~WELCOME HOME~
Welcome Home My Son;
Your work on earth has been well done.
You have been a witness to many while on earth;
And you've shared the story about the miracle birth.
You never hid the fact that you loved Me,
You shared the Word no matter what the need be.
You spoke of Me often to family and friends;
And you showed how faith can strengthen and often mends.
You did your best to always give glory to Me;
And for this; you will live eternally.
And now the time has come for you to rest;
I'm taking you home as My special guest.
Welcome Home My son;
Your work on earth has been well done.


~CAN'T LIVE WITHOUT YOU~
~Air Supply~