"Top 12" Fusion Artists

Click on the name (or picture) for more info:
Allan Holdsworth has to be my favorite fusion artist of all time. He is the most Coltrane-like of all guitar players to me, a true innovator and experimentor. I associate Allan with the string-skipping technique of playing arpeggios and remember folks, he's not even picking most of those notes! He is also the master of wide intervals as you can see him stretch in the picture displayed.
Essential recordings of Allan's include: Secrets (to me the best fusion recording of all time as a whole), Metal Fatigue (contains the best guitar solo ever to me, "Devil Take the Hindmost"), Actavachron (includes the most ferocious melody ever written on guitar, "Non-Brewed Condiment"), Truth in Shredding with Frank Gambale, None Too Soon, IOU Live, Road Games, Forty Reasons with Chad Wackerman, Heavy Machinery with the Johanson Brothers, Tony Williams Lifetime: The Collection, Enigmatic Ocean with Jean-Luc Ponty, Bill Bruford Master Strokes, any and all: UK, Soft Machine, Gong, Tempest, and I'm just getting started!
Also make sure to check out Gary Husband's new CD "The Thigs I See". This is a stunning new CD where Gary play's Allan's music on piano, essential listening for the Holdsworth fans like me.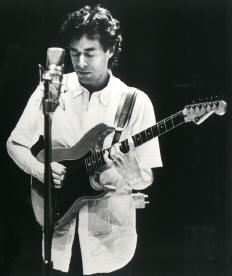 Bill Connors has to be my second most important fusion artist. You hardcore fusion fans may remember Bill Connors on one of the first Return to Forever records, Hymn to the 7th Galaxy. This band of course featured Chic Corea, Lennie White, Stanley Clarke, and later Al Di Meola.
My favorite tracks from Bill include "Sea Coy" from Assembler, "Titan" from Step It, and "Out by Twelve" from Double Up (these recordings all have been recently re-issued, and for good reason). Theme to the Guardian is also probably the best modern classical/jazz guitar I've ever heard.
John McLaughlin played with Miles Davis during the birth of fusion, then later formed the mighty Mahavishnu Orchestra. He went on to form a really intriguing east/west fusion band called Shakti with 75% indian musicians, and is still going strong as he continues to create stunning and cutting-edge fusion with several different varities and influences.
A brief list of essential JM recordings include any and all Mahavishnu, any and all Shakti, any and all recordings with Miles Davis, My Goals Beyond, Electric Guitarist, Electric Dreams, Bello Horizante, Passion Grace and Fire, Meeting of the Spirits (video), Spaces with Larry Coryell, Live at the Royal Festival Hall, Love Devotion and Surrender with Carlos Santana, The Mediterranean Concerto, and there are many many more I haven't mentioned.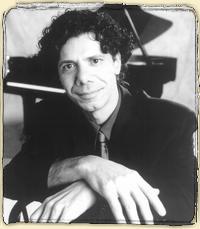 Chic Corea - also played with Miles Davis during the birth of fusion. Return to Forever has to be my fourth favorite fusion group ever. Essential recordings include: Where Have I Known You Before?, Hymn to the 7th Galaxy, and No Mystery. Chic went on to record some stunning piano compositions, recorded with Herbie Hancock, then later formed The Chic Corea Electric Band. He has always been a pioneer and strong leader in the fusion genre from the very beginning.
Jerry Goodman - Ex-Mahavishnu violinist who is of the most refreshing fusion players around. He has recorded on 2 of the most recent Dixie Dregs releases and is currently on tour with them. His most recent solo recordings are also not to be ignored including "It's Alive", "On the Future of Aviation", and "The Stranger's Hand" with Smith/Levy/Burbridge.
Steve Hunt - Mind-boggling keyboard player! Its outrageous how good this guy is! Played on most solo Holdsworth material including "Secrets", make sure to check him out!!!

"This band - Allan Holdsworth with drummers Colaiuta, Husband, or Wackerman, Johnson, and keyboardist Steve Hunt - is one of the most vital rotating units in electric jazz, and their breathtaking performances stand tall in Allan's crystalline production."
Matt Resnicoff, GUITAR PLAYER
March 1990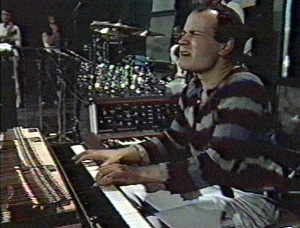 Jan Hammer also a pioneer of fusion and incerdible soloist. Essential listening includes Like Children, The Early Years, any and all Mahavishnu, Stratus with Billy Cobham, Wired with Jeff Beck, Jeff Beck - Live with the Jan Hammer group, Tony Williams - The Joy of Flying, and The Miami Vice Soundtrack was a cool one (was a top 5 hit).

John Coltrane was the greatest improvisor of all time, period. Essential recordings include Live at Birdland, Birdland Vol 2 with Eric Dolphy, Dear Old Stockholm, Coltrane, Living Space, Transition, Afro Blue Impressions, Stockholm 1961 with Eric Dolphy, Copenhagen 1961 with Eric Dolphy, Newport '63, Cannonball and Coltrane, Black Pearls, Setting the Pace, Giant Steps, and many many more. Mind boggling feeling and chops in his playing!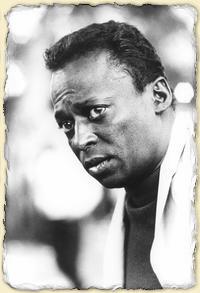 Miles Davis the father of fusion. I once asked drummer Billy Cobham who he thought the frist fusion band was and he said the Miles Davis band with Tony Williams, Ron Carter, Wayne Shorter, and Herbie Hancock.

There are so many recordings to list, a few of the best ones to me include: The Complete Bitches Brew Sessions, In a Silent Way, Big Fun, Get Up With It, Jack Johnson, Live Evil, Directions, Sorcerer, Miles in the Sky, ESP, Water Babies, '58 Sessions, Dig, Something Else, Tune Up, Kind of Blue, The Birth of Cool, My Funny Valentine, Working, Relaxing, Miles and Coltrane, and any and all recordings with Charlie Parker.
Frank Gambale Brought the sweep picking technique of playing arpeggios to the jazz world, played with The Chic Corea Electric Band, Vital Information, Jeff Berlin, and is also a solo recording artist, former GIT/MI instructor, columnist for Guitar Player Magazine, and still does clinics.

Recordings I enjoy that Frank played on and recorded include "MVP/Truth in Shredding" with Allan Holdsworth, "MVP/Centrifugal Funk", his solo CD's "Coming to Your Sences", "Passages", and "Frank Gambale Live". I also liked his playing on "Light Years", "Inside Out", and "GRP LIVE" with The Chic Corea Electric Band, and "Easier Done Than Said" and "Where We Come From", and "Live around the world Where We Come" with Vital Information. Also worth checking out is "Show Me What You Can Do" and "The Light Beyond" with Stu Hamm and Steve Smith. His instructional video "Monster Licks & Speed Picking" also features some great playing. His two technique and theory book are of the best written for the guitar.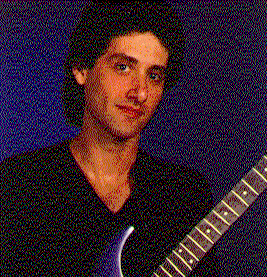 Scott Henderson Great composition and improvisationalist, leader of the fusion band Tribal Tech. He also played in the past with with Chic Corea, Jean-Luc Ponty, Joe Zawinul, Jeff Berlin, Victor Wooten, Virgil Donati, and is also a GIT/MI instructor.

I enjoy all the Tribal Tech recordings especially the self titled "Tribal Tech", "Illicit", "Face First", "Reality Check", "Thick" and "Rocket Science". "Vital Tech Tones" with Victor Wooten and Steve Smith is also some of the most important fusion recordings of all time. "Vital Tech Tones 2" is also of interest.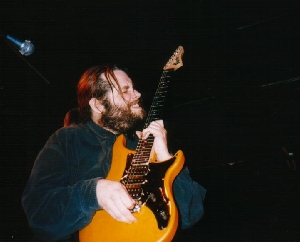 Shawn Lane The tastiest of the new kids on the block to me. If you haven't already heard him, check him out, hes baaaaaad! Shawn has the perfect blend of soulfullness with chops (has chops to spare!) Some of his licks are completely new to my ear, finally a muciaian doing new ideas.

My favorite recordings with Shawn include "Two Doors" with Jonas Hellborg and Michael Shrieve, "Abstract Logic" and "Time is the Enemy" with Jonas Hellborg, "Fission" with Jens Johansson, and "MVP/Centrifugal Funk" (massively wailing on 2 trax). Also noteworthy are his solo CD's Powers Of Ten Live, and The Tritone Fascination. His two instructional videos called "Power Solos" and "Power Licks" are insightful to his mastry on the instrument.
---
Unsung Heroes:
Great fusion you have probably never heard before!
Colin Mandel James Muller KBB Continuum Jac La Greca Indaba Code 3 Whoopgnash Scott McGill Brett Garsed The Code Wayne Krantz The Christopher Gross Ensemble Adam Smith David Gilmore (NOT from Pink Floyd)
---



The following is a brief list of additional musicians not necessarily related to fusion.

Click on the name for more info:
Larry Coryell John Scofield Ralph Towner Steve Morse Al DiMeola Robert Fripp Terje Rypdal Kazumi Watanabe John Abercrombie Bill Frisell Jimi Hendrix Eddie Jobson David Cross Jean-Luc Ponty Tommy Mars Tony Lavitz Jens Johansson Herbie Hancock Joe Zawinul Keith Jarrett Jaco Pastorius
---
More info on the following fusion artists can be found at AllMusic.com:

Jeff Beck Tommy Bolan Larry Carlton Mike Stern Eric Johnson(Alien Love Child)(Electromagnets) Gary Moore (Colliseum 2) Mitch Watkins Pat Metheny Kei Akagi Tom Coster Ray Gomez Frank Zappa Steve Vai Joe Satriani Victor Bailey Jeff Berlin Victor Wooten Gary Willis Stanley Clarke Marc Johnson Dave Holland Michael Manring Bill Laswell the cd "Desist" by Skuli Sverrisson Billy Sheehan & Niacin Tony Williams Gary Husband Lenny White Billy Cobham Jack De Johnette Vinny Colaiuta Peter Erskine Bill Bruford Steve Gadd Chad Wackerman
---
Other Fusion Links
Fusemag has a great links page for fusion artists click here
AllMusic.com has a great fusion page click here
Sonicnet.com also has a good page for fusion click here
The Physics of Fusion (article) click here
Fusion Revisited: Time to reassess jazz-rock (article) click here
Here's another page full of links for jazz musicians click here
For a more complete listing of guitar players click here
Here's some more links for guitar click here
Hitsquad, musician's web center click here
Guitar 9 Records, great web click here
Check Guitar One Magazine click here
Guitar Player Magazine lessons archive click here
Bass Player Magazine click here
Fusion MPEG's click here
Cyber Fusion, great fusion web click here
Music Dispatch, great place for ordering instructional material click here
Fusion TABS click here
Internet radio guide click here
The Knitting Factory now has web casts click here
Radio Fusion click here
EXOP Fusion Radio click here
Loughborough Students (Fusion) Radio Programming click here
MP3 Fusion Radio click here
Broadcast.com Progressive Jazz click here
Fusion Jukebox click here
Fusion listening room from listen.com click here
www.com has a good fusion channel click here
Tony Palkovic's Jazz Show on KSPC 88.7FM click here
Jazz promo has free jazz and fusion MP3's click here
Netradio Jazz/Rock click here
Progradio.com is a good listen too! click here
Allmusic has an awesome page about fusion! click here
Read music news from intermusic.com click here
Read jazz news from Yahoo click here
Yet anoter new Fusion web! click here
Jazz/Rock Fusion Page, an even better fusion page click here
Virtual Guitar Magazine, awesome web!!! click here
MP3.com's fusion page: try featured and new songs also click here
Audiophileimports.com great place to find fusion CDs to buy click here
Artist Shop (for sales of independant fusion artists) click here
Fusion Transcriptions by Lucas Pickford click here
Matt Garrison has a great links page click here
Eclectic Earwig Reviews - comprehensive reviews of fusion releses click here
FuseMag.com - reviews of recent fusion releases and more! click here
AllAboutJazz.com - reviews, and articles about fusion click here
Jazz Prog Fusion Internet Radio Station click here
KLAS FM - is a new internet radio station featuring a program about fusion called "MetaCurrents" monday mornings at 10 am.click here
Yahoo Fusion Club click here
Listen to or jam online at Musical Visions click here
Progressor.Net provides a great listing of fusion bands and artists click here
How to market fusion music click here
Abstract Logix - killer new fusion web, best I have seen in a long time! click here
Fusion Prog Traders - trade rare oop and bootlegs here click here
Favored Nations - great fusion label that put out Holdsworth's live CD click here
FuseNet fusion discussion forum, Gary Husband himself has posted in here! click here
---
Other musicians/composers not necessarily realted to fusion I admire:
McCoy Tyner Bill Evans Paul Bley Bud Powell Charlie Parker Eric Dolphy Sonny Stitt Sonny Rollins Julian "Cannonball" Adderly Jackie McLean Lester Young Charlie Rouse Clifford Brown Kenny Dorham Dizzy Gillespie Branford Marsalis Joe Lovano Lee Morgan Donald Byrd Don Cherry Charlie Hayden Paul Chambers Ron Carter Scott La Faro Miroslav Vitous Reggie Workman Jimmy Garrison Charles Mingus Eddie Gomez Dave Frisen? Art Blakey Elvin Jones Roy Haynes Max Roach Ed Blackwell JS Bach Ludwig Van Beethoven Johannes Brahms Felix Mendelssohn PI Tchaikovsky Max Bruch Antonio Vivaldi Wolfgang Mozart Niccolo Paganini Vieuxtemps Wieniawski Frederic Chopin Franz Lizst Scirabin Shastakovich Haydn Dvorak Debussy Chausson Ravel Saint Saens Rimsky Korskov Korngold Goldmark Walton Barber Janacek Kabalevsky Mussorgosky Rachmaniov Prokofiev Schuman Schubert Stravinsky Bartok
---
Description / Definition:
I can only answer this question of what fusion means to me because fusion means something different to everyone.
To me, fusion is jazz mixed with rock, that is to say jazz played on electric instruments, perferably with electric guitar being the lead voice since a too-loud distorted guitar is what people associate with rock music. I mean if there is a blaring distorted guitar people call it rock music regardless of what notes are being played.
This is why people think Holdsworth is a rock musician and why you do not find him in the jazz section of the cd shop.
One thing that characterizes and makes fusion distinct from instrumental or progressive rock and progressive metal are the lines and the changes and chord voicings. If a player does not speak with a jazz vaocbulary and involve jazz changes, it is not fusion to me. If a player uses alot of intricate power chords, this is not fusion to me.
What fusion is not:
progressive rock or metal: clever chords and maybe even odd meters but with power chords and the usual penatonic soloing, using unaltered, obvious scale structures that is closely tied to blues. Rock also tends to involve soloing over one or 2 maybe even 3 chords. While fusion does this too at times, it does usually imply changes even though the tonal center is not moving.
Yes I will agree that jazz is blues but is so much more, it invloves playing chords over chords that move, this is known as superimposing chords. Other concepts involve reharmonising and sequencing which is basically taking the same pattern and converting it to a different chord or scale degree.
What distinguishes fusion from jazz is the electric element, jazz is played on acoustic instruments.
Now on that note you can have classical/jazz fusion played on an acoustic instrument. For example pianist Paul Bley or guitarist Ralph Towner.
This is my conception of what fusion is to me, I will repeat the idea that what fusion is will be different for everyone.
Fusion's original definition was best: a mixture of jazz improvisation with the power and rhythms of rock, however it may also include a mixture of virtually any style mixed with Jazz including: funk, blues, rock, hip-hop, folk, eastern, African, Cuban, avant-garde, classical, and virtually anything else available to borrow from. Often times, fusion does borrow from more than one of the previously mentioned styles. Up until around 1967 the worlds of jazz and rock were nearly completely separate. But as rock became more creative and its musicianship improved, and as some in the jazz world became bored with hard bop and did not want to play strictly avant-garde music, the two different idioms began to trade ideas and occasionally combine forces. Of the first experiments with jazz and rock were done by Miles Davis on the records "In A Silent Way" and "Bitches Brew" released in 1969, when acoustic instruments were replaced by electric ones. Miles was changing his sound around frequently during that period, and was highly influenced by the new and fresh sounds of Jimi Hendrix, James Brown, and Sly Stone.
By the early 1970's, fusion had its own separate identity as a creative jazz style (although sneered upon by many purists) and major fusion groups began to evlove including such artists as Return To Forever, Weather Report, The Mahavishnu Orchestra, Dreams, Brand X, The Dixie Dregs, UK, Gateway, Oregon, Steps Ahead, Herbie Hancock's Headhunters, and the various bands Miles Davis formed. Thes groups played high-quality fusion that mixed together some of the best qualities of both jazz and rock.
Unfortunately, as it became a moneymaker and as rock declined artistically from the mid-1970's on, much of what was labelled fusion was actually a combination of jazz with easy-listening pop music and lightweight r&b; crossover, what started out as an artistic movement at some point moved to a commercial sound and was marketed as so. The term "fuzak" was used by musicans to mock this commercial movement, implying that the popular form of fusion had become much like easy-listening muzak.
Smooth Jazz IS NOT FUSION!!!!
The promise of fusion to an extent went unfulfilled although it continues to exist today thanks to groups such as Tribal Tech, Bela Fleck, Jazz is Dead, Vertu, Vital Information, The Zawinul Syndicate, as well as the contributing efforts of Allan Holdsworth, John McLaughlin, John Scofield, Chick Corea, and others listed above just to name a few.
Many of these artists struggle just to get by as the form is a lesser-known and not as well appreciated style of music. Most groups find it difficult to sell records and get gigs or make money and it became difficult to maintain a fusion band. Allan Holdsworth once said something about not liking to ask the people in his band to work endless hours for free, and having to sell his guitar just to put his record out. Fusion today struggles as a genre to survive, but every true artist must play what they believe in regardless of public acceptance and due to this, fusion refuses to die.
---
Go to my homepage click here
Take a minute to fill out my music survey click here
This Jazz Prog Fusion site owned by ScottBos@angelfire.com.
Previous 5 Sites | Skip Previous | Previous | Next | Skip Next | Next 5 Sites | Random Site | List Sites
This Jazz/Fusion Webring site is owned by Scott.
Want to join the Jazz/Fusion Webring?
[Skip Prev] [Prev] [Next] [Skip Next] [Random] [Next 5] [List Sites]
- this jazz guitar ring site owned by Scott -
back 2 | back | random | next5 | all | info | forward | forward 2

Your guide to over 1000 Guitar Resources & Music Sites!




You are visitor #
since July, 1998.