-Main Page

- Oz Lingo

- Ozicide

- Oz Links

OZ QUICK FACT

&nbsp
&nbsp
&nbsp
&nbsp
&nbsp
&nbsp
&nbsp
&nbsp
&nbsp
&nbsp
&nbsp
&nbsp
&nbsp
&nbsp
&nbsp
Updated 03/28/13



-

Recent Updates -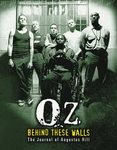 Oz:Behind These Walls-The Journal of Augustus Hill
No longer in production by Harper/Collins Press, but somebody's bound to have it for sale on eBay.com
Try THIS LINK to see if anybody has it up for auction on eBay.
I saw Mike Doyle (Adam Gunzel) playing a cop on an episode of Law & Order SVU and all I could hear was Schillinger' saying "Bring me the boy". Hahahahahahah
Oz World's 15 YEAR ANNIVERSARY as of September 2012!
Thanks for making "Oz World" the most visited Oz page on the internet, over 1,000,000 visits since our inception in September 1997!!! And consistenly still raking up over 200 new visitors everyday!!!
Get yourself a copy of Augustus Hill's Journal-Oz:Behind These Walls, and I suggest it to anybody who considers themselves an Oz fan. It is the ultimate companion to the Oz Saga Seasons 1 through 5. It gives you so much more insight into all the storylines that have taken place in Emerald City, right up to Hill gettin shanked during the Season 5 Finale.
Picture I snapped of Mums AKA Poet walking the streets of The Bronx on 8/29/2007
Oz Season 6 on DVD - Now On Sale!!!
Three optional audio commentaries ("Dead Man Talking," "A Day in the Death" and "Exeunt Omnes") with series creator Tom Fontana, cast members Terry Kinney, Eamonn Walker, Dean Winters, Scott Winters and writer Bradford Winters
30 minutes of deleted scenes
Original cast audition tapes
Exclusive extended cut of the series finale: "Exeunt Omnes"
Oz Seasons 1-5 on DVD
Now Available!!!
Copyright 1997-2012 Terrbo Productions