"On the Runway…" Pattern
"Mrs Santa Clause"

for Gene MFB-2006-GC $6.90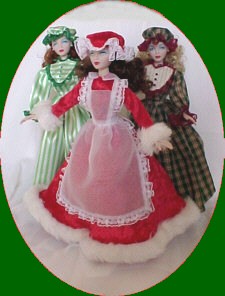 Gene is ready for the Holidays in her Mrs. Santa Clause traditional dress of crushed red velvet trimmed with white faux fur, pinafore apron, dust cap, slip and pantaloons. Two variations are also included which are suitable for holiday prints, stripes or plaids, and feature a round front yoke. One version is shown in green and white vertical satin stripes, with the stripes on horizontal for the yoke. The other is of homespun Christmas plaid with a pin-tucked yoke (instructions for pin-tucking or faux pin-tucking are both given). This design was original created for Barbie in 1971 and just recently re-mastered. This Gene pattern is not just an enlargement of the Barbie pattern, but is perfectly form-fitted to Gene's figure. Pictures of the pantaloons and slips are shown below, along with the pattern envelope: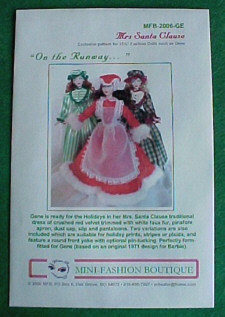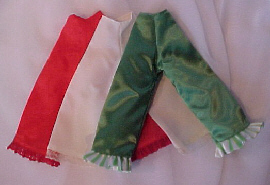 "On the Runway..." patterns are professionally designed and computer drafted--and we just got this one back from the artist who computer drafted this new pattern from Mini-Fashion Boutique for Christmas!
"Mrs. Clause" comes in a 6" x 9" white envelope with color photo on the front and instruction "booklet." Step-by-step directions are clear and easy to follow, with illustrations where necessary. Dolls not included.
Please include name of pattern and MFB pattern number when ordering. See section on Ordering.
Return to Table of Contents
© 2000 Mini-Fashion Boutique
Barbie® and associated trademarks are owned by Mattel, Inc.
Gene® is owned by Ashton-Drake, Inc.
Mini-Fashion Boutique is not affiliated nor sponsored by either Mattel or Ashton-Drake.