Memorial Page - Buddy, CGC, TDI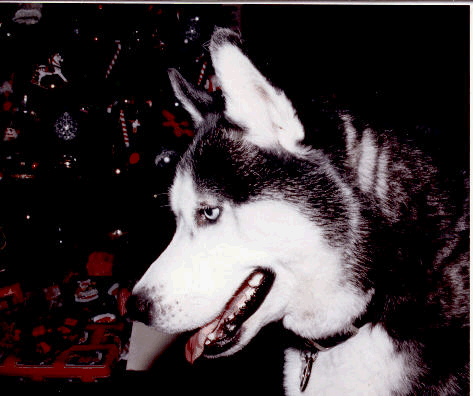 To Buddy: Everyday was like Christmas when you were here!
Buddy the Puppy
Buddy was born on Thanksgiving night at our house in New Hampshire on 11/26/92. His parents were Shane and Katrina and his littermates were Gina and Mario and Natasha. They are Siberian Husky dogs.
Buddy was the runt of the litter, but over the years grew to be the largest of all our dogs (80 lbs). When we would tell the puppies to go "in your crates", Buddy would run the other way and we would have to chase him down to put him in his crate.
We were very happy when a wonderful family fell in love with him and wanted to buy him as the was truly the "husky from hell".
Buddy's Life
Buddy spent the first year of his life with a wonderful couple from the Lakes Region of Central New Hampshire; they fell upon hard times and as part of our sales agreement, they called us to say they could no longer keep him. Of course, we took him back.
They treated him like gold as when he came back to live with us, he was a real sweetheart, very obedient and willing to please. I went on to get Buddy certified with Therapy Dog International and the two of us would visit nursing home residents to provide comfort and companionship. He loved doing this as everyone would give him treats.
Buddy's other loves in life were playing in the snow, instigating play with our other Siberian Huskies, any drive-thru (DD's and Dairy Queen or banks as he would always get snacks), going for car rides, taking long walks, pigs ears, attending the Boston Marathon, and any type of food. But his most favorite thing in the world was his human family.
Buddy's Death
In the last year and a half of Buddy's life, he lived with seizures (epilepsy). In December 1998, he started taking phenobarbitol to control his seizures as they were coming more than once a month.
3 months later, on Valentines Day 1999, Buddy stopped eating; shortly after he became jaundiced. Numerous trips to the vet and a reknowned animal hospital showed that he had liver disease.
Buddy died from complications of phenobarbitol toxicity on March 21, 1999. He was a little over 6 years old.
We are all devastated by Buddy's death. We wish that everyone had a chance to meet him and experience his love of life.
For more information on canine epilepsy, please visit the Canine Epilesy Resource Page (see below).
"Goodnight, sweet Prince, and flights of angels sing thee to thy rest."
William Shakespeare
View My Guestbook
Sign My Guestbook




Buddy's Puppy Pictures
Go Back to Main Page
Canine Epilepsy Resource Page

Email: fivehuskys@aol.com