CRIMINAL FOOTBALL LEAGUE
CFL 2001 Guestbook/Forum
Click the "sign guestbook" link below to add your comments/thoughts on anything!
CFL 2001 WILDCARD GAME
Cheetahs (26) vs. Dead Meat (29)
In a story that sounds a bit like "The Hammer of Thor"... Dead Meat relies upon the "Toe of Vanderjagt" to slip by the Cheetahs and take the Wild Card spot!
CFL 2001 SEMI-FINALS
Knights (66) vs. Dead Meat (50)
Knights reduce Dead Meat to Spam®!
Celts (44) vs. Malicious Mischief (56)
Malicious Mischief manages to squish the Commish!
CFL 2001 SUPERBOWL
Malicious Mischief (52) vs. Knights (47)
Sports Fans...I believe we have a Winner! Malicious Mischief with an awesome showing by the Pittsburgh "D",and in their first foray into the post-season, eke out a Superbowl win!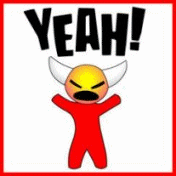 The sections below are direct links to Weekly Lineups, Breakdowns, Weekly All-Stars & Standings
WEEKLY SCORING BREAKDOWNS
WEEKLY STARTING LINEUPS
WEEKLY STANDINGS
RULES & LEAGUE ANNOUNCEMENTS
Links provided for reference purposes. Logo graphics are the properties of the entities which they link to.

| | | | | |
| --- | --- | --- | --- | --- |
| | | | | |
| | |
| --- | --- |
| Team Owners: Submit Transactions using the form box to the right. You MUST input your team password in order for your transaction to be valid! Everyone (including yourself) will receive an E-mail with the transaction info simultaneously. | |

CFL ARCHIVES

CFL 2000 site is still active with all reports and stats present for your viewing pleasure!
This page has been whacked

times since 8/24/01!
Criminal Football League 2001 ©