This old brochure compared Jeep's 1980 offerings with those of other auto manufacturers. On the front, it is comparing a J-Series truck with a Ford F-150.
A 1979 Jeep J-20. This was on Ebay. It is a former Long Island Volunteer fire dept. truck. The specs are-
Miles-3565

Doors-2

Transmission- Manual

Interior- black

Engine-8 cyl

year-1979

Warranty-No

VIN #

J9M46YN088584

Title-clear

Exterior- red

Condition- used

Inspected-yes

Options- 4wd
This Jeep here is a 1982 J-10. As you can see the rot on this is pretty bad. I found this picture on. www.jeepclassifieds.com. You can view the ad for this truck by clicking here.
The cover of the 1986 accessories brochure.
A page from Canadian Jeep promotional liturature. Note the nice blue honcho carrying the motorcycle. One of these was used as a project vehicle for an article on page 1.
A great 1978 J-20. It is a great example of how Jeep built these beasts to last. After 27 years of farm work and fire dept. work, this truck has NO dents and NO rust. all that it needs is a battery and a new starter. It also needed the AC fixed, but that's optional. It has the 350 V8, and the 4 speed tranny, as well as huge front and rear bumpers. It was recently spotted on Ebay and sold for $910. It had 14 bids. That proves how valuable that these trucks are to people who need heavy duty work trucks. Since I am having trouble with the "slideshow" photogallery I have made each large picture into a thumbnail. To see the full size image click on the thumbnail.
Tonka's imitation Jeep Honcho. Tonka probably did this to avoid paying royalties to AMC to use the Honcho name. However, I've never seen a Honcho with brown/gold trim. This trim looks more like that of a Golden Eagle edition J-truck.Recently I have also seen a green one of these toys at a Cape Cod antiques shop.
This is a very interesting J-20 that is in use in Norway as a fire engine. Some interesting features are the extended bumper, cargo box molded into the pickup bed, and modifications to the hood in order to fit the water pump. This is one of the most interesting vehicles that I have ever seen.
This J-10 sportside is definitely unique. It is covered in Budweiser advertising. It was spotted in Mission, British Columbia. I think that this truck might be a promotional item for Roger Mears, whose racing truck is shown earlier on this page, who was sponsored by Budweiser. That, or it could just have been a budweiser promotional item. On the bottom of the tailgate you can see "assembled in Canada." I found this truck and some info on it on www.joiesjeeps.com/jeep.html
Another Ebay find. This is a page out of an old truck and van customizing magazine from 1976. And while it is not exactly a jeep, it is still an AMC pickup, even if it was a custom. The article tells how someone customized their '76 pacer into this neat little pickup. Wouldn't it be cool if AMC had actually made this?
If you happen to be a big AMC Jeep fan, or a Renault Alliance fan (if there are any), this is perfect for you. It is an actual AMC-Jeep/Renault dealer sign. It measures 11 feet wide and 5 feet high. It is on Ebay as of Sunday, August 7 and has no bids, and a starting bid of $1,000.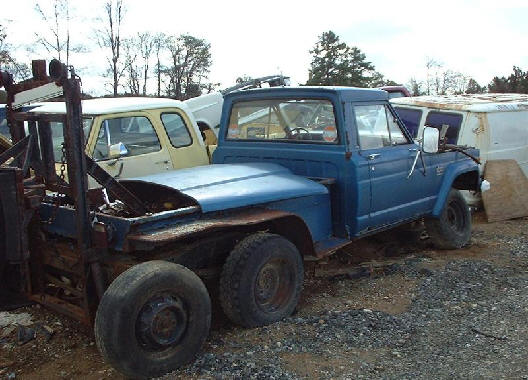 A wildly customized Jeep J-10 thriftside that someone turned into a 6x4, albeit rather unsuccessfully. This truck is just plain strange, no buts about it. This truck is very similar in a way to the Willys do Brazil tow truck that some genius turned into a 6x4 on the Willys do Brazil page. Note that on this truck there is a large metal object on the back. It looks like it could be a snow plow mount, or a forklift of something like that. Also note that this trucks' hood is on the bed.
These pictures of a 1972 Jeep J2000 stepside were sent to us by its owner. The vehicle is a former plow truck, and runs, but is not yet road worthy. The vehicles owner plans on restoring it and says that he will send us pics of it once it's finished. Best of luck!