Page 4.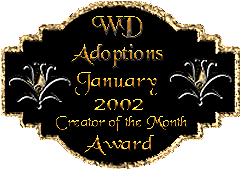 Thank you, Jamie.
Thank you, Diwata.
Thank you, Little Shy.
Thank you, Coyote Jo; for these two Awards.

Trophy Room for :
Pecos Bill American Folklore Gala.

_____*_____

Page 1.
Page 2
Page 3.
Award Presenters' Page for Main Suite and WEB World.

The Eccentric Bachelor of Old Towne.
American Folklore Hall of Fame.
Kid's Site.

Cyber World According to Bill Baxter, DTM.