Jayman's Two-Stroke Page
This site is dedicated to Two-Stroke enthusiasts world wide. I will be featuring photos of restorations and rebuild/overhauls on selected models, mainly the ones shown below, as I am doing the work. Each bike will be left posted until the photos are ready, then step by step pictures will be accompanied by text. You can e-mail me if you for details if you missed a step, in the future I will create an archive for each project. Currently, at the bottom of the page, we are doing a 1985 RZ350N restoration, which will include engine, fuel system, and fork seal replacement. The RD400D engine overhaul(done previously) will be next. My hope is that this assists those of you out there, who like me, had no help learning this stuff.
MY BIKES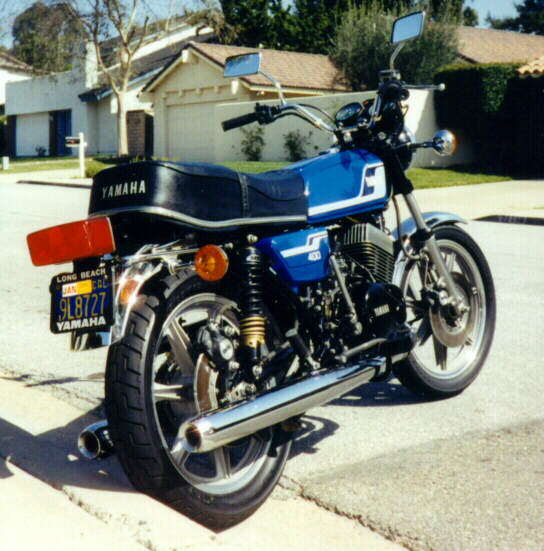 This is Artie..my 77 RD400D,a two stroke twin. Look here for future photos of a top and bottom end overhaul. This photo is prior to engine rebuild.
1-12-00 UPDATE: Artie's heads and top end removed to have squish bands cut and decarbonized pistons. Honed cylinders and reassembled. Check out 'Arties page' below for pics.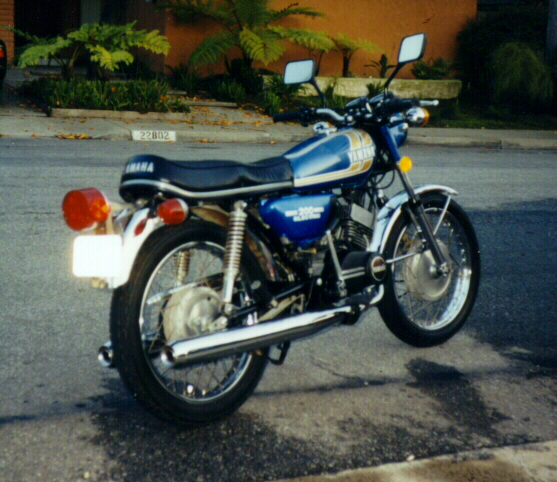 This is Arties lil' brother... a 74 RD200. We will be replacing some bearings on the clutch primary drive, oh boy! Currently waiting on seals, bearings, and I will make the gaskets; RD200 parts are hard to find.
1-12-00 UPDATE: We scored a second identical bike for a buck a cc! No pistons, but a good lower end, so this project is up next after we finish the RZ. Nothing like a having a second bike for spares.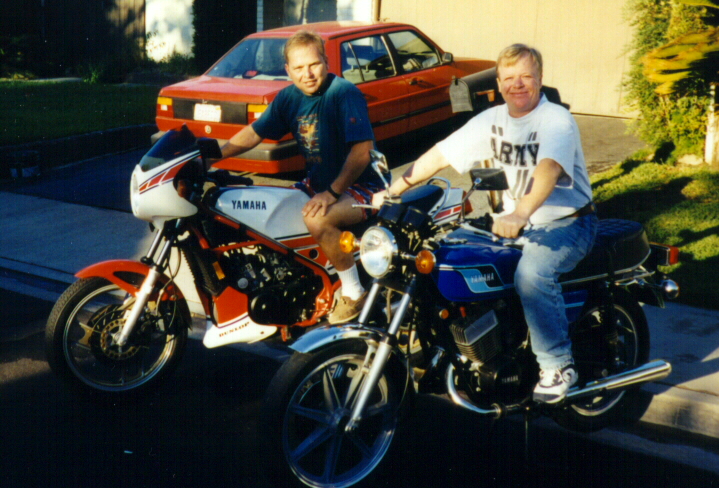 Restored and running again!George(note the smile) and I go for our first ride together since we sold our pair of GT380s in 1983! That's me on Elsie.

Jeff Delongs drag bike....ooohh yeah!!!!
Special Thanks to Haley for this page.
TECH PAGES:
DON"T HAVE A BIKE?
Try these great sites:
HALEY AND MARKS RALLY SITE:
SMOKE ON THE WATER .

NEED PARTS?
DOUG'S SHOP .
GARY'S PAGE
SPEC2 .
STUART'S PAGE
TOOMEY RACING
CHECK OUT JAYMANS FAVORITE RIDE:
COVINGTON'S PAGE...WOO HOO!!! .

RZs UNLIMITED
E-MAIL CARY
E-MAIL JAYMAN!!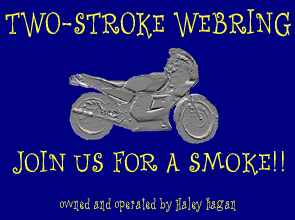 This Two-Stroke Webring site owned by Jay Mendoza.
[ Previous 5 Sites | Previous | Next | Next 5 Sites
| Random Site | List Sites ]