'TWO-STROKE HOOLIGANS' CLUB!!!


President: Jay Mendoza
Vice-President: Haley Hagan

The TWO-STROKE HOOLIGANS club is a group of two-stroke motorcycle fanatics dedicated to restoring, preserving, and enjoying two-stroke motorcycles. There are chapters based in the United States, Canada, the UK, and Australia and we are always looking for new members.
If anyone has any suggestions on how to improve the club, please feel free to email any of the Chapter Presidents. We appreciate your input, and will definately consider all new ideas.
HISTORY OF THE PREZ
CHAPTERS
MEMBERS
MEMBER PROFILES
MEMBERSHIP RULES AND FORM
MERCHANDISE HOOLIGANS CHAT AUSTRALIAN CHAPTER HOME PAGE
Sept. 17th 2000 Hooligan Rides Pics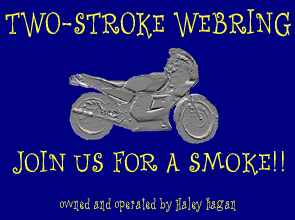 This Two-Stroke Webring site owned by the Two-Stroke Hooligans!!
[ Previous 5 Sites | Previous | Next | Next 5 Sites
| Random Site | List Sites ]