LATEST NEWS
13.04.02 : A number of pages have been updated. New info and photo's on Darren Piddingtons Roadster, photo's of cars running the Injector Hats on the Products page and go to the Injector Hat page.
5.04.02 : Below are new photo's of work recently completed here at Thunder Road Race Cars. Thunder Road are also catering for the growing turbo market by manufacturing top quality turbo intercoolers. After a new radiator? Thunder Road are also custom building aluminium radiators, if they dont keep your engine cool, nothing will.

Above - Hi Performance Alloy Turbo Intercooler

Above - Check out the flamed tin work in the Capri

Above - Ford Capri 3/4 chassis

Above - A complete racing rear end, sheet metal diff with full floating hubs and ladder bars
31.1.02 : A new link has been added to the Links page for Thunder Roads U.S distributor for our Carbon Fiber products such as Injector Hats and Blower Belt Guards.
DON JACKSON ENGINEERING
Don Jackson Engineering (DJE) is a broad based company supplying hi-performance drag racing equipment and services in the United States.
In their web site go to Induction Management Products page to view their information and photo's on the hats and guards.
Meanwhile, at the 2002 Australian Drag Racing Nationals at Willowbank Raceway just recently two competitors were seen testing with our 'Fuel' type injector hats. The results speak for themselves with Jim Read in the Gregory's Top Fuel Dragster and Andrew Searle in the ACME Customline Top Doorslammer, both being extremely excited about the results in testing their new hats. Both cars found big horsepower increases right from the start line with both cars, trying to get a handle on the new set up, riding out big power wheelstands with Reads car almost flipping over at the 300 ft mark!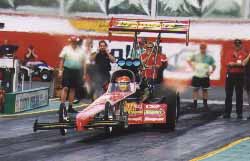 After seeing and hearing results from these two very experienced drivers, other racers have bought hats including Steve Reed in the Santo Rapisarda Top Fueler and Terry Haddock from the USA was very interested and excited with their potential.
11.1.02 : Thunder Road Race Cars have moved to a great new location closer to the coast. The new contact details are as follows :
Thunder Road Race Cars
Unit 1 / 23 Brendan Drive, Nerang,
Queensland, Australia, 4211

Phone: +61 7 55966800
Fax: +61 7 55966844
Mobile: +61 0412 656 733
24.12.01 : All people at Thunder Road Race Cars would like to wish all their customers and friends throughout the world a very merry christmas and a happy new year.
Thunder Road Race Cars are moving location to the Queensland coast. New address and contact details will be posted shortly.
29.09.01 : Thunder Road Carbon Fibre 'Fuel' and 'Alky' Injector Hats are having a great effect on competition world wide, including NHRA Top Fuel heavy hitters. Many teams in the US have been testing with the hats finding amazing results. Generally finding a large increase in air flow compared to other units. Racers such as Kallitta, Schelpi and Grubnic to name just a few are taking quick advantage of this new intake.
Testing by the Kallitta Top Fuel Team recently at a NHRA meeting saw a huge 35% increase in airflow compared to their existing unit. This equates to amazing 2400cfm increase in flow!
A small number of racers in Australia tested the new Hats here last season and more teams have them on order. Teams running the 'Fuel' Hats at the Australian Winternats 2001 included the Top Fuel Dragster of Atholwood and Smith and Top Doorslammer racer Andrew Searle. The Gregories Publications Top Fuel Team of Jim Read have also purchased a 'Fuel' hat for the new season.