Latino: Honduran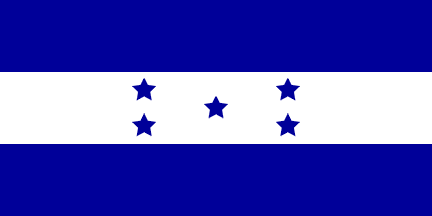 ---
I (Sal) had friends from my local chruch go on a mission trip here years ago (around 2004??). One of them brought me a souvenier (maracha music instrument)-thanks Rachel!

NATION


"Once part of Spain's vast empire in the New World, Honduras became an independent nation in 1821. After two and a half decades of mostly military rule, a freely elected civilian government came to power in 1982. During the 1980s, Honduras proved a haven for anti-Sandinista contras fighting the Marxist Nicaraguan Government and an ally to Salvadoran Government forces fighting leftist guerrillas. The country was devastated by Hurricane Mitch in 1998, which killed about 5,600 people and caused approximately $2 billion in damage."

GLOBAL

Miscellaneous


"...In 1969, El Salvador invaded Honduras after Honduran landowners deported several thousand Salvadorans. Five thousand people ultimately died in what is called "the football war" because it broke out during a soccer game between the two countries....

"Honduras - literally "depths" in Spanish. Columbus is traditionally quoted as having written Gracias a Dios que hemos salido de esas Honduras (English: "Thank God we have come out of those depths") while along the northeastern coast of Honduras."

Honduras Mission Trip

"Christians travel to Honduras to witness and help the villagers Added: 02-09-2007 "
-Medical

Midical Missions to Honduras

"A young doctor from Canada speaks about her Medical Missionary journey with the Austin Medical Missionary Team."
*My Medical Missions

-Theatre
Jesus Saves All

"This drama wasw preformed by the misions team who took the gospel to Honduras. The drama is a great tool because it doesn't require language."

Music


Vida Extrema Podcast Renan Carias Cubreme

"En este episodio de Vida Extrema, Mariela Alvarez presenta para la sección "El Toque" el mas reciente vídeo de el cantante contemporáneo Renan Carias. Quien lanza al mercado su nueva producción Cubreme, bajo el sello discográfico Light House. Renan Carias es el principal exponente de la canción cristiana en Honduras. Su música ha influenciado el desarrollo de innumerables cantantes y tocado las fibras mas profundas de sus oyentes debido a la consistencia y trascendencia de sus líricas. Disfruta este vídeo de la canción Cubreme, primicia para Vida Extrema Podcast. Este episodio ha sido patrocinado en parte por www.lordproductions.net"
-Worship
Hillsong Music in Spanish with Fe y Victoria Church

"Enjoy this Praise For all you have Done singing in spanish. Albanza For all you have Done de Hillsong en Espa񯬠por la Iglesia Fe y Victoria en Honduras! Hillsong Music in Spanish with Fe y Victoria Church. And then also a powerfull message of the word of God for your life"

Tourism


Video Promocional Honduras

" Added: November 01, 2006 Grayline Honduras"

Thank you for visiting UMMAlpha! Please feel free to e-mail me (Sal) at ummalpha@yahoo.com on any comments, suggestions (e.g. any new websites),complaints, or anytype of feedback to improve this website.
---
Return to UMMAlpha: Latino Homepage
Thank you for visiting my page at Angelfire. Please come back and visit again!