European: Romanian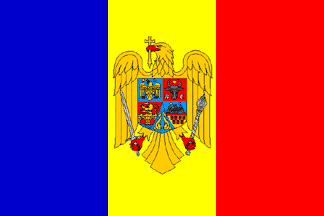 ---
Today (Thursday, August 16th of 2007), I (Sal) just chatted with a new friend from Romania. She speaks many languages and has a heart for Korea
---
Reccomended Resources
GLOBAL

Language

Maps

Miscellaneous


"The modern state of Romania was formed by the merging of the Danubian Principalities of Moldavia and Wallachia in 1859.The state united with Transylvania in 1918. Its capital and largest city is Bucharest (Romanian: Bucureşti /bu.kuˈreʃtʲ/ (help·info)), the sixth largest city in the EU. Romania joined NATO on March 29, 2004, and the European Union (EU) on January 1, 2007. Romania has the seventh largest population and the ninth largest territory in the EU."

Missions

-Humanitarian



"We are a non-profit, humanitarian organization that has been working with orphaned and abandoned street children in Romania for over 10 years. Our projects consist of a Hope Rescue Center where homeless children and families can come and receive counseling, food, clothing, medical treatment, etc. as well as Family Homes, Orphanage Outreaches, Abandoned Baby Hospital Outreaches, a Life Skills Mentorship program for older teens and young adults, and numerous other projects. "


*referred through Shoutlife.com on 3/22/07


Music


-Worship
"Break My Plans"

"is a music video from Christian Vocal Artists, This Hope. Telling the story of a Romanian hymn writer imprisoned in 1959 for exercising his faith through music, the song "Break My Plans" is an emotionally stirring ballad of faith under oppression. While in prison, and without pen and paper, Nicolae Moldoveanu composed 366 hymns! Nicolae's struggle is faithfully reenacted by Jeff Rose and includes performance scenes from This Hope. "This Hope" is currently touring the United States and can be found at ThisHope.org"
Related Sites:



"Nicolae Moldoveanu (conductor) was born in Romania but emigrated to Switzerland in 1986, where he studied conducting with Wilfried Boettcher, Horst Stein, Ralf Weikert and Antal Doráti at the Musikhochschule in Zürich, Basel and Bern, also attending master classes with Lothar Zagrosek and Sergiu Celibidache. In the UK, whilst at the Royal Academy of Music in London, his teachers included Colin Metters, George Hurst and Sir Colin Davis. He also took part in master classes with, amongst others, Ilya Musin, Leonard Slatkin and Sir Roger Norrington. Upon graduating from the Academy, he was awarded the Edwin Samuel Dove Prize for special merit as well as the Ricordi Conducting Prize. In 1994 Nicolae Moldoveanu was appointed Arts Council Young Conductor to the Bournemouth Orchestras. In 1997 he was elected an Associate of the Royal Academy of Music and the following year he was appointed Principal Conductor of the English Sinfonia. In September 2002 Nicolae Moldoveanu took up he position of Associate Guest Conductor with the London Mozart Players."
CENTRUM-Romanian Praise and Worship Band



"The death of Richard Wurmbrand in 2001 didn't attract a huge amount of attention, but back in the late-1960s and early-1970s, he was one of the better-known dissidents in the communist bloc. Not in the Solzhenitsyn class, of course, but renowned in certain circles. And unusually for a dissident at this time, he was no intellectual, but an evangelical minister in Romania...."

"Richard Wurmbrand talks about his life in prison"
Related Sites:
The Story of Richard & Sabina Wurmbrand, from Voice of the Martyrs
"Many people called him the 'Voice of the Underground Church' and others referred to him as the 'Iron Curtain St. Paul.' This humble man who began the ministry of The Voice of the Martyrs was the Rev. Richard Wurmbrand, who passed away February 17, 2001. Richard's life was a partnership with the equally amazing Sabina who he married on October 26, 1936.
Richard Wurmbrand was born the youngest of four boys in a Jewish family on March 24, 1909, in Bucharest, Romania. Gifted intellectually and fluent in nine languages, Richard was active in leftist politics and worked as a stockbroker.
After their marriage, Richard and Sabina were converted to Christ in 1938, chiefly because of the influence of a German carpenter, Mr. Wolfkes. They joined the Anglican Mission to the Jews in Bucharest. Richard was ordained, first as an Anglican, and then after World War II, as a Lutheran minister. "
R. Wurmbrand,

"R. Wurmbrand Persecuted Christian"

Toursim

Youth

Christian Summer Camp-Budureasa 2007, Romania

Thank you for visiting UMMAlpha! Please feel free to e-mail me (Sal) at ummalpha@yahoo.com on any comments, suggestions (e.g. any new websites),complaints, or anytype of feedback to improve this website.
---
Return to Goodnews UMMAlpha: European Homepage
Thank you for visiting my page at Angelfire. Please come back and visit again!