European: Norwegian Outreach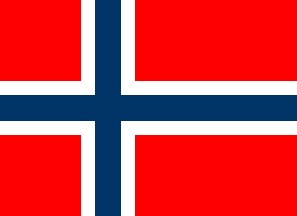 Yah..you betcha! Hallo-Hello in Norwegian! A popular Norwegian line I've learned after living in rural Morris, Minne-sota!
When I (Sal)think of Norwegians, I automatically think of the Vikings-not just the football team, but the actual barbarians from medieval times!
A co-worker (Heidi) of mine is very proud of her Norwegian heritage. She has taught me a lot about this country. Just recently (Tuesday, January 24th of 2007), she shared with me of her visits (3x so far) to her grandparents' homeland. Most of her relatives live in Stavanger (virtual photos).
---
LOCAL

Church

Nora Lutheran Church, Kensington, Minnesota

*located 17 miles northeast of Morris (go east on Hwy 28, then north on Pope Cty Hwy 3 in Cyrus, then turn right at the sign before the town Kensignton)
AN ANNUAL LUTEFISK AND MEATBALL SUPPER , from Morris Sun Tribune
"will be held at Nora Lutheran Church, rural Kensington from 3:30-7 p.m. Suplemental funds have been applied for through Thrivent Financial for Lutherans. Everyone welcome. w41"

Events
Date: Wed, 29 Aug 2007 15:08:07 -0500 From: "Jessica Beyer" View Contact Details Add Mobile Alert Subject: Fwd: Bizarre Food anyone??? To: UMMBLANDIN@LISTS.UMN.EDU >Here is an exciting event happening in Cyrus MN. > >Not sure how many of you watch the Travel Channel but here is your >opportunity to Join Andrew Zimmer, host of the Travel Channel's >"Bizarre Foods with Andrew Zimmer" for a Lutefisk Supper (with over >20 different Scandinavian foods). They are going to be taping an >episode for his TV show on the Travel channel at the Cozy Cafe in >Cyrus MN. Major TV shows do not happen in this area very often so >here is your chance to be a part of it. So mark your calendars!! > >Where: The Cozy Cafe in Cyrus MN >When: Saturday, September 15th at 4pm >Tickets are $13.95 available at the door > >Thanks > >Jessica Beyer (UMM '02) >Community Program Assistant >Center for Small Towns >University of Minnesota, Morris >600 E. 4th Street >Morris, MN 56267 >(320) 589-6451 (tele) >(320) 589-6476 (fax) >www.centerforsmalltowns.org

Little Christmas Eve Service - Willmar Thursday, December 23rd


Lillejulaften (Little Christmas Eve) will feature Norwegian Scripture reading, prayers, and songs. The service folder will be in Norwegian with a full English trasnlation. After the service in the sanctuary there will be fellowship with coffee and Norwegian treats in Bethany Hall. If you have bunads or Norwegian Sweaters, you are encouraged to wear them.
Time: 7pm
Place: Calvary Lutheran Church
Hometown Happenings
KWLM Radio's Calender of Events

Norwegian Food Day at Cyrus Elementary School on Saturday, October 23rd @9a-1p
*I tried Ramuffun (sp?-"milk mush") for the first time with a little kid I work 1:1 with. It was delicious-it had some tasty thick condensed milk, pudding type dessert!

Lutefisk and Meatball Supper at First Lutheran Church on Sunday, November 14th of 2004 @3-6:30p


STATE

History

NATION

Events


*I just (Sunday, October met a couple (Greg and ?-?-grew up in Donnelly, MN) that just went there this year (2007) and they told me how much fun they had. They told me that 40,000 people come from all over the world to state fairgrounds in their motorcoaches or whatever means of transportation.

Government

Miscellaneous

People


*met through myspace on Monday, September 3rd of 2007

GLOBAL

Culture

Food

Jokes


*I never heard so many of these jokes until I lived in Morris, MN

"Sven and Ole heard of an organization that would pay $5000 for every live wolf. They hunted for days, up and down mountains. One night, they fell asleep around their campfire. In the middle of the night, Ollie woke up and saw they were surrounded 50 hungry, ferocious wolves. He said to Sven, "Wake us Sven, We're rich!" -John Jenkins, Jamestown, TN

Language


Maps

Ministries

Miscellaneous

Missions

Sommerleirane Vatnar 2007

"masse bilder, vanvittig moro, digger dikkon!! "


Travel

Norway: The Most Beautiful Country in World

"I haven't been to Norway yet but someday I will move there. Here is a slide show dedicated to the most beautiful country on Earth.
This video shows beautiful scenes of Bergen, Oslo, Stavanger, Lofoten, Finnmark (my favorite), traditional Norwegian hytte, Trondheim, Hammerfest, Sami (Lapps), Kristiansand and many more.
I spent hours trying to get everything just right like the symbolism, so if you open up you'll find a lot of symbolism. One of them would be that the flag after the mountains shows that Norway is a strong country.
P.S Sorry for the bad quality the file is too big"


-Attractions



Norway Fjords

"Fjords in Norway. Kayaking in Naeroyfjord and Aurlandsfjord in Sognefjord. www.fjords.com"
---
Return to UMMAlpha's European Homepage

Thank you for visiting my page at Angelfire. Please come back and visit again!