Home
|
Available Puppies
|
Planned Breedings
|
Links
Tori
|
Powder
|
Raven
|
Ziva
Welcome to Mandaryn Cavaliers!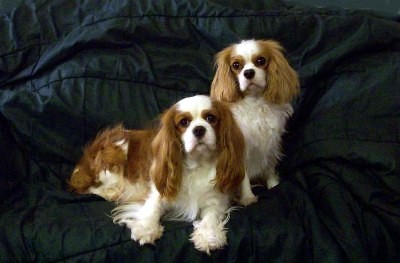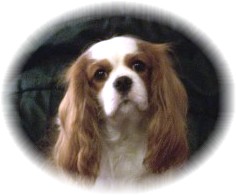 I cannot begin to tell you what a wonderful breed the Cavalier King Charles Spaniel is. I researched the breed and waited over a year before purchasing my first Cavalier from a show breeder. I was amazed at how many "breeders" there were out there, but I was more amazed at how many people called themselves "breeders" because they were able to put two dogs together and create a litter.

I raised mastiffs for thirteen years and learned a lot about what it takes to be a good breeder and to have top quality dogs.

As a breeder, I feel each puppy is my responsibility from the time it's born until the time it passes on. I am always willing to take my babies back if their owners can't keep them, regardless of the circumstances, no questions asked. I am available for questions at any time, and if I don't know the answer, I will find the answer and get back to you. I want my puppies to be in good homes and I want their parents to be happy. All of my dogs are health tested and are bred to represent the AKC and CKCSC standards.
Since we show our dogs in several venues, Our dogs are AKC and UKC Registered.
Here is Babe with some of her girls...
~Powder ~ Hannah ~ Tori
Mandaryn's Baby Powder ~ Mandaryn's Jersey Girl ~ Mandaryn's Drama Queen
Our Keepers
Tori and Powder
This is Madison playing with her Mastiff friend, Larry.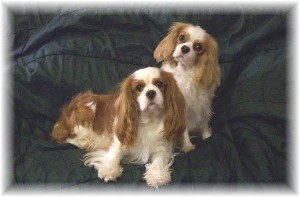 Madison and Larry sharing a moment
Our Cavaliers are annually heart tested at the University of Minnesota and are eye cerf'd annually as well.

We believe in producing healthy Cavaliers with stable temperaments and go the extra mile to socialize our puppies to new situations. We want you to be completely satisfied with your new addition!

We breed for ourselves first and our goal is to breed future show dogs. Even though you may only want a "pet" and may not be looking for a show dog, you will have the benefit of purchasing a top quality puppy as a pet and only pay "pet" price. When someone tells me they want a "pet" I assume that means they are wanting to spay or neuter their puppy. We sell all of our companion/pet puppies on limited registration-Which means you cannot show or breed this puppy and MUST spay or neuter them.


What are the benefits of buying a Quality bred Cavalier?
~Show dogs need to have a stable temperament and the ability to get along with other dogs
~Show breeders health test their dogs and work toward irradicating heath problems in the breed
~Show breeders are breeding dogs with correct confirmation and coat color
~Show breeders study pedigrees and match the parents according to their strengths and weaknesses
~When you buy from a show breeder, you are developing a life long friendship and can count on their support when you have questions about your puppy.

Tori
|
Powder
|
Ziva
|
Raven
Home
|
Available Puppies
|
Planned Breedings
For more information, call Amanda at 218-368-7395.
Thanks for stopping by!
mandaryncavaliers@hotmail.com