Wild Wild West
The Movie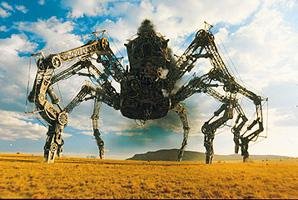 Will Smith (who had a hit with the film's theme song)
is "in the saddle [and] ready for battle" in a frenetic
1999 Western based on the 1960s TV series.
Smith plays James West, a trigger-happy undercover agent who reluctantly teams with inventor Artemus Gordon (Kevin Kline), a Harvard-educated genius.
They're tasked by President Ulysses S. Grant (also played by Kline) with thwarting the madman (Kenneth Branagh as a Confederate who can't let go of the war between the states) who has created a massive weapon system capable of destroying the United States: a missle-firing giant mechanical spider.
And stick around for a final scene after the credits (may not be included in broadcast showings). Spiders...why did it have to be spiders?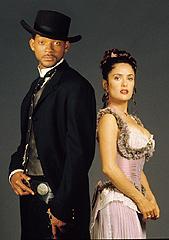 Cast:
Will Smith
Kevin Kline
Salma Hayek
Kenneth Branagh
M. Emmet Walsh
Ted Levine
Frederique Van Der Wal
Musetta Vander
Sofia Eng
Bai Ling
Rodney A. Grant
Mike S. McGaughy
Jerry Wills
Buck Taylor
Garcelle Beauvais
E.J. Callahan
Debra Christofferson
James Lashly
Dean Rader-Duval
Christian Aubert
109 min. Rating: PG-13 for Violence
Directed by Barry Sonnenfeld ("Men in Black")
Loveless: Kenneth Branagh
Rita: Salma Hayek
Gen. McGrath: Ted Levine


Will Smith was also in Independence Day (the sci-fi movie)
about the same time as Twister


Animated graphics (c) 2001 by The Animation Factory.

A head. That's a human head.