Sci-fans looks at:
Lady In The Water
(2006)

Not a sequel to "Splash" (see below) but there is a connection. When Ron Howard was directing "Splash," his 3-year-old daughter Bryce (her hair is as red as the famous canyon) ran around yelling "Action" & "Cut, please." Ron moved the family to Connecticut to get them away from show-biz, but by age 15, Bryce was attending the same summer-theater camp previously attended by young Mandy Moore, Zach Braff and Robert Downey, Jr. Writer-director M. Night Shyamalan saw her in a Public Theater live production of Shakespeare's As You Like It in 2003 and cast her in "The Village" (about a European village surrounded by monsters in the woods). She had to dye her hair blond as Gwen, the love interest for Peter Parker (Tobey Maguire) in Spider-Man 3 (2007, filmed in 2006). In "Lady In The Lake," an apartment building super (Paul Giamatti) discovers a Narf (Bryce) in the swimming pool. Don't try to look up Narf in your copy of "Who's Who and What's That," the creature (a kind of sea nymph with the ability to look human) was made up by Shyamalan while telling a bedtime story to his daughters (age 6 & 9). He promises you will be delighted and believe in Narfs. Released July 21, 2006, it could find itself competing in some multiplexes with The Da Vinci Code, directed by Ron Howard and starring Tom Hanks. This was writer/director Shyamalan's (Signs, The 6th Sense) final movie for Disney/Touchstone before switching to Warner Brothers.


Lady In The Water movie trailer



"Mermaids" are available in books, on video and on DVD from Amazon.com including that little one from Disney (1989) written by Hans Christian Andersen
Splash
(1984)
Actor Ron Howard became a director with the G-rated low-budget movie "Grand Theft Auto" in 1978 (no relation to the videogame), followed by three TV-movies, then the dark comedy Night Shift starring Michael Keaton and Henry Winkler as night time morgue attendants who decide to help out a callgirl with a heart of gold (Shelley Long). Two years later he made a big splash in Hollywood with "Splash," released by Disney's Touchstone lable (Disney prefers to only release G-rated films). Tom Hanks of Forrest Gump stars as a man who falls in love with a mermaid (Daryl Hannah, previously known for smaller roles in The Fury and Blade Runner). In order to find Tom on land, she tranforms into a woman and walks (nude) onto a beach in front of startled tourists. Though this scene was shot only from behind, it seems to have been removed for the PG-rating and Disney video. John Candy and Eugene Levy of SCTV have "best friend" roles, and made a number of movies together. Supporting cast also includes Dody Goodman, Shecky Greene, Howard Morris and Richard B. Shull.
111 minutes rated PG
"I think that the audience loves rooting for the underdog characters, the guys with the small brains and the big hearts." Eugene Levy

"Tom Hanks" availability on video and on DVD from Amazon.com

See Cool Runnings/Delirious page for current John Candy broadcast schedules inc. Splash
Splash 2
(1988)

This TV-movie had a different director and cast, only Dody Goodman stayed on from the original. Broadcast on Disney's longtime weekend movie timeslot, it has a sitcom feel to it, and may have been intended as the pilot for a TV-series.
Supporting cast: Mark Blankfield (Jekyll & Hyde Together Again), Todd Waring, Amy Yasbeck, Donovan Scott, Rita Taggart, Noble Willingham.
100 minutes.

Mr. Peabody & The Mermaid
(1948)

Mild comedy/fantasy stars William Powell (The Thin Man) as a man who discovers a mermaid while fishing.
Nunnally Johnson, Ann Blyth, Irene Hervey, Andrea King, Clinton Sundberg. 89 minutes
"William Powell" availability on video and on DVD from Amazon.com
Miranda
(1948)

Mild comedy/fantasy about a doctor on fishing holiday who's abducted by a mermaid who agrees to take him back to dry land only if she can see what the human world is like. David Tomlinson, Glynis Johns (who later played the married couple in Mary Poppins), Googie Withers, John McCallum, Margaret Rutherford, Griffith Jones. Followed by sequel "Mad About Men" (1954) in which Miranda tries to pass as a schoolteacher who's on vacation. Even Frankie and Annette befriended a mermaid in Beach Blanket Bingo

Aquamarine (2006)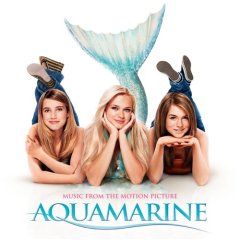 A 13-year-old girl helps a teenage mermaid named Aquamarine search for true love in this fishout-of-water comedy. In the scene where Hailey and Claire meet Aquamarine in the pool, Aquamarine says "I've never been this close to a human before," a direct quote from Disney's "The Little Mermaid."
When Sarah Paxton says this line, her voice in fact sounds freakishly like Jodi Benson's, who provided the voice of Ariel in The Little Mermaid.
Except for the five main actors, all of the supporting cast is Australian, where it was filmed.
Emma Roberts, Joanna "JoJo" Levesque, Sara Paxton.

No relation to the current TV-series "H20: Just Add Water" about 3 teenage mermaids trying to pass as human in Australia




Download & watch your favorite TV-shows online

from episodes of "24" to Star Trek, whether they're available on video/DVD or not!
Or your choice of over 3000
movies online

© Bill Laidlaw. All Rights Reserved. That's my 2˝˘ worth