The Bionic Page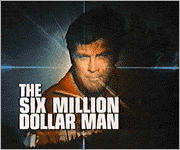 .

This page is devoted to Lee Majors star of films and the $6,000,000 Man tv series which led to the Bionic Woman spinoff series starring Lindsay Wagner. Both series starred Richard Anderson as their boss (not to be confused with Richard Dean Anderson, the current star of Stargate SG-1 on the Sci Fi Channel). There have even been bionic books. And probably Stargate books for that matter.

NBC is now airing new episodes of Bionic Woman (2007). Here is the schedule of the new episodes being rebroadcast on the Sci-Fi channel:

Times shown are EST & Pacific

09/28/2007 07:00 PM  BIONIC WOMAN PILOT    
10/05/2007 07:00 PM  BIRDS    
10/12/2007 07:00 PM  PARADISE LOST    
10/19/2007 07:00 PM  SISTERHOOD    
10/26/2007 07:00 PM  FACE OFF 
  Note: Bionic Woman is no longer in production due to the writers strike & crappy ratings

No "$6,000,000 Man" episodes are scheduled so far this year on the Scifi Channel
It all started with The Six Million Dollar Man, based on the novel Cyborg by Martin Caiden. Adapted into a pilot TV movie, The Six Million Dollar Man soon took off as a fully fledged series with ex-astronaut Steve Austin (Lee Majors) using his bionic arm, legs and eye to combat a variety of threats from enemy agents and foreign powers.

Lindsay Wagner guest-starred on The Six Million Dollar Man as Jaime Sommers, Steve Austin's childhood sweetheart and suffers a skydiving accident. The only way to save her is to replace her damaged limbs (and ear!) with bionic parts and she becomes the bionic woman. However, at the end of this two-part show, Jaime's body rejects her bionics and she dies. But such was the popularity of Lindsay Wagner that there was a huge outcry of the audience and the producers were forced to resurrect the character and gave her a series of her own.
Back from the dead, Jaime Sommers follows in Steve Austin's footsteps by using her bionic powers to fight evil - though by this time, enemy agents were increasingly being replaced by alien invaders and mad computers.
Previous broadcasts in year 2000:


      October 2,   SIX MILLION DOLLAR MAN Marathon -
 THUNDERBIRD CONNECTION - PART 1 & 2
 THE INFILTRATORS              
 SURVIVAL OF THE FITTEST       
 THE MOST DANGEROUS ENEMY      
 Mon, October 9    BIONIC WOMAN Marathon -       
 KILL OSCAR - PART I, 2 & 3     
 FEMBOTS IN LAS VEGAS - PART 1 & 2 
 
      Tuesday, 10-24,  SIX MILLION DOLLAR MAN Marathons -
 11:00 AM  SECRET OF BIG FOOT - PART I & 2  
 1:00 PM   RETURN OF BIG FOOT - PART I & 2  
 3:00 PM   BIGFOOT V  
 
      Mon, November 13  BIONIC WOMAN Marathon -       
 11:00 AM  BIONIC BEAUTY                 
 12:00 PM  CANYON OF DEATH               
 1:00 PM   THE PYRAMID                   
 2:00 PM   DOOMSDAY IS TOMORROW - PT 1 & 2 
      Sat, November 25, 9:00 AM, SCINEMA FEATURE (tv-movie) BIONIC EVER AFTER             
      Monday, December 11 - SIX MILLION DOLLAR MAN Marathon -
 11:00 AM  RUN, STEVE, RUN               
 12:00 PM STRANGER IN BROKEN FORK       
 1:00 PM DATE WITH DANGER - PT I & II     
 3:00 PM A BIONIC CHRISTMAS CAROL           
               No more episodes have been scheduled so far
 
$6,000,000 Man episodes are currently showing on the Scifi channel's German network
The Bionic Woman is currently showing only on the Sci-Fi Channel's British Sci-Fi Channel Your bionic visit has been on

First double amputee to get bionic arms (2006)
First woman to get bionic arm is former U.S. Marine, Claudia Mitchell, see online video

Bionic Woman website at SCIFI channel website, rebroadcast each week from NBC.com/BionicWoman

Official Six Million Dollar Page on the Scifi Channel.com (archived in 1997)