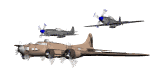 Sci-fans.com Looks At:
Always / A Guy Named Joe
Always (1989)
Fire fighters using World War 2 war-surplus planes take on a forest fire. Dispatcher Holly Hunter fears for their lives but can only listen helplessly when Richard Dreyfuss doesn't come back from one mission. An angel (Audrey Hepburn in her final film) advises him to go back as guardian angel, to wrap up any unfinished business.


So he tries to get his successor (Brad Johnson) and Holly Hunter together. But when she fears losing him too, she grabs the converted WW2 bomber and heads out to save some firefighters trapped in a raging inferno. Unable to talk her out of it, Dreyfuss talks her thru it, telling her to come in low enough to skim the smoke and flaming trees without dying herself from the heat.
Additional cast:
John Goodman of the Blues Brothers sequel, Robert Blossom, Keith David of Christine, Marg Helgenberger.
121 minutes, rated PG. No relation to Henry Jaglom's wierd, R-rated stream-of-consciousness film "Always" (1985)
A Guy Named Joe (1943)
In this fantasy, Spencer Tracy is killed in WW2 and comes back to play guardian angel for his successor. He also tries to get the guy (Van Johnson) to fall for his widow/girlfriend (Irene Dunne, not to be confused with Irene Ryan - Granny in the Beverly Hillbillies).

But he does that job a little too well and Dunne, afraid of losing another boyfriend, steals the bomber Van Johnson was going to use in a suicide mission to bomb a heavily-defended Japanese island ammo-dump. So Tracy (as a ghost) tries to get her to go back, but she can't really hear him, so he uses gentle influence to get her to fly low enough not to get shot out of the sky. Years later, Steven Spielberg was making Jaws (1975) and "Close Encounters Of The 3rd Kind" (1977) with Richard Dreyfuss, and between scenes they would talk about what a great movie "A Guy Named Joe" had been.


Trivia courtesy the Internet Movie Data Base
* When Dorinda returns home in the plane, she is dressed like Ripley from Aliens (1986), and similarly, she has a ginger tom cat. The cat is named Linda Blair.
* This film is a remake of A Guy Named Joe (1943), which was watched on television in Poltergeist (1982), which was co-written by director Spielberg.
* Portions of John Williams' music are derived from Ralph Vaughan Williams' "Fantasia on a Theme by Thomas Tallis."
* The tune Pete Sandich whistles when he's nervous is an Irish jig titled "Garry Owen," the offical song of the Seventh Cavalry of the U.S. Army -- General Custer's cavalry.
* The final film for Audrey Hepburn
* Tom Cruise was originally asked to play the Ted Baker role, he passed
* Dorinda mistakes Ted's John Wayne imitation as Jimmy Stewart. It actually occurred between Holly Hunter and Brad Johnson during rehearsals. Steven Speilberg found the incident so comical that he put it in the movie.
* The bomber flown by Pete and Dorinda is the A-26 Invader, used by the Army Air Corps in WWII. Al flies the PBY Catalina, a Navy rescue and transport plane in WWII. Dorinda helps Al ferry a Cessna 337 Skymaster, also known as the O-2 when flown by the Air Force in Vietnam. Ted flies a Super Decathalon, an aerobatic airplane.
* At the end of the credits:
Caution: Inhaling of helium from balloons is dangerous, and can cause serious injury or death © Bill Laidlaw. All Rights Reserved