MonsterVision Host Segments for




Intro


"THE BLUES BROTHERS" Intro

[map of Route 66; room for dancing]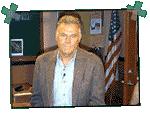 Second week of "Joe Bob's Summer School" and half of you are ALREADY flunking. Fortunately, tonight is widely believed to be a snap course. I speak, of course, of "Pop Culture 201: The Supreme Importance of Route 66 in American Iconography." I'm Professor Joe Bob Briggs, and our two road movies, which will loosely coincide with my lecture and I do mean loosely, are "The Blues Brothers" (1980) and Pee-wee's Big Adventure, and we'll be joined at some point during the first flick by the great actor Charles Napier who plays the lead redneck in "Blues Brothers." Now, The Road as it relates to the American pop psyche. Behold, Route 66. Christened in 1926, it wound 2400 miles from Chicago to Santa Monica.

It started up here where Jackson Street runs right square into Lake Michigan, and as you started out for points west, you took out insurance, cause about halfway to Missouri, right around Lincoln, Illinois, where they have the cute little courthouse where Abe used to work, there was a stretch called "Bloody 66." Some nasty blind curves where people got so mangled in car wrecks they begged state troopers to shoot em and end their misery.

Now, in St. Louis, you had to stay at the Coral Court. Working girls always in the vicinity. Not far from the famous 66 Drive-In. And in the morning you'd be on your way to the famous Meramac Caverns, the highlight is when the colored lights flutter across the stalagmite room while Ethel Merman sings "God Bless America." You'll wanna buy a little grape juice at the roadside stands on your way to Springfield, MO, scoot through pretty fast cause it's the world headquarters of all the Pentecostals in the world, and then Joplin, MO, "Gateway to the Ozarks" and the OPPOSITE of Springfield in every respect. When Kansas was bone-dry, Joplin was the last-chance watering hole for travelers heading west. Which is why Dixie Lee's Dine & Dance Bar was the success that it was. Plus you could buy those really ugly hillbilly woven baskets. Route 66 goes through the corner of Kansas -- Baxter Springs, first cowtown in Kansas and proud of it -- and there you are in Miami, Oklahoma. Next major stop: Afton, Oklahoma, home of the Buffalo Ranch, where you can stop and pet the bison. They also sell Buffalo Burgers, so you can pet the bison or EAT the bison. Confusing for children. Then Tulsa, where you buy Indian souvenirs -- Oklahoma City stop for the night, skip breakfast and head out through the Dust Bowl, loneliest part of the whole dang road, western Oklahoma, across the Panhandle of Texas to the Big Texan Steak Ranch in Amarillo. Home of the free 72-ouncer. It's still there. If you can eat four and a half pounds of beef, baked potato, shrimp cocktail, salad and a buttered roll, then your meal is free. I've seen people successfully do it -- it is NOT a pretty sight.

Okay, after the Panhandle, you'd be headed through New Mexico. At Tucumcari, you'd pass into Mountain time, and would remember to turn your clock back if you wanted to get to the Rattler's Den pool hall for Happy Hour. It was there that, if you were smart, you did NOT get into a card game with a dwarf by the name of Puerco Villa, cause he was famous for cheating the turistas. You could stay in Gallup--best place in the WORLD to buy Indian jewelry, place I get all my bolo ties -- and then the next day you hit Arizona. Route 66 went right by the Petrified Forest and the Painted Desert, but my favorite stop was always the Chief Yellowhorse Indian Trading Post in Lupton, where the sign promised you could "deal with the friendly Navajo." Best rawhide keychains north of the border. Past Flagstaff, out in Seligman, Arizona, no one missed the Snow Cap drive-in for the always popular "Dead Chicken with All the Trimmins." And then off to California -- where, for a special treat, you could stay at the Wigwam Village Motel just past San Berdoo, whose motto was "Do It in a Teepee." The next day you'd hit the Santa Monica Pier, the end of the road, the home of the homeless.

Now we're going back to Chicago for our first movie, "The Blues Brothers," the nouveau classic tale of Jake and Elwood Blues, a.k.a. John Belushi and Dan Aykroyd.

[fading] Whew! Get your kicks on Route 66, right? The Joe Bob Briggs Dancers are in the house tonight, too. "Kingman, Barstow, San Bernardino, get hip . . ." Barstow! -- see, if you traveled Route 66 today, you'd need to stop at the place where they filmed The Howling VII right, at Pappy's place in Pioneer Town. Do I have too much information here?'


---
"BLUES BROTHERS " Commercial Break #1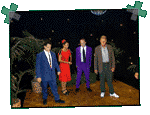 Well, that scene where the nun ruler-slaps em for ten minutes kinda lost something in the translation. I don't think they were saying "yow" in the original version, what do YOU think? Anyhow, as you probly know, this movie has about a million cameos in it, but there's no way you'd catch all of em, so I'll try to point em out to you. The Corrections Officer who signs John Belushi out of Joliet was director Frank Oz, also known as the voice of Yoda and Miss Piggy. Apparently the director, John Landis, is obsessed with the Muppets, but I can't substantiate that. The prison guard who blew the whistle to open the gate was John Landis's stepfather. And the old guy playing Curtis is, of course, the late Cab Callaway, the "Minnie the Moocher" guy. And lest you think we've forgotten tonight's theme, this movie BEGINS on Route 66. Joliet Prison sits right on the old highway, and boy does it look tough. Okay, I said I'd do the drive-in totals, so let's get those out of the way. We have:

Two dead bodies.
Four dead mannequins.
No breasts.
Motor-vehicle drawbridge-jumping.
Ruler slapping.
Back-flipping.
Shopping mall demolition derby.
Flame throwing.
Exploding hotel.
Shrimp tossing.
Flying beer bottles.
Flying phone booth.
And so many motor-vehicle collisions that my calculator blew up as I was tryin to count em.

Four stars. An eighties classic. Okay, back to it.

[fading] That word they took out was the Anglo-Saxon word for human waste. Censors always hate the Anglo-Saxons. They love the LATIN words. "Copulation," you can say that on TV. "Feces," you can say that. What was it about the Anglo-Saxons that urinated everybody off? Anybody know? What makes Latin better? I say it's a form of bull coprophagy.


---
"BLUES BROTHERS " Commercial Break #2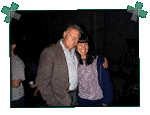 "We're on a mission from God." How famous did that line get? This movie was PANNED by critics when it first came out. They thought it was gonna tank cause John Landis spent 30 million bucks making it, which was the most money ever spent for a comedy. Some people thought it was so expensive cause of all the car wrecks, but Dan Aykroyd says they got the cop cars for 700 bucks apiece from the city of Chicago, so that wasn't it. Maybe they just had a lotta parties, if you know what I mean and I think you do. We can ask Charles Napier when he gets here. Okay, back to the flick.

[fading] Oh, by the way, that was John Landis, the director, in the upside-down cop car in the mall. And James Brown as the Reverend Cleophus James. The Godfather of Soul. The Hardest Working Man in Show Business. Soul Brother Number One. Before he went to prison for aggravated assault on a police officer, carrying a weapon without a license, and driving under the influence of PCP. We have a prison sub-theme here. Don't forget this is Pop Culture 201. Don't forget that James led the South Carolina Highway Patrol on a chase not unlike the one we just watched in the movie. He needed some churchin, didn't he?


---
"BLUES BROTHERS " Commercial Break #3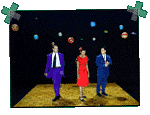 Okay, two more cameos just went by -- the cocktail waitresses at the Holiday Inn lounge were John Belushi's and Lorne Michaels' wives. Lorne Michaels was the producer of "Saturday Night Live," which, was where the Blues Brothers started. In fact, I'll give you a quick history of this movie. John Belushi discovered the blues when he was shooting "Animal House" and he met Curtis Salgado, who they call the original Blues Brother. Then Belushi and Dan Aykroyd started doing the act on "Saturday Night Live," and they became so hot they started doing concerts, making an album, gettin movie deals. They divided up the duties: Belushi was in charge of the record, and Aykroyd was in charge of writing the screenplay for Universal. Now, keep in mind that the average comedy script is ABOUT 110 pages. Aykroyd's script came out at 324. So Universal called John Landis, who'd had HUGE success with Belushi on "Animal House," and he and Aykroyd streamlined the script, and the Blues Brothers album went platinum, and Universal was really happy. Until "1941" came out. Remember "1941"? The Steven Spielberg fiasco starring John Belushi and Dan Aykroyd? After that, Universal got real picky, and made Landis cut "The Blues Brothers" down from its two-and-a-half-hour running time, and thank goodness, cause they ended up with a great flick. The end. Back to the movie.

[fading] There's a good cameo coming up. See if you recognize what other celebrity with a criminal record plays the waiter at Chez Paul. We're studying the marriage between Pop Culture and Crime -- which comes first, in a cultural-historical context? Let's reconceptualize the figurative construction of that invisible link. Or not. Does THIS show cause crime? We should discuss that. Or not.


---
"BLUES BROTHERS " Commercial Break #4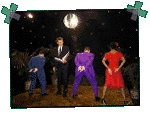 Did you recognize him, the guy playing the waiter? It was Pee-Wee Herman, nee Paul Reubens. Foreshadowing our SECOND movie tonight, "Pee Wee's Big Adventure." "Nee" means "born." I use the more technical word cause we're at college-level now here at "Joe Bob's Summer School." Let's see, we also had Henry Gibson as the Nazi leader, John Lee Hooker making music in front of the soul food restaurant, and a GREAT scene with Aretha Franklin. I was talking earlier about how much this movie cost, and I hope they paid Aretha in cash, cause she apparently has a little trouble with credit. She's had more than thirty lawsuits filed against her in the last ten years, coming to more than a million big ones. Seems the Queen of Soul forgets to pay her Visa bills every so often. Aretha, honey, I've been there. You know, sometimes by the time the bill comes, you FORGOT you bought that stuff. Okay, back to the flick. We're gonna move into the Summer School Dance Studio to do a little dance lesson at the next break.

[fading] I don't think you guys know what a fine dancer I am. I danced the lead in "The Nutcracker Suite" at the church Christmas show when I was nine. My mama couldn't stop crying. That's how good I was.


---
"BLUES BROTHERS " Commercial Break #5

[DANCE SET] ["Shake a TailFeather" playback]

"We got both kinds of music -- country AND western." Another classic line from "The Blues Brothers." And since this IS a musical, we've moved into the Summer School Dance Studio and we're going to recreate one of the dances from the flick with the new Joe Bob Briggs Dancers, Dennis Hensley, Karen Dyer, and Shane Jacobson.

[they enter] Hey, guys. Nice outfits.

[Dancers]

I thought you could show me how to do that number Ray Charles sings, "Shake a Tailfeather," since he calls out all those other dances. Is there a specific a "Shake a Tailfeather" move?

[Dancers show him how to "Shake a Tailfeather." Joe Bob _does it.]

Okay, I got that. What are the other steps I need to know?

[Dancers start to show him other steps]

You know what, let's just start the song and I'll follow along with you guys. It's cool, I got it. '

[With a dancer on either side of Joe Bob, he tries to follow their steps -- unsuccessfully. Toward the end, Dennis pulls out his novel and dances holding it to the camera.]

Wait, wait -- Dennis, what the heck are you doing?

DENNIS:

I thought while I was on TV, I'd promote my novel, "Misadventures in the 213," published by--

Gimme that. You're just here to teach dancing, okay? By the way, how'd I do?

[Dancers]

Maybe next time I'll rehearse a little bit first. The Joe Bob Briggs Dancers, and novelists, of all things. Back to the flick.

[to Karen]

Did you know about this?


---
"BLUES BROTHERS " Commercial Break #6

Nobody sings "Stand By Your Man" better than Dan Aykroyd, do they? You know, I've always wondered WHY the Good Ole Boys arrive so late at the bar. I mean, the Blues Brothers have played several sets and closed the place down. If the Good Ole Boys were booked into the place for 8 or 9 o'clock, why would they not drive up until 2 a.m.? Do they explain that? Well, you know what? Let's just ASK the number one Good Ole Boy, Charles Napier. [reveal Napier] Charlie, what's up with THAT?

[Charles]

Thanks for coming by, Charles. You know how many times we've talked about you on this show?

[Charles]

That scene where you were killed by that giant killer mosquito in Skeeter. You played that to the hilt!

[Charles]

How many movies have you made? Nine thousand?

[Charles]

Most recently "Austin Powers." But I remember all the early stuff, the Russ Meyer flicks, like "SuperVixens" and "Beyond the Valley of the Dolls." In fact, you have a scene in "Supervixens" where you stomp a guy to death in a bathtub that is among THE most brutal -- you can be the nastiest guy on screen!

[Charles]

Does the Russ Meyer association hurt you or help you?

[Charles]

I hear you got Lee Marvin fired one time when you read for his part.

[Charles]

So did you party with John Belushi while making "The Blues Brothers"?

[Charles]

Okay, let's go back to "The Blues Brothers." We'll talk more to Charles Napier at the next break.

[fading] What did they pay you for this role? The movie cost 30 million. You must have got at least, what, 500,000?

[Charles]

It's hell being a cult figure, isn't it?


---
"BLUES BROTHERS " Commercial Break #7

["Shake a TailFeather" playback]

Great scene with Steve Lawrence as the slimy booking agent, and, of course, that was Twiggy getting ogled by Dan Aykroyd at the gas station. We're still here with Charles Napier, who plays Tucker McElroy, leader of the Good Ole Boys. You just got back from a Trekkie convention, didn't you?

[Charles Napier]

Did you get down with the Trekkers? They're actually Trekkers, you know.

[Charles Napier]

Now, you're playing a grandpa in your latest film, but you haven't been a dad for all THAT long, have you?

[C.N.]

What was the hold-up there?

[Charles Napier]

I'm gonna be like Tony Randall -- I'm gonna wait till I'm 90 to have kids, when I'm too old and frail to change the kid's diapers. Charles Napier, thanks for coming by. But before you go, this is Summer School, where everybody has to learn something, so . . . are the Joe Bob Briggs Dancers still here? We're gonna teach you how to shake a _tailfeather.

[Dancers enter]

[Dancers explain and demonstrate briefly]

Okay, let's go. Ready?

Back to the movie!

[to girl]

Honey, help him out a little bit. Here comes the part of the movie everybody loves -- Cab Calloway doing "Minnie the Moocher."


---
"BLUES BROTHERS" Commercial Break #8

Nothing like a commercial break right in the middle of a car chase, is there? Lot of dead people in this movie, aren't there? Let's see, we got John Belushi, who O.D.ed on heroine and cocaine at the Chateau Marmont in Hollywood. John Candy, who had a heart attack in his sleep while shooting one of the worst movies he ever made, "Wagons East," down in Mexico. Cab Calloway, who made it to age 87, which is pretty good. I guess that's not that many dead people, especially since this flick was made twenty years ago. But two out of three of em died way before their time. Dan Aykroyd was in the middle of writing the script for "Ghostbusters," which Belushi was supposed to be in when he died. I mean, he was supposed to be in it BEFORE he died. You know what I mean. Actually, he WAS in it AFTER he died -- they made a Belushi ghost as an homage, remember that? Also, it was a fluke that Aykroyd and Belushi had decided that whoever died first, the other guy would play "The Two-Thousand Pound Bee" at his funeral, this song they thought was so full of bad, buzzing electric-guitar bee-sounds that it would be great to force all the people in mourning to sit through it. Which Aykroyd did. People thought he was in serious need of mental care for a while after that. All right, guess what -- time for the excellent finale to "The Blues Brothers." Go.

[fading] I should point out that, ironically, Carrie Fisher was briefly engaged to Dan Aykroyd in real life. She's looking very wholesome and pretty in this flick, by the way. This was when she was strictly known as Princess Leia. Before she became the Dorothy Parker of the nineties. Everybody who doesn't know who Dorothy Parker is gets five points subtracted from their grade. As I say every day when I open up my email from TNT, "What fresh hell is this?"


---
"BLUES BROTHERS" Outro

And there you have it, the greatest 1980s musical comedy car chase movie ever made. With a little cameo there at the end by Steven Spielberg, to rekindle fond memories of his comedy 1941. And we have the mob to thank for their help in getting permission to drive the Bluesmobile through the Chicago courthouse lobby. Thanks, guys.

Our next lesson for tonight is "Pee-wee's Big Adventure"
Host segments continued
Back to Monstervision




Peter Gunn themesong


The music heard in the movie (WAV audio music, over 300k) is the themesong of the "Peter Gunn" TV-series. Click here to hear it
or here for the Blues Brothers themesong again (Midi version), one of the most famous drive-in movies about Route 66
Not to be confused with Route 666

Host segment transcript ©1999 Turner Network Television. A Time Warner Company. All Rights Reserved