Nate's 1991 Chevrolet S10 "SS" Pickup
---
Picture of Truck w/Z28 Rims and SS Decals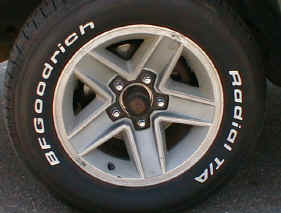 Image of Z28 Rims w/ BFGoodrich Radial T/A's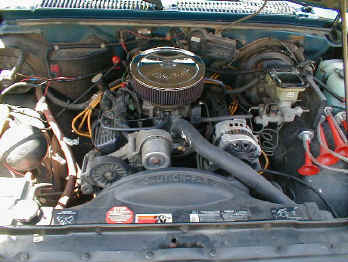 My 4.3 Liter V6 with Edelbrock Open Air Cleaner w/K&N Airfilter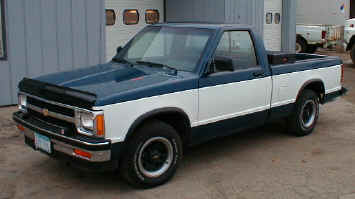 This is How My Truck Looked Before
This is my 1991Chevrolet S10 Pickup. I purchased it in the fall of 1998 for $3,500 dollars at Pierce Motors in Eagle Lake, Minnesota. It is a two wheel drive equipped with a 4.3L V6 (262)(Z). Horsepower is rated at 160hp @4000 rpm's stock. 4.00 Bore X 3.48 Stroke w/9:3:1 Compression Ratio. The truck came equipped with a 700R4 automatic transmission with overdrive. It was equipped with a Tahoe package, which included map lights, AM/FM Cassette, tilt wheel, power steering, chromed rear/front bumpers,Tahoe trim, sliding rear window. I have upgraded many things since I bought it. I have added BFGoodrich Trail T/A size 205/75/14, K&N filter charger airfilter, Edelbrock Air cleaner Assembly, R&J Exhaust of Mankato, Minnesota added dual exhaust after the cat, without mufflers, Accel Super Stock Spark Plug Wires, Raybestos Carbon Metallic Brake Shoes/Pads, Gabriel Extra Heavy Duty Shock Absorbers, Kenwood KDC-S3009 CD/AM/FM Player was added, Radio Shack Citizen Band Radio, Uniden BC350A Police Scanner, J.C. Whitney "Dixie Horn", Sunpro Mini Tach, GM Black Fender Flares, Herculiner Bedliner, projection fog lights, tow hooks, Contico Truck Tool Box.
I use Castrol GTX 5W30 oil, ACDelco Oil Filter PF52, and Prestone Antifreeze.
I have enjoyed the truck very much, and drive it everyday. Not much has gone wrong mechanically, I had to replace the rear axle seals at about 100,000 miles, the horn cam had to be replaced (which Robbie and I did the the parking lot of Hyvee in Mankato) in order to honk the horn. I am planning on replacing the valve guide seals this Sunday (11-19-99). The truck smokes a little when starting it up, so I thought I would replace them before the snow flies! Also to note, the truck was repainted in early 1998 before I bought it because of flaking paint problems.
Update..I have replaced the valve guide seals...Was actually an easy job once I started. I have since had to replace the alternator, and I chose to go with the GM 105 amp "Baja" alternator this time, so I can run more accessories. I replaced the upper and lower radiator hoses also since the last posting.
After many cold,cold Minnesota mornings, Robbie and I installed a frost plug heater in my truck. It was an interesting project that made for a cold job in the garage. The only problem we ran into was that the plug fell back into the block and made for some tough times getting it out. We managed to get it all done and it works great especially when it is well below freezing outside.
I have purchased some 1986 IROC Camaro rims from Mark Popovac in Texas. I received the rims on Wednesday Feb. 2nd. They are 15X7 in size and in quite nice condition although they need a good cleaning and polishing. I have also put in an order for some BFGoodrich Radial T/A's size 235/60/15. I like this size because it is the same diameter as my original tires and does not set off my speedometer any. I hope to have some pictures soon.
I have also have some bucket seats coming from Jerry Haney in New Jersey. They are bucket seats from an 1986 S10 Blazer. I am also getting the console with it. Again I hope to get some pictures soon.
Please Check out Jerry's "Project Casper" S10 Blazer
I picked up some "SS" decals from a newer "SS" S10 and hope to install them when the weather warms up a bit, and I picked up some door entry guards from Walmart made by Ventshade for the low price of $11.00. Will post pictures as soon as I get them...
I will be replacing the front brake pads this weekend, they are sure starting to squeak, I chose Raybestos Silver Series Carbon Metallic Pads for $18.00. Will let you know how it goes...
Update(3/5/00) I had Jason install the brake pads, and the job went well. Thanks for all the help again Jason. Also, I have had my tires and rims installed. Looks really sweet and handles a whole lot better. I hope to get some pictures soon. Tommorow, I plan on installing my other bucket seat, as I have found another mounting rail for cheap. I also plan on putting my red pinstripe on tommorow. All these mods will complete my Project "SS" S10. I might get some new suspension componets in the future, but I am planning to buy a Polaris Indy 500 snowmobile next year and I need to save my money. :-)
Update(3/19/00) I installed the other seat yesterday with the help of my dad. Sure looks awesome and is more fun to drive with buckets. Today I also cleaned up my T.B.I unit and the manifold. I still have antifreeze leaking from my thermostat area, I just cannot get it to stop leaking. I also had to replace my idler arm, as it was very loose and making handling suffer greatly. I want to install a B&M shift improver kit in my 700R4 auto. I need to change my tranny fluid anyways so I will slip that in at the same time.
Update(4/26/00) I had Jason flush my radiator today with an acid mixture that cleaned it out. I was really pleased with the results. He even got my theromstat gasket to stop leaking :-). I also had him install a 180 degree theromstat. This fixed the problem of the truck overheating all the time and it still runs really strong.
I have also uploaded some new pictures with my rims installed. Thanks goes out to Jason for letting me borrow his camera.
Update:(7/1/00) I installed a factory CD Player from a 1995 S10 blazer in my truck. Really looks sweet now. I also purchased a LoTek triple guage pod and installed that today. I hope to get some guages really soon. I had Jason do a transmission fluid flush on my truck. Sure shifts better now.
UPDATE:(7/10/00) I have decieded to do a V8 SWAP! I have found a 350 T.BI. from a 1992 Suburban. I am going to be in the process of rebuilding it soon. Hope to have everything swapped in and out by next spring for sure. I post pictures of the swap a soon as I start.
I would like to thank Jerry Haney for the seats, Mark Popvac for the rims, Craig Bitter at Lagers in St.Peter,Minnesota for all the GM Parts and help, Robert Bagshaw for the charcoal center console that he gave to me for the price of shipping ,and I would really like to thank Robbie Nelsen of Minneapolis, Minnesota for helping do so much to my truck mechanically like putting in rear axle seals, valve guide seals, horn cam and everything else. You sure have helped a lot and I hope you still have sometime to help me, after all you did get some cushy job up in the Twin Cities :-)
| | | |
| --- | --- | --- |
| Pictures of My S10 | My VIN # Decoded | My RPO Codes |
| My Modifications | Future Modifications | Engine Specifications |
| My 350 V8 Swap | History of the S10 Pickup | My S10's Window Sticker |
| Listen To The "Dixie" Horn | Watch S10 Drag Racing | Links |
Click HERE to See My DREAM TRUCK!!!
Last Oil Change-At 110,500 Miles
Last Waxing-3/5/2000
Sign My Guestbook
View My Guestbook