Encore's Mystery Channel
2007 Month and day listed, all times EST
Past movies have included Westworld and Futureworld, Lawnmower Man 2: Jobe's War, Squirm (attack of the killer worms), A Nightmare On Elm Street Part 2: Freddy's Revenge, Mary Shelley's Frankenstein, Bram Stoker's Dracula, Dr. Phibes Rises Again (Vincent Price), Once Bitten (Jim Carrey vs. vampire), Flowers In the Attic, Running Man (Schwarzenegger), Night Of The Living Dead, Pulp Fiction, Dr. Who, The Horror Show: House 3, the Mike Myers comedy So I Married An Axe Murderer, Child's Play, Spawn (from Hell), Dick Tracy (Pacino, Madonna), Hitchcock films, Twilight Zone: The Movie, The People That Time Forgot (sequel to Land That Time Forgot), RoboCop 2 (Robo vs. the new, improved, merciless model), Duel (Dennis Weaver vs. a truck from the twilight zone), Hitchcock's The Birds (Joe Bob checked it out with MonsterVision guest Tippi Hedren), Point Break (undercover surfer FBI agents, MST3000's Mike checked it out), James Bond 007 and Matt Helm movies


                               January-February, 2007 
Monday, 1 ·1
7:20a Frank McKlusky, C.I.
8:50a The Colony
10:30a The Player
12:40p So I Married An Axe Murderer
2:20p Session 9
4:10p Damien: Omen part II (1978, repeated 1/31)
6:00p Red Heat (Schwarzenegger as Russian cop teamed with Jim Belushi in Chicago)
7:50p The Player
10:00p Diabolique
11:50p Session 9
1:35a Damien: Omen II
3:30a The Player
5:35a Sherlock Holmes And The Secret Weapon (1942, repeated 1/22)
Tuesday, 1 ·2
6:45a The Sting II
8:30a Out Of The Darkness
10:10a Clive Barker's Lord Of Illusions (Scott Bakula)
12:05p Venom
1:35p The Rich Man's Wife
3:15p Where Sleeping Dogs Lie
4:50p Cellular
6:30p Venom
8:00p Croupier
9:35p The Rich Man's Wife
11:15p Cellular
12:50a Billy Bathgate
2:40a Venom
4:10a Kiss Toledo Goodbye
5:50a Are You In The House Alone? (1978)
Wednesday, 1 ·3
7:30a The Canterville Ghost (1986, Patrick Stewart)
9:05a The Forgotten
10:40a Hideaway
12:30p Dallas 362
2:10p True Confessions
4:05p The Forgotten
5:40p In Cold Blood (1967, Robert Blake)
8:00p Dallas 362
9:40p Hideaway
11:30p The Forgotten
1:05a Love At Large
2:45a Gorky Park
5:00a The Witches
Thursday, 1 ·4
6:50a The Babysitter (1980, she knows your vulnerabilities)
8:30a Project X (Matthew Broderick teaches monkeys to fly in WW3 for the Air Force)
10:20a The French Connection (Gene Hackman)
12:10p Betrayed
2:20p WarGames (a computer wants to see WW3, and it has the launch codes)
4:20p Project X
6:15p The Crow
8:00p Betrayed
10:10p The French Connection
12:00a Wargames
2:00a The Long Goodbye
4:00a It! The Terror From Beyond Space (1958, an Alien-type vampire from Mars)
5:15a Still Crazy Like A Fox
Friday, 1 ·5
6:50a Sssssss (1973, and you thought Anacondas were scary)
8:35a Casualties Of Love: The Long...
10:15a Stormy Weathers (she's a detective, she's bad, and she drives a 396 Hemi)
11:50a Frank McKlusky, C.I.
1:20p The Colony
3:00p Still Crazy Like A Fox
4:40p Casualties Of Love: The Long...
6:20p Stormy Weathers
8:00p The Colony
9:40p Frank McKlusky, C.I.
11:10p Casualties Of Love: The Long...
12:45a Still Crazy Like A Fox
2:20a Stormy Weathers
4:00a The Colony
5:40a Frank McKlusky, C.I.
Saturday, 1 ·6
7:10a Encore Cinenews (E1)
7:45a Rear Window
9:45a Wisdom
11:40a Blade: Trinity
1:40p Cellular
3:20p Truth Be Told
4:45p Venom
6:15p Blade: Trinity
8:15p The Player
10:20p Cellular
12:00a Venom
1:30a Truth Be Told
3:00a Blade: Trinity
5:00a So I Married An Axe Murderer (Mike Myers comedy)
Sunday, 1 ·7
6:35a Spy Hard
8:00a Boogeyman
9:30a Cellular
11:05a Arachnophobia
1:00p Striking Distance
2:45p Hideaway
4:35p Boogeyman
6:05p Arachnophobia
8:00p Sleepers
10:30p Striking Distance
12:15a Boogeyman
1:50a Hideaway
3:40a Arachnophobia
5:30a The People That Time Forgot (1977, sequel to A. Conan Doyle's Land That Time Forgot)
Monday, 1 ·8
7:05a 007 in The Spy Who Loved Me
9:15a The Sting II
11:00a They Call Me Mister Tibbs! (1970 sequel to In The Heat Of The Night)
12:50p Clive Barker's Lord Of Illusions (Scott Bakula)
2:45p Shadow Conspiracy
4:35p The Crow (Brandon Lee as a vengeful ghost)
6:20p Where Sleeping Dogs Lie
8:00p Lord Of Illusions
10:00p This World, Then The Fireworks
11:45p The Crow
1:30a Thieves Like Us
3:40a Buddy Boy
5:30a 007 in The Man With The Golden Gun (Christopher Lee focuses the Sun as a deathray)
Tuesday, 1 ·9
7:40a Futureworld (Yul Brynner returns as the killer robot from Westworld)
9:30a Austin Powers: International Man of Mystery (Mike Myers spoof of 007 movies)
11:05a Dallas 362
12:45p Mindhunters
2:35p Point Break (undercover surfer FBI agents, MST3000's Mike Nelson checked it out)
4:40p Sunset
6:30p Austin Powers: International Man of Mystery (Mike Myers comedy)
8:00p Night Of The Living Dead (1990, Joe Bob Briggs checked it out)
9:35p Mindhunters
11:30p Dallas 362
1:15a Point Break
3:30a Encore Cinenews (E2)
4:50a Cover Girls
Wednesday, 1 ·10
6:05a 007 in You Only Live Twice
8:05a Hitchcock's Frenzy (the new lodger just might be Jack the Ripper)
10:05a Frank McKlusky, C.I.
11:35a Single White Female (Bridget Fonda's room-mate's a psycho)
1:30p Venom
3:00p 11:14
4:30p Into The Night
6:30p Frank McKlusky, C.I.
8:00p Venom
9:30p Light Sleeper
11:15p 11:14
12:45a Into The Night
2:45a Billy Bathgate
4:35a Venom
Thursday, 1 ·11
6:05a Sssssss
7:45a Boogeyman
9:15a Hitchcock's Rear Window
11:15a Hideaway
1:05p Cellular
2:45p Boogeyman
4:20p Kiss Toledo Goodbye
6:00p Hitchcock's Rear Window
8:00p Cellular
9:35p Hideaway
11:30p Boogeyman
1:00a Adam & Evil
2:35a Vampires: The Turning
4:00a 007 in The Living Daylights
Friday, 1 ·12
6:15a Mother, May I Sleep With Danger? (Tori Spelling)
7:50a Dead By Sunset
11:05a The Return Of Mickey Spillane's Mike Hammer
12:45p 007 in The Living Daylights
3:00p The Sting II
4:45p Mother, May I Sleep With Danger?
6:20p The Return Of Mickey Spillane's...
8:00p Dead By Sunset 
11:05p The Sting II
12:50a The Return Of Mickey Spillane's...
2:30a The Raven
4:00a Vampire's Kiss
5:45a Encore Cinenews (E2)
Saturday, 1 ·13
6:15a Wargames (would you prefer to play chess or thermonuclear war?)
8:15a 007 in For Your Eyes Only
10:30a The Rich Man's Wife
12:10p 11:14
1:40p Mindhunters
3:30p Frankenstein Unbound (Roger Corman)
5:00p Wargames
7:00p The Rich Man's Wife
8:40p Mindhunters
10:30p 11:14
12:00a Evil Breed: The Legend of Samhain
1:20a Summer of Sam
3:45a Mindhunters
5:35a 007 in From Russia With Love
Sunday, 1 ·14
7:35a The Forgotten
9:10a The Canterville Ghost
10:50a Session 9
12:35p Single White Female
2:30p The Forgotten
4:05p Betrayed
6:15p Session 9
8:00p Croupier
9:35p The Forgotten
11:10p Single White Female
1:05a Betrayed
3:15a Croupier
4:50a Shadow Of A Doubt
Monday, 1 ·15
6:40a 007 in Dr. No
8:35a Project X
10:30a The French Connection
12:15p Truth Be Told
1:40p Dallas 362
3:20p Austin Powers: International...
4:50p Project X
6:45p Night Of The Living Dead
8:15p The French Connection
10:00p Dallas 362
11:40p Billy Bathgate
1:30a Gorky Park
3:45a The Eiger Sanction
Tuesday, 1 ·16
6:00a Madigan
7:45a Arachnophobia
9:40a Spy Hard (Leslie Nielsen as agent WD-40)
11:05a The Crow
12:50p Hellraiser: Bloodline
2:20p Arachnophobia
4:15p Red Heat (Schwarzenegger & Belushi as cops chasing a Russian drug smuggler)
6:05p Wisdom
8:00p Into The Night
10:00p The Crow
11:45p Arachnophobia
1:40a Vampire's Kiss
3:30a Thieves Like Us
5:40a The Woman In Green (1945, Sherlock Holmes)
Wednesday, 1 ·17
6:50a Cellular
8:35am & 8pm Wargames
10:30a The Player
12:40p Mindhunters
2:30p Shadow Conspiracy
4:15p Cellular
5:50p The Player
8:00p Wargames
10:00p Mindhunters
11:50p Cellular
1:30a Shadow Conspiracy
3:15a Clive Barker's Lord Of Illusions
5:05a The People That Time Forgot
Thursday, 1 ·18
6:40a Futureworld (sequel to Westworld, they couldn't kill Yul Brynner's robot. Draw)
8:30a The Colony
10:10a They Call Me Mister Tibbs!
12:05p Love At Large
1:45p 11:14
3:15p The Rich Man's Wife
4:50p Venom
6:20p The Colony (everything is perfect here. Or else)
8:00p 11:14
9:30p Love At Large
11:10p Venom
12:40a Light Sleeper
2:30a Frankenstein Unbound (Roger Corman)
4:00a The Lindbergh Kidnapping Case
Friday, 1 ·19
6:30a 007 in The Spy Who Loved Me (1977)
8:40a So I Married An Axe Murderer
10:15a Project X
12:05p Austin Powers: International...
1:35p And The Sea Will Tell
4:45p So I Married An Axe Murderer (Mike Myers comedy)
6:20p Out Of The Darkness
8:00p Austin Powers: International...
9:35p Project X
11:30p So I Married An Axe Murderer
1:05a Austin Powers: International...
2:40a Charlie's Angels
4:00a The Long Goodbye
Saturday, 1 ·20
6:00a Encore Cinenews (E3)
6:30a Casualties Of Love: The Long...
8:05a The Spanish Prisoner
10:00a Sleepers
12:30p Red Heat
2:20p Boogeyman
3:50p The Spanish Prisoner
5:50p Point Break
8:00p Sleepers
10:30p Boogeyman
12:00a Night Of The Living Dead
1:35a Point Break
3:45a Cube Zero
5:30a Boogeyman
Sunday, 1 ·21
7:00a 007 in The Man With The Golden Gun (Christopher Lee and his mini-Me)
9:10a Encore Cinenews (E4)
9:40a Dallas 362
11:20a Shadow Conspiracy
1:10p Blade: Trinity
3:10p Love At Large
4:50p Truth Be Told
6:20p Dallas 362
8:00p Blade: Trinity
10:00p Diabolique
11:50p Shadow Conspiracy
1:35a Truth Be Told
3:00a Blade: Trinity
5:00a The Woman In Green (1945, Sherlock Holmes)
Monday, 1 ·22
6:10a The Canterville Ghost
7:50a The Babysitter (another psycho sitter)
9:35a Hitchcock's Rear Window
11:30a True Confessions
1:20p Venom
2:50p Single White Female
4:45p Wargames (Monstervision review & host segments)
6:40p Sunset
8:30p Venom
10:00p True Confessions
11:50p Single White Female
1:40a Into The Night
3:40a Venom
5:10a Sherlock Holmes And The Secret Weapon (1942)
Tuesday, 1 ·23
6:20a 007 in The Living Daylights
8:40a The Colony
10:15a The Player
12:20p Hideaway
2:15p Session 9
4:00p 007 in The Living Daylights
6:15p Light Sleeper
8:00p Hideaway
9:50p The Player
12:00a Session 9
1:45a Buddy Boy
3:35a Evil Breed: The Legend of...
5:00a The Raven
Wednesday, 1 ·24
6:30a Dead By Sunset 
9:40a Encore Cinenews (E4)
10:10a Boogeyman
11:40a The Rich Man's Wife
1:20p Project X
3:15p Austin Powers: International...
4:50p Boogeyman
6:20p The Rich Man's Wife
8:00p Betrayed
10:15p This World, Then The Fireworks
12:00a Boogeyman
1:30a Frankenstein Unbound
3:05a Night Of The Living Dead
4:40a Project X
Thursday, 1 ·25
6:35a Mother, May I Sleep With Danger?
8:10a The Sting II
10:00a Dallas 362
11:45a Truth Be Told
1:10p Mindhunters
3:00p Stephen King's Sleepwalkers
4:35p Dallas 362
6:15p The Sting II
8:00p Mindhunters
9:50p Truth Be Told
11:20p Gorky Park
1:30a Hitchcock's Frenzy
3:30a Encore Cinenews (E4)
4:00a The Witches
5:45a Arachnophobia
Friday, 1 ·26
7:40a The Canterville Ghost
9:20a Spy Hard
10:50a Wargames (Joe Bob Briggs and Col. David Hackworth check it out)
12:50p Arachnophobia
2:45p Hitchcock's Rear Window
4:50p The Canterville Ghost
6:35p Spy Hard
8:00p Arachnophobia
9:50p Wargames (what are you up to, Joshua?)
11:50p The Canterville Ghost
1:30a Berlin Tunnel 21
4:00a Hitchcock's Rear Window
Saturday, 1 ·27
6:00a 007 in The Living Daylights
8:15a The Colony
9:50a Hideaway
11:40a The Crow
1:30p Single White Female
3:20p Striking Distance
5:10p The Colony
6:50p Croupier
8:30p The Crow
10:15p Striking Distance
12:00a Hideaway
1:50a Croupier
3:30a Billy Bathgate
5:20a It! The Terror From Beyond Space (1958, an Alien on a spaceship)
Sunday, 1 ·28
6:35a Matt Helm in The Ambushers (a flying saucer is hijacked to Mexico)
8:20a The Sting II
10:05a Venom
11:35a 11:14
1:05p The Player
3:15p Where Sleeping Dogs Lie
4:50p Kiss Toledo Goodbye
6:30p Venom
8:00p The Player
10:10p 11:14
11:40p Where Sleeping Dogs Lie
1:15a Frankenstein Unbound (Roger Corman)
2:45a The Player
4:50a Are You In The House Alone?
Monday, 1 ·29
6:30a Charlie's Angels
7:50a Mother, May I Sleep With Danger?
9:30a Hitchcock's Frenzy (1972)
11:30a Love At Large
1:10p Mindhunters
3:00p Point Break (undercover surfer FBI agents)
5:05p Hellraiser: Bloodline
6:35p Mother, May I Sleep With Danger?
8:10p Mindhunters
10:00p Love At Large
11:40p Point Break
1:45a The Long Goodbye
3:40a Nightwing
5:30a Dead By Sunset 
Tuesday, 1 ·30
8:35a Project X
10:30a Shadow Conspiracy
12:20p Single White Female
2:15p True Confessions
4:05p Betrayed
6:15p Shadow Conspiracy
8:00p Summer of Sam
10:30p Single White Female
12:20a Project X
2:10a True Confessions
4:05a Toolbox Murders
5:40a 007 in The Spy Who Loved Me
Wednesday, 1 ·31
7:50a Spy Hard
9:15a Blade: Trinity
11:10a Truth Be Told
12:35p Striking Distance
2:20p The French Connection
4:10p Blade: Trinity
6:10p Damien: Omen II
8:00p Striking Distance
9:45p Croupier
11:20p Blade: Trinity
1:15a Truth Be Told
2:40a Last Dance
4:30a Crimes And Misdemeanors
                               February, 2007 
Thursday, 2 ·1
6:20a The Squeeze
8:10a Gleaming The Cube
10:00a Hostage (2005)
12:00p Who Framed Roger Rabbit (with Christopher Lloyd as Judge Doom)
1:45p The Brothers Grimm
3:50p Gleaming The Cube
5:45p The Verdict
8:00p Hostage
10:00p The Brothers Grimm
12:05a Who Framed Roger Rabbit
1:50a The Verdict
4:00a Matt Helm in Murderers' Row
5:50a Terminal Velocity
Friday, 2 ·2
7:35a Trail Of The Pink Panther (1982, not Peter Sellers)
9:15a Matt Helm in The Wrecking Crew ($Billion gold train robbery)
11:05a Shadows And Fog
12:35p Terminal Velocity
2:20p The Crucible
4:30p Matt Helm in The Wrecking Crew
6:20p Trail Of The Pink Panther
8:00p Shadows And Fog
9:30p The Crucible
11:35p Terminal Velocity
1:20a Police Story: The Cut Man Caper
2:35a Hitchcock's Rope (1948, about gay murderers)
4:00a The Crucible
Saturday, 2 ·3
6:10a D.E.B.S.
7:50a The Sting
10:05a Silver City
12:20p Love At Large
2:05p Enemy Of The State
4:20p The Good Son
5:50p D.E.B.S.
7:30p Silver City
9:45p Enemy Of The State
12:00a 2001 Maniacs (Robert Englund has some college kids for a barbeque)
1:35a D.E.B.S.
3:15a Hollywood Flies
4:50a 007 On Her Majesty's Secret Service (Diana Rigg, Blofeld: Telly Savalas)
Sunday, 2 ·4
7:20a After The Sunset
9:05a Shooting Elizabeth
10:50a Dark Water
12:40p Starkweather
2:15p After The Sunset
4:00p Johnny Mnemonic (they want to pick his brain)
5:40p 007 in Never Say Never Again (Sean Connery's 1983 remake)
8:00p Dark Water
9:50p After The Sunset
11:30p Nightwatch
1:15a Johnny Mnemonic
3:00a Dark Water
4:50a Scream Blacula Scream (Joe Bob Briggs says it's much better than Blackenstein)
Monday, 2 ·5
6:30a 007 in Licence To Kill
8:50a Berlin Tunnel 21
11:15a Boogeyman
12:45p American Gun
2:15p Out Of Sight
4:20p Class Action
6:15p 007 in Licence To Kill
8:30p Boogeyman
10:00p Out Of Sight
12:10a V.I. Warshawski (Kathleen Turner as a private eye with gonads)
1:45a Colors
3:50a Boogeyman
5:20a Matt Helm in Murderers' Row
Tuesday, 2 ·6
7:10a Inspector Clouseau
8:50a 007 in From Russia With Love
10:50a Blade: Trinity
12:50p A Civil Action
2:50p Venom
4:20p Species II
6:00p Blade: Trinity
8:00p Shallow Grave
9:35p Venom
11:05p A Civil Action
1:00a Ghost In The Machine
2:40a Blade: Trinity
4:35a Venom
Wednesday, 2 ·7
6:05a The Pink Panther
8:05a Terminal Velocity
9:50a The Good Son
11:20a Single White Female (Bridget Fonda vs. psycho roommate)
1:10p Cursed (Wes Craven's werewolf movie)
2:50p Terminal Velocity
4:35p Birth
6:20p Love At Large
8:00p The Good Son
9:35p Cursed
11:15p Single White Female
1:10a Death And The Maiden (Sigourney Weaver)
3:00a Birth
4:45a Cursed
Thursday, 2 ·8
6:30a Sudden Terror: The Hijacking Of...
8:10a 007 in Goldfinger
10:05a Silver City
12:20p Starkweather
2:00p Crimes And Misdemeanors
3:50p Enemy Of The State
6:05p Clive Barker's Lord Of Illusions (Scott Bakula)
8:00p Starkweather
9:40p Nightwatch
11:30p Enemy Of The State
1:45a Silver City
4:00a Earth Vs. The Flying Saucers
5:30a Witch Hunt
Friday, 2 ·9
7:00a Stormy Weathers
8:35a 007 in Casino Royale
10:50a Gleaming The Cube
12:45p Who Framed Roger Rabbit
2:35p Stormy Weathers
4:10p Witch Hunt
5:45p 007 in Casino Royale
8:00p Who Framed Roger Rabbit
9:45p Gleaming The Cube
11:30p Witch Hunt
1:05a The Long Island Incident
2:40a Police Story: The Cut Man Caper
4:00a 007 in The Spy Who Loved Me
Saturday, 2 ·10
6:10a A Civil Action
8:10a The Exorcism Of Emily Rose
10:15a 007 in A View To A Kill
12:35p Hostage
2:35p Species II
4:15p The Exorcism Of Emily Rose
6:20p Hear No Evil
8:00p A Civil Action
10:00p Hostage
12:00a The Exorcism Of Emily Rose
2:05a Species II
3:40a Berlin Tunnel 21
Sunday, 2 ·11
6:05a Double Indemnity
8:00a The Advocate's Devil
9:35a Cursed
11:15a Shallow Grave
12:50p Out Of Sight
3:00p Ghost In The Machine
4:45p V.I. Warshawski
6:20p Cursed
8:00p Out Of Sight
10:10p Shallow Grave
11:45p V.I. Warshawski
1:20a The Entity
3:30a Cursed
5:15a Young Frankenstein (Mel Brooks, Gene Wilder)
Monday, 2 ·12
7:05a Shadows And Fog
8:35a Real Men
10:05a Shooting Elizabeth
11:50a D.E.B.S.
1:30p Shadows And Fog
3:00p Johnny Mnemonic
4:40p Dark Water
6:35p D.E.B.S.
8:15p Birth
10:00p Shadows And Fog
11:30p Dark Water
1:20a Hollywood Flies
3:00a Birth
4:45a Trail Of The Pink Panther
Tuesday, 2 ·13
6:30a Boogeyman
8:00a Who Framed Roger Rabbit
9:50a Dark Water
11:40a Gleaming The Cube
1:30p The Good Son
3:00p American Gun
4:35p Boogeyman
6:10p Who Framed Roger Rabbit
8:00p Class Action
10:00p The Good Son
11:30p Boogeyman
1:00a The Hazing
2:30a Boxcar Bertha
4:50a Charlie's Angels
Wednesday, 2 ·14
6:10a A Civil Action
8:10a The Crucible
10:15a Enemy Of The State
12:30p French Connection II
2:35p Hostage
4:30p A Civil Action
6:30p Venom
8:00p Enemy Of The State
10:15p Hostage
12:15a The Crucible
2:20a Venom
3:50a 007 in Never Say Never Again
Thursday, 2 ·15
6:15a The Sting
8:30a The Exorcism Of Emily Rose
10:35a Shallow Grave
12:10p After The Sunset
1:50p In Cold Blood (Robert Blake as an emotionless murderer)
4:15p The Exorcism Of Emily Rose
6:20p Ghost In The Machine
8:00p Shallow Grave
9:40p After The Sunset
11:20p The Exorcism Of Emily Rose
1:30a 007 in The Spy Who Loved Me
4:00a 007 in Licence To Kill
Friday, 2 ·16
6:20a The Pink Panther
8:20a Crimes And Misdemeanors
10:10a Shooting Elizabeth
11:50a 007 in Licence To Kill
2:10p Hitchcock's Family Plot (Bruce3 Dern, Karen Black)
4:20p The Return Of Mickey Spillane's...
6:00p The Pink Panther
8:00p Shooting Elizabeth
9:45p Crimes And Misdemeanors
11:35p 007 in Licence To Kill
1:50a Hitchcock's Torn Curtain
4:00a Shooting Elizabeth
5:40a The Return Of Mickey Spillane's...
Saturday, 2 ·17
7:15a 007 in From Russia With Love
9:15a Dark Water
11:05a Blade: Trinity
1:00p The Brothers Grimm
3:05p Johnny Mnemonic
4:50p Dark Water
6:40p American Gun
8:15p The Brothers Grimm
10:15p Nightwatch
12:00a Dark Water
1:50a Blade: Trinity
3:50a The Intended
5:50a Inspector Clouseau
Sunday, 2 ·18
7:35a The Brothers Grimm
9:40a Boogeyman
11:15a Terminal Velocity
1:00p Silver City
3:15p The Good Son
4:50p D.E.B.S.
6:30p Boogeyman
8:00p Silver City
10:15p Terminal Velocity
12:00a D.E.B.S.
1:35a The Sicilian
3:35a The Good Son
5:05a 007 in Goldfinger
Monday, 2 ·19
7:05a Double Indemnity
9:00a A Civil Action
11:00a Who Framed Roger Rabbit
12:50p Bats
2:30p Gleaming The Cube
4:20p Hostage
6:20p A Civil Action
8:20p Bats
10:00p Who Framed Roger Rabbit
11:50p Hostage
1:50a Death And The Maiden
3:40a Bats
5:15a 007 On Her Majesty's Secret Service
Tuesday, 2 ·20
7:45a Family Plot (Hitchcock)
9:50a After The Sunset
11:35a The Crucible
1:45p The Exorcism Of Emily Rose
3:50p Psycho
5:45p Enemy Of The State
8:00p After The Sunset
9:40p The Exorcism Of Emily Rose
11:40p The Entity
1:50a The Dark Half
4:00a Last Dance
5:50a The Exorcism Of Emily Rose
Wednesday, 2 ·21
7:50a The Return Of Mickey Spillane's...
9:35a Austin Powers: International Man of Mystery (Mike Myers comedy)
11:10a Shallow Grave
12:45p The Brothers Grimm
2:50p Loose Cannons
4:35p Class Action
6:30p V.I. Warshawski
8:00p The Brothers Grimm
10:05p Hear No Evil
11:45p Shallow Grave
1:20a Walk On Water
3:05a The Brothers Grimm
5:05a Shadows And Fog
Thursday, 2 ·22
6:35a Revenge Of The Pink Panther
8:20a Shooting Elizabeth
10:00a Dark Water
11:50a Johnny Mnemonic
1:30p Boogeyman
3:00p The Good Son
4:30p Dark Water
6:20p Shooting Elizabeth
8:00p American Gun
9:35p Boogeyman
11:05p Dark Water
12:50a Shooting Elizabeth
2:30a Boogeyman
4:00a 007 On Her Majesty's Secret Service
Friday, 2 ·23
6:30a Young Frankenstein (Mel Brooks, Peter Boyle)
8:20a The Sting
10:30a The Advocate's Devil
12:10p A Civil Action
2:10p Mother, May I Sleep With Danger?
3:50p Matt Helm in Murderers' Row
5:45p The Sting
8:00p A Civil Action
10:05p The Advocate's Devil
11:45p Sudden Terror: The Hijacking Of...
1:30a 007 On Her Majesty's Secret Service
4:00a The Sicilian
Saturday, 2 ·24
6:00a Charlie's Angels
7:15a Who Framed Roger Rabbit
9:00a After The Sunset
10:40a Cursed
12:20p Out Of Sight
2:30p The Crucible
4:35p Who Framed Roger Rabbit
6:20p Birth
8:00p After The Sunset
9:45p 007 in A View To A Kill
12:00a Cursed
1:45a Birth
3:30a The Crucible
5:35a Son Of The Pink Panther
Sunday, 2 ·25
7:15a Gleaming The Cube
9:05a Shadows And Fog
10:35a Enemy Of The State
12:50p Hostage
2:50p Class Action
4:45p Bats
6:20p Species II
8:00p Hostage
10:00p Bats
11:35p Enemy Of The State
1:50a Species II
3:30a Scarecrow Gone Wild
5:00a Still Crazy Like A Fox
Monday, 2 ·26
6:40a Inspector Clouseau
8:20a Hitchcock's Rear Window
10:20a French Connection II
12:50p The Exorcism Of Emily Rose
2:50p Blade: Trinity
4:45p Shallow Grave
6:20p Starkweather
8:00p The Exorcism Of Emily Rose
10:00p The Verdict
12:10a Blade: Trinity
2:05a Slaughterhouse Five
3:50a Lethal Eviction
5:20a Matt Helm in The Silencers
Tuesday, 2 ·27
7:10a A Memory In My Heart
8:45a A Shot In The Dark (The Pink Panther)
10:30a D.E.B.S.
12:05p Silver City
2:15p The Brothers Grimm
4:15p V.I. Warshawski
5:45p 007 in A View To A Kill
8:00p D.E.B.S.
9:35p The Brothers Grimm
11:40p Silver City
1:50a One Of Them
3:30a Breaking In
5:10a The Brothers Grimm
Wednesday, 2 ·28
7:10a The Sting
9:45a Boogeyman
11:20a American Gun
1:00p Johnny Mnemonic
2:40p Who Framed Roger Rabbit
4:30p Boogeyman
6:05p Psycho
8:00p Nightwatch
9:45p American Gun
11:20p Boogeyman
12:50a Who Framed Roger Rabbit
2:35a Psycho
4:30a Nightwatch
                               March, 2007 
Thursday, 3 ·1
6:15a 007 in Moonraker
8:30a The Crucible
10:40a Amazing Stories: The Movie VI
12:20p The Player
2:30p Hear No Evil
4:10p The January Man
5:50p The Crucible
8:00p The Player
10:10p The Last Shot
11:45p Barton Fink
1:45a 2046
4:00a The Canterville Ghost
5:35a Amazing Stories: The Movie
Friday, 3 ·2
7:05a Menendez: A Killing In Beverly...
10:15a Dragnet (Dan Aykroyd & Tom Hanks vs. Pagans taking over Los Angeles)
12:05p Nadine
1:30p Sudden Terror: The Hijacking Of...
3:05p The Canterville Ghost
4:45p Menendez: A Killing In Beverly...
8:00p Nadine
9:30p Dragnet (Christopher Plummer and Dabney Coleman as badguys)
11:20p The Canterville Ghost
1:00a Sudden Terror: The Hijacking Of...
2:35a Nadine
4:00a The Secret Agent
5:35a Still Crazy Like A Fox
Saturday, 3 ·3
7:10a Jaws III
8:50a Widow's Peak
10:35a Things To Do In Denver When You're Dead
12:35p The Vanishing
2:30p Ulee's Gold
4:30p Deep Rising
6:20p Session 9
8:05p The Vanishing
10:00p Things To Do In Denver When...
12:00a Damien: Omen part II
1:50a Deep Rising
3:40a The Vanishing
5:30a The Exorcism Of Emily Rose
Sunday, 3 ·4
7:30a The Bank Shot
9:00a The Man Who Knew Too Little (Hitchcock spoof)
10:35a The Last Shot
12:10p The Exorcism Of Emily Rose
2:10p Sin City
4:15p Hideaway
6:05p The Corruptor
8:00p The Exorcism Of Emily Rose
10:05p Cape Fear
12:15a Sin City
2:30a The Corruptor
4:30a Boxcar Bertha

The Work-At-Home-Plan usually costs $97 and some have
made over $6000 their 1st month!
Click the key near the bottom of their page to get the report free,
No strings attached, no "postage/handling" fee...it's Free!
Are you desperate for Housewives or lost without Lost? Take the survey and be entered for a free first-season DVD set!

50 classic horror film DVD collection for less than half a dollar each, and shipping is only $1.99 total. See the complete title list. Also available: Monsters 20 Movie DVD Box Set including GAMMERA THE INVINCIBLE, all for under $20 Monsters 20 Movie DVD Box Set. Or check out the Sci Fi Movie DVD Box Set... The perfect gift for the classic Sci Fi Movie buff or even yourself! Hours of family home entertainment! The ultimate collection of films! 20 movies on 10 DVDs! Click here for titles list and watch out for brain-sucking parasites, intergalactic battles, alien predators, UFOs, blood eating plants, and more; starring Jack Nicholson, Mark Hamill, Brandon Lee, Klaus Kinski, Christopher Lee, Jesse Ventura, etc.
There's also a Tough Guys of Action collection of 20 films that captures the essence of action: espionage, sabatoge, embezzlement, corruption, revenge, murder, & torture! Innocent primary suspects are falsely accused and presumed dead. International crooks commit crimes under innocent auspices and face foreign authorities. Click here for Action Collection starring Bogart, De Niro, Cagney, Palance, Savalas, Yul Brynner, Gary Cooper, Spencer Tracy, Lee Marvin (The Klansman) and many more.

Night Gallery is gone, but Encore's Mystery Channel still has lots of movies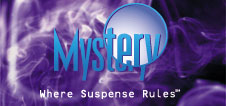 Previous months:
December 2006
October-November
August-September
June-July
April-May
March
Jan-February 2006


You might also want to check out this month's movies on Encore and Starz

Movie titles list above © 2006 Starz Entertainment Group LLC


See if your favorite person, TV series or
motion picture is available on video:
Star Trek rules!