The U.P is a place truly rich in bird life. With a good mix of northern boreal bird life as well as many species at the northern or eastern extremes of their ranges. Following are a few sites in the UP well worth visiting for any serious birder.
Sault Ste. Marie on the Canadian border is one of the best spots in the lower 48 to see far northern species like the Gyrfalcon, Snowy owl, and Hawk Owl.
Whitefish point is located in the northeastern UP. It is the best spot in the Upper midwest for viewing migration. In the spring huge flocks of raptors and waterfowl pass by here. Rarities such as the Boreal Owl and Jaegers are occassionally seen as well.
Seney National Wildlife Refuge is in the Eastern UP. Consisting of large amounts of wetlands such as ponds, bogs, and Sedge Meadows, Seney is a haven for birds. Here Bald Eagles, Ospreys and Loons seem almost common. Much sought after species such as Le contes Sparrow and Yellow Rail occur here as well.
The endangered Kirtland's Warbler, a bird that formally only inhabited the Lower Peninsula is now found in the UP as well. Although still rare, there are now a few Jack Pine forests neer Gwinn and Rapid River that have hosted a few of the Warblers for a few years now.
One site not covered in a lot of books is the city of Marquette. In the summer Merlins and ather birds of Prey like Goshawks breed here and in the winter rare gulls and owls can be seen in the lower harbor.
UP birding is a featured site on www.birding.com!!!!

Welcome all who are visiting this site from birding.com
---
Here are some of the specialty birds that can be seen in the U.P.
Kirtland's Warbler Go here for more extensive info on Kirtland's Warblers in the U.P.
This is a Black-backed Woodpecker, it can most often be found in burned over coniferous forests.
This is the mythical Spruce Grouse, it is a fake bird of the northwoods. It is like the bigfoot and the lochness monster. Don't even try to find it I have spent countless days trying to find one it becomes an obsession, don't fall into the trap like I did, just enjoy these other fine quality birds!!!! Go here for more extensive info on Spruce Grouse in the Upper Peninsula
My favorite Birds
Kirtland's Warbler
Gray Jay
Boreal Chickadee
---
This is for reporting your U.P. sightings!

Sign My Guestbook
View My Guestbook
My Favorite Web Sites
A great site for more information on birding in Northern Michigan, also has a message board to report sightings from the UP or northern LP
The website of the American Birding Association
This site has a great birding quiz and also links to the Dickcissel a magazine on birding for young birders
Play here, it has a bunch of games!

Check out the forecast for the greatest town in the UP
Happy Invasion Winter!!!! Check the Guestbook, I will post locations of these northern winter owls as I here about them!!!
Boreal Owl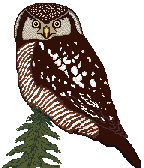 Hawk Owl
Great-Gray Owl
Snowy Owl
If anyone wants to bird the U.P. you can e-mail me and I would be glad to give you any information you would like pertaining to birding here. vcavalieri79@hotmail.com