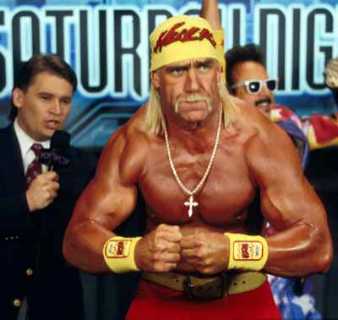 Hulk Hogan
Real Name: Terry Bollea
Aliases: Hollywood Hogan, Sterling Golden, Terry Boulder
Height: 6'7
Weight: 275 lbs.
From: Venice Beach, California
Born: 09/11/53
Feds: WCW, WWF, AWA, NJPW
Quote: "Whatcha gonna do when Hulkamania runs wild on you?"
Finisher: Leg Drop

Comments: A man who could possibly be the greatest of all time, is the main feature in World Championship Wrestling. He has accomplished many goals and has captured many titles. Hulk Hogan is the icon of wrestling today.